Featured
How to speed up Samsung Galaxy A10, A20, A30, A40, A50 for faster performance
This year, Samsung has sequentially brought different devices in their Galaxy A series. While these smartphones are budget friendly, they offer a decent blend of Android firmware and hardware specifications. Thus, they are able to perform well even in multi-tasking mode. However, just like any other Android phone, they are bound to become slow and unstable over time. In this tutorial, we'll help you speed up the performance Samsung Galaxy A10, A20, A30, A40 and A50 smartphones for faster and smoother user experience.
There are multiple factors that negatively affect the overall performance and stability of an Android phone. The most common reason that cause performance goes down is junk/clutter data that keep gathering over time. During the time we indulge with apps/games on the phone, cache files/temporary files are induced for some purposes. And after a certain time or period, they expire and become junk. These files may affect performance and stability, also can cause different issues.
Therefore, it is quite important to clear junk out of our phone. In order to maintain performance, we should frequently perform cleaning actions. Since all of these smartphones run on Android firmware, that ensures that you have in-house tools and utilities to troubleshoot most of the problems. In order to speed up and make Samsung Galaxy A10, A20, A30, A40 and A50 faster, we'll use the basic tools like Recovery mode, and several given options. With just a few set-up, we can manage to gain lost performance and improve stability.
For those who've been using their smartphone for a long time, they probably face such problems more often. Furthermore, there are chances to face different problems like freezing, apps become unresponsive, unresponsive touch and similar ones. If you're facing such problems on your Samsung Galaxy A smartphone, then you should follow the solutions that we mention in this guide. While we help you regain the lost performance and improve stability, we also describe some tips and tricks to get more out of these smartphones.
In this tutorial, we mention some white-hat methods that users can apply to troubleshoot low performance and stability related bugs. Through these tips and tricks problems like app crashing, freezing, unresponsiveness and many similar ones can be overcome easily. We hope that Samsung Galaxy A series smartphone users would like this post. If you have any better suggestions, make sure that you drop your message within the comment section. We would appreciate your efforts and use those suggestions to build this list even better.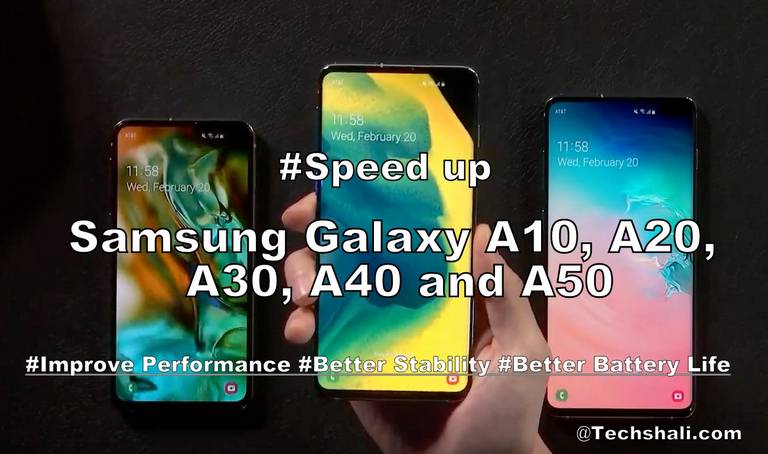 Tips and tricks to speed up Samsung Galaxy A10, A20, A30, A40 and A50 for faster performance
1. Wipe cache on your phone
This is among most recommended actions to cure performance and stability related bugs on Android phones. As the time goes, it's usual to expect some bugs and issues. This usually happens because of the clutter and cache files that keep gathering throughout the time. And these junk files may become a nuisance and cause different problems, that obviously affects the general working the phone.
Must see:
Therefore, it is recommended to clear this cache data frequently. Especially, the social media apps like Facebook, Reddit, Pinterest, etc, summon heaps of cache files. These apps are capable of gathering cache files in GBs in just a week or more. Therefore, clearing phone's cache brings good results. While it clears storage, alongside, it improves performance and make system more stable.
When it comes to clear cache, either we can clear cache of individual apps or wipe its cache partition. If you suspect that certain apps might have caused problems with your phone, clearing cache of individual apps should be enough. Just follow the below steps to clear cache of apps on your Samsung Galaxy A10, A20, A30, A40 and A50 mobile phones:
Open 'Settings' menu.
Now, scroll Down and tap on Apps-> Apps list.
Under the list of apps, tap on the App, to clear its cache.
Then, tap on Storage.
Now, tap on CLEAR CACHE.
Perform this action for those apps that you frequently use, those can be Facebook, Instagram or other apps. This action wipes off app related issues like app crashes, app freezing and app becomes unresponsive.
Next, if you suspect that overall performance is down on your phone or you're facing a multitude of problems/bugs, then wiping its entire cache partition is sufficient enough. For that purpose, we'll utilize the recovery mode. Just follow the below instructions to wipe the cache partition on your Samsung Galaxy A series smartphone:
Turn OFF your phone using the power button.
Under the recovery mode, select 'Wipe cache partition'.
Perform this action and exit this mode.
That's it, you've successfully wiped the entire cache partition on your phone. Since, Android OS uses cache partition to store only cache files, this action won't hurt any other files or apps on your phone. This just removes corresponding cache files. This should bring some major improvements in overall performance and stability of your phone.
2. Perform a factory reset
If you find out that clearing cache does nothing to bring general performance, then doing a full reset should be your next step. There are chances that system files or services may have been affected somehow, thus your phone is running slow and behaving abnormally. Performing a factory reset wipes all external apps, files, downloads and settings. It turns on your device into a factory fresh piece.
This action is mostly accepted by those who are facing lots of problems within their phone. Before you agree with and perform this action, you must know that this will wipe your phone thoroughly. Everything that is stored within the phone will be deleted permanently. Therefore, we highly recommend you to backup important things on your phone. For that purpose, you can follow the below guide:
There are two ways to perform a factory reset, either we can use the recovery mode or use the 'Reset' option given within the Settings menu. While both do the same, we still recommend you to get into the recovery mode to execute this act. Here's how you can factory reset you Samsung Galaxy A10, A20, A30, A40 and A50 smartphone.
Once you backup important files on your phone, turn it OFF.
Now, boot into the recovery mode using this guide on your phone.
Under this menu, perform this action 'Wipe data/factory reset'.
Exit this mode.
This is how, you hard reset your phone. Right after this action, your phone should turn ON and bring the set up screen soon. There, you would need to put your Google account details and get started using your phone. Must see: Best Online IT Courses in 2020 for Beginners
This action alone should fix every problem related to performance and stability. Factory reset is most helpful action to cure most of problems that usually happen to Android phones. It restores original performance, stability, storage space and smoothness.
Must see:
3. Disable or Uninstall unwanted apps
If you're seeking true performance out of your Samsung Galaxy phone, then you just can't miss this tip. We all are aware of the fact that Samsung puts a plethora of applications on their smartphones. There's no doubt that many of these apps are really useful or we can say, somewhat necessary. However, there are many apps that remain unused this all time. That's not an actual problem.
Thing is that, many of these apps run in the background, regardless of that fact, whether you're indulging within or not. And obviously, that consumes both; a lot of processing power (RAM and CPU) and battery life (since they use Internet data as well).
Therefore, if disable or uninstall them, this should definitely bring some positive results. While we were working on the Samsung Galaxy Note 9, we found that there were more than hundred of apps that are nothing but just bloatware ones.
And right after we disabled those apps, that released about 1.5 GB RAM. Those apps were using this amount to run in the background. So, there are a lot chances that you could get more amount of RAM free on your Samsung Galaxy A series smartphone. That surely improves overall performance, stability and supports better multitasking.
If you look in your phone, you would probably find many apps that you've used so far. Thus, it is a better idea to remove or disable them. Since these applications come pre-installed, you might not be able to remove them all. However, there's an alternative that you can do. While 'Uninstall' isn't available, there you would find 'Disable' option.
Through that, we can disable most of the unnecessary apps on the Samsung Galaxy A10, A20, A30, A40 and A50 for faster performance and better stability. The following instructions should help you get through the required steps:
Open the Settings menu on your phone.
Now, tap on the Apps->Apps list.
Tap on the appropriate app.
Then, tap on Disable or Uninstall.
Do the same for all other applications that you usually don't use. This will reduce some stress from processing resources (including RAM, CPU, etc.). Not only it elevates performance, it will positively affect battery life too. We highly suggest users to keep number apps as low as they can. This number directly affects performance and other metrics on the device.
4. Reduce extent and duration of Animations
It's a great tip to make the user interface a bit snappier. Animations always have been a part of Android OS from its first launch. During the time, Android has developed from its first appearance to the latest Android Pie edition, a ton of improvements has been done with animation part. These animations work for certain extent and duration.
Through Developer Options, we can customize different aspects of these animations. And reducing the extent and duration, we can faster animations, that makes actions render at a faster rate. And simply makes users interface faster. After we apply this trick, you can expect a performance boost throughout the user-interface.
Whether you're switching from one app to another or launching the game, you would notice that actions are relatively faster. Before we can get started with customizing animations, first you need to enable the Developer Options on your phone. Basically, this is a hidden menu that offers extensive options under its hood. So, in case, you haven't enabled this menu on your phone, either you can follow this guide or follow the below steps:
Open 'Settings' menu on your phone.
Now, scroll down and tap on 'About Phone'.
Then, tap on 'Software Information'.
Now, tap 7 times on the Build Number.
Right after that, you should see a message 'Now you're a developer'.
If you've enabled this menu on your phone, here's how you can customize animations and make your mobile phone work faster:
Open Settings menu.
Then, open Developer Options.
Under this menu, locate "Windows Animation Scale", "Transition Animation scale" and "Animator duration scale".
Now, tap each entity and change the default value to 0.5X (i.e half of the current value).
Exit this menu.
To observe results, ensure that you reboot your phone. Thereafter, you should notice that actions take place quickly. This thing reduces the duration of animations, that result in improved responsiveness. This should definitely make you feel that your Samsung Galaxy A10, A20, A30, A40 and A50 phone are working fast.
There's a lot we can do with the Developer Options. We can also reduce the DPI, it stands for Dot Per Inch, that improves smoothness.
Must see:
5. Reduce DPI aspect to improve smoothness
DPI, this term is synced with the rendering process. Basically, DPI (Dot Per Inch), this aspect controls the size of the on-screen content like text and icons. That means, through customizing DPI, we can regulate the size of the on-screen content including text and icons. For rendering operation, bigger objects are easily executed and rendered onto the display screen.
Therefore, if we customize the DPI in such a way that it makes on-screen content a little bit bigger, we can support the rendering process. Although this thing won't improve perform to a measurable extent, however, definitely you would be able to observe improvements in overall smoothness. We have been using this same this thing on OnePlus 5 and Galaxy S10, so far, this has really helped us get better experience on these two smartphones.
Most importantly, since we are about to improve the size of the on-screen content, this's going to improve readability score right away. If you find difficult to read text and icons on your phone, then changing DIP would help you undoubtedly. And that happens without affecting the screen resolution. Everything will work normally expect, on-screen content will become a little bit bigger.
In order to access such intense settings, we'll use the Developer Options. This menu serves many such options to configure Android phones for better performance, and productivity. The following steps should be enough for you to customize DPI settings on your phone:
Open the Settings.
Tap on the Developer Options.
Find 'minimum width' or 'smallest width' and tap on it.
Now, change the default value to 360 or more.
Exit the menu.
You can set this value based on your judgments. You can use different settings to figure out the best value that fits your needs perfectly. If you increase the default DPI value, this decreases the size of the content and opposite happens if you decrease the default value. There are even more you can do with the Developer Options, must visit our list of best Developer Options tips and tricks for Samsung Galaxy phones.
That's surely not the end of ways that we can fix slow performance issues on these smartphones. We'll be adding more tips and tricks to speed up Samsung Galaxy A10, A20, A30, A40 and A50 smartphones. If you have better one to share with us, you're most welcome to leave your comments below. We would love to read your feedback and work on it. And stay connected with us for more useful tutorials and lists.