Mobile
How to Speed Up Performance on Galaxy Note 9
Even though this smartphone is currently the most powerful one, with a few configurations, you could get more out of it. This smartphone features undoubtedly the best hardware specs, and out of the box, it runs on the latest Android 8.1 Oreo operating system. If you think that you're Galaxy Note 9 facing some performance issues, then during this guide, we will fix those issues. In this tutorial, we'll help you to speed up the performance of Samsung Galaxy Note 9 to get the most out of this smartphone. And most importantly, you don't need any kind of technical knowledge to pursue such actions.
During this tutorial, we'll learn some different optimization and troubleshooting methods to improve performance on the Galaxy Note 9. The Android OS comes with many inbuilt options that help to calibrate and maintain performance on mobile devices. So, there we would not use any kind of third-party app or utility to optimize the performance and other aspects. It generally happens that our smartphone tends to become lower over the time. As the time passes, users face different issues and problems that directly lower down the performance and stability. Therefore, it becomes important for us to be certain of appropriate solutions and cures.
It doesn't require so many efforts. Even if you're a complete newbie, you could or anyone could maintain their phone on their own. There are just a few basic troubleshooting solutions that actually work most of the time. No matter if you're having the latest beast; Samsung Galaxy Note 9, apparently you can face problems related to performance and stability. Those issues might have occurred due to multiple reasons. There could be some applications causing those problems, configuration or the cache memory itself brings down the performance. If that something like that happens on your phone, you should keep reading this tutorial.
The Android OS comes with many maintenance related options that help to reset the configuration, removes the cache memory or formats the internal memory. And if problems occur too often, and won't go out even when you've applied multiple troubleshooting solutions, a factory reset can help. That will reset your phone completely, all custom settings are replaced with the default ones. It also removes all downloads, apps, games, media files, and documents, Thus, you must backup important files on your Samsung smartphone. Mostly, the cache causes the performance and stability issues. If you keep using your phone for a long time, the cache memory would grow too large that it would start impacting the overall performance of the phone.
Basically, the cache memory is associated with the installed applications. Each time we open an application, it creates some cache files. Applications like Facebook, Reddit, Instagram, etc., gather most of the cache files. Therefore, we should get rid of these junk files. Otherwise, that would create conflicts and turn down the performance and other related aspects. While we deal with these issues, we will also some tweaks to improve the performance. And tips to maintain it while using our phone. Now, we should start discussing some important tips and methods to maintain and improve performance on Samsung Galaxy Note 9 smartphone.
Tips and tricks to speed up Samsung Galaxy Note 9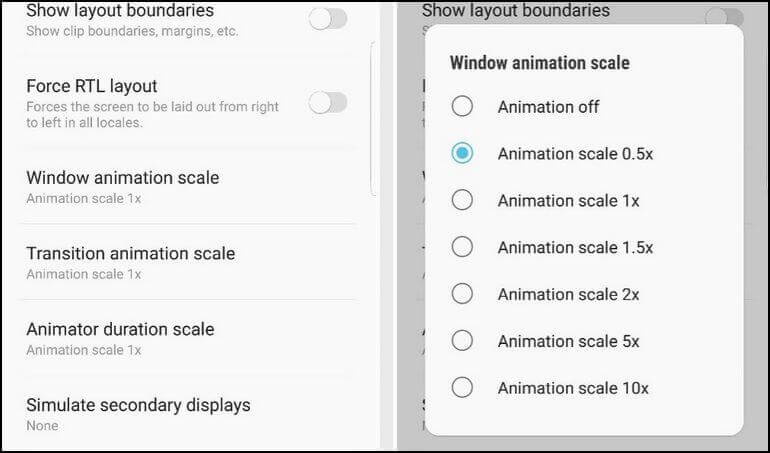 1. Speed up Animations
As the Android OS has evolved so much, the animations have become important too. The Android UI overlays animations continuously while we use our phone. Almost, to each action, an animation has been assigned having a certain length and timings.
Also see:
Thus, if we somehow tweak the length (duration) and extent, that should certainly make things happen quicker. And somewhat, it would add to the better performance, battery life and user experience.
I see many people recommend to turn OFF animations completely, but that would ruin the user experience. And we don't want that. Instead, we will reduce the extent and duration of these animations. That will speed up performance on your phone without sacrificing the experience.
On Galaxy Note 9, we can access and edit the animation settings using the Developer Options, a powerful menu that offers many customization and tweaking options.
Therefore, you should enable this option first, use the tutorial below:
Now, you ready to apply different performance tweaks on your phone.
Use the following instructions to speed up animations on your phone:
Open the Settings menu.
Now, tap on Developer Options.
Locate "Windows Animation Scale", "Transition Animation scale" and "Animator duration scale":
Now, replace the default value with 0.5X for each of these entities.
Exit the menu.
As we put 0.5X value to each, it reduces the extent and duration of animations to their half. That simply improves the response time, and overall UI feels faster.
That's the simplest way to improve performance on Samsung Galaxy Note 9. It would not cause any problem in the Android UI. It instantly boosts the performance.
Since this smartphone has powerful hardware, we recommend you to play PSP games using the PPSSPP emulator. Just follow the below guides:
2. Reduce the DPI Value
In our recent tutorial, we have already discussed the advantages of changing the DPI value. If you're new to this, you can understand that term DPI as something related to on-screen content. It has nothing to do with the screen resolution.
While we increase or decrease the DPI value, it changes the size of the on-screen content like Text, and icons. We will increase the size of the On-screen content a bit. To render bigger objects, the phone uses the least amount of processing power. The impact is considerably smaller, but for sure it will add some smoothness to your phone.
Definitely, it will make actions and navigations smoother, you'll feel that.
Again, we will use the Developer Options to customize the DPI. And we have already published a dedicated guide for this purpose, just follow the tutorial below:
Or simply follow the steps below:
Open the Settings menu.
Tap on Developer Options.
Locate "Smallest Width" or "Minimum Width".
Reduce the default value by 30 to 40 numbers.
For smoothest experience, we suggest you apply 360 DPI value. That is the best setting, we've found bringing the best results.
That will improve the performance to some extent and add smoothness to your actions.
3. Clear Cache memory
Either a user can clear the cache of applications individually or clear it all at once. If you see that the problem is limited to an application or a few of them, you must consider clearing the related to cache. Whenever we open an application, it generates some run-time files for quick access and serves you the best purpose.
However, such files (the junk ones) remain in the internal memory for the whole time until we manually remove them. The problem is that the cache partition becomes so huge that it eventually cause problems. Generally, it impacts the performance and stability most. You can observe unusual behavior, the app crashes and similar ones.
Therefore, we must get rid of this overflowing cache memory. That removes most of the bugs, issues, free good amount of internal memory and overall it impacts the performance positively. You can simply consider it as calibrating the phone for general performance improvement.
Just like other smartphones, we can clear the app cache or the whole cache partition on the Samsung Galaxy Note 8. We have discussed the different method to get rid of the cache memory. Just follow the below tutorial to clear the cache on your phone and improve the performance of your phone:
It will restore the lost performance and bugs related to individual applications.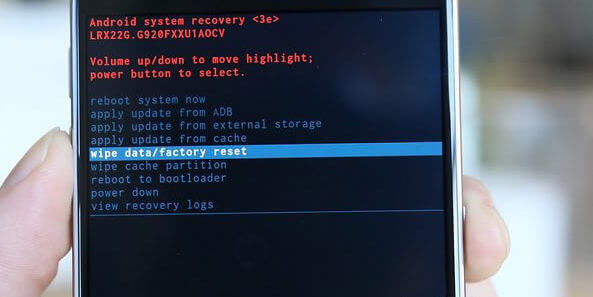 4. Perform a hard reset
If you find the clearing cache doesn't wipe the issues and problems, then you could format it for a good. Hard reset a.k.a a factory reset wipes the internal memory of phone completely. It removes all the stuff stored under this memory. Whether they are apps, games, photos, documents, progress, and downloads, all will be deleted.
All custom settings are replaced with default ones. Therefore, before you proceed further and perform this action, you better back up your phone. You can start by taking photos, contacts, videos, and documents offline or online using the cloud services. For Galaxy Note 9, we have a dedicated tutorial: how to backup Samsung Galaxy Note 9 smartphone.
There are two ways to perform a hard reset on this phone:
We can perform a factory reset using the 'Reset' menu present under 'Settings'.
Or, we can use the recovery mode to perform a 'wipe data/factory reset'
Both do the very same thing. If you're anything like an advanced user, you better perform a factory reset using the recovery mode. It takes only a few minutes to hard reset your phone.
Once you perform a hard reset on your phone, you can expect all the issues to be removed and calibrate the performance of your phone. It will turn your phone into a factory fresh piece, just it was when you had it for the first time.
To reset your Samsung Galaxy Note 9, just follow the below guide: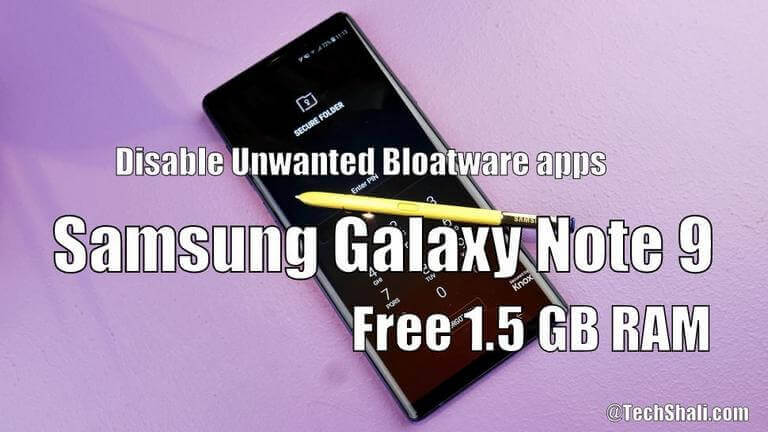 5. Disable unused/bloatware applications
This can help you a lot. It has major an impact on the performance of Android phones, especially for Samsung smartphones. Like previous releases, the Samsung Galaxy Note 9 loads of bloatware applications, the unwanted and unused ones. No matter if you use them or not, they keep using the power resources. For alternatives, must visit our list of best apps for Galaxy Note 9 for better productivity and usefulness.
In our research, we find that there are about 120+ such applications. Most of the time, these applications remain unused and they are grabbing a huge amount of RAM and processing power. We find that we somehow disable these bloatware applications, it could free about 1.5 GB of RAM and that's a huge improvement.
We would recommend you to disable all the unused applications on your turn by turn or use some sort of package disabler application to do this. Just open the apps menu on your phone and browse it for a few minutes. You'll realize that there are many applications that you've used so far. Such applications might be running in the background. Since these applications come pre-installed, we simply cannot get rid of them until we get the root access on Galaxy Note 9.
However, we can do one thing. We can disable these applications using the app manager or the Package Disabler application. If you wish to disable unwanted apps on your phone, just follow the tutorial below:
That will help you free a good amount of RAM and processing power. That you can use for other tasks. Also, it slightly improves the battery life since these applications won't run in the background.
That ends our list of useful tips and tricks to speed Samsung Galaxy Note 9 for better performance and stability. We hope that our readers would find it helpful. Do let us know that you think about these tips. We would be happy to hear from you and make it even better.