Mobile
How to Speed up Galaxy Note 8 [Improve Performance]
Released in last year, the Samsung Galaxy Note 8 still beats most of the flagship smartphone released so far. This smartphone boasts 6 GB of RAM excelled with Snapdragon 835 processor. There is no doubt, it performs amazingly well. However, if we don't main our smartphones, they tend to become slower over the time. And it happens to flagship phones too, and you might be facing that as well. In this tutorial, we'll help you to speed up the performance of the Samsung Galaxy Note 8 smartphone for faster actions, and lag-free user experience.
No matter if you're having this smartphone or that latest flagship Samsung Galaxy Note 9, performance goes down over the time as we use it. You might have noticed that lags, freezes and some similar problems occur. Therefore, to sustain fast and stable performance, you must apply some troubleshooting solutions. Since Galaxy Note 8 runs on the Android software, it is much easier to optimize performance and other aspects. We can easily tune Android smartphones for better performance, and user experience.
If you're thinking to switch to another smartphone before you do that you must check out troubleshooting solutions we mention in this tutorial. There could be many things making your phone lag. The cached data is one of them. Usually, the cached files, make application snappier for a better user experience. However, if that's become excessive and your phone runs out of internal memory, it slows down the overall performance of the phone. That makes it important to get rid of these cached that. Apart from that, there are many other ways to optimize and improve performance on the Samsung Galaxy Note 8 smartphone.
During this guide, we will discuss various methods to make your phone snappy and non-laggy. Will achieve this without any sort of third-party application. The Android OS has many tools for maintenance purpose. While we deal with existing bugs and issues that causing your phone to lag and slow down, we would apply some extra tricks to take out the extra performance from your Samsung Note 8. None of the tips and tricks that we mention cause any kind of problem or hurt the phone in a manner. We hope that our readers would find this list helpful. Do let us know through your comments. Without ado, we should get going further.
The best tips and tricks to speed up performance on Samsung Galaxy Note 8
1. Speed up Animations
Animations make actions fluid and look pretty. However, if your device is running slow, these animations could become weird. Though, cutting animations off completely isn't that good either. While keeping actions fluid-snappy, we could cut off these animations by half.
That will reduce the response time to the half, that would speed up actions and load off some pressure from the processor and the GPU unit. As soon you apply this trick, you'll see the differences instantly. You'll see that actions are happening quicker than before.
And that's what actually we are looking for. To access the Animations settings on your phone, first, you gotta turn on the Developer Options on your phone. You can just →follow this tutorial or the below steps to facilitate this menu on your phone.
Enable Developer Options on Galaxy Note 8
Open the 'Settings' on your phone.
Tap on 'About phone' or 'About device'.
Now, tap on the 'Software Information'.
Then, locate Build Number and tap 7 times on it.
That will activate the Developer Options on your phone and you can access it through Settings->Developer Option.
Now, you're all set up to optimize performance on your Galaxy Note 8 smartphone. The following instructions are set to customize the animation settings.
Open the Settings menu.
Tap on the Developer Option.
Under this menu, locate "Windows Animation Scale", "Transition Animation scale" and "Animator duration scale".
Now, change the existing value to o.5X to each entity.
Exit the menu.
This will instantly give a thrust to the overall performance of the phone. You'll observe this while navigating, opening/closing apps, switching from one window to another and so on.
That's the simplest and adopted method to make the Android phone snappy quickly.
Also see:
2. Clear Cache Memory
This could be the culprit resisting your phone to run normally. While the cache memory is supposed to improve user experience by creating a buffer of data so it can be served quickly, and apparently, it does so, but over time it causes many problems if the device runs out of internal memory or if cached data becomes so big.
The cached data expires after some time, however, it doesn't go out or wiped automatically. This expires cached data causes apps to crash, perform slow, and throw different errors. That's the one that cache memory causes conflicts.
This memory keeps on rack up as the time passes, and eventually, it becomes so big that it slows down the phone and causes many other bugs. Therefore, it becomes necessary to get rid of this cached data. Either you can clear the cache data associated with applications individually or delete it all at once.
If you figure that one or more apps are causing some problems, you should delete the cache memory associated with those apps, particularly. Or if things are pretty bad, clear the entire cached data present on your phone.
That will free some good amount of internal storage (you'll be surprised to see that) and should clean all the bugs and issues existed on your phone. You can easily clear the cache on your phone, just follow the below resource:
That will remove all expired and junk files from your phone.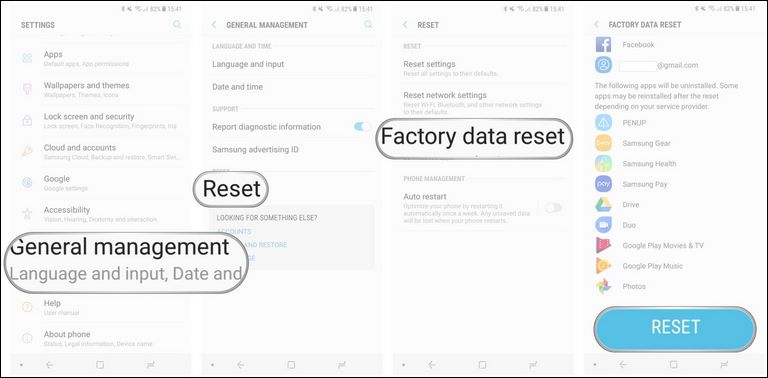 3. Perform a factory reset
A factory reset is recommended at least once within 3-4 months. That removes all the third-party stuff, including apps, downloads, files and things present in the device's memory. You can think of this as a calibration process.
It helps to maintain performance, stability and keep bugs away from the phone. The only stutter is that you will lose the thing stored on your phone. Therefore, you better backup important things. For Samsung user, this process is like nothing to worry.
The Samsung devices are pretty well loaded with applications and one of them is 'Smart Switch,' you can use this app to sync your data to other devices (means creating a backup, anyway). We have already detailed this application in our following tutorial:
So, before you proceed further and reset your phone, you should save your photos, videos, messages, apps, and documents.
When you need a factory reset? This question must be echoing in your head. There many reasons to perform this reset. You might have just installed an update on your phone and experiencing unnatural behavior. Or there is something causing your phone to malfunction, throw errors too often, the app crashes and similar issues.
Moreover, if you find that clearing cached data brings no improvement, you better perform this action, This will thoroughly clean your phone, remove all third-party apps, games, downloads and wipes the internal memory.
It removes all the custom configuration and settings. In simple words, it turns your phone into factory fresh piece. That calibrates the overall performance of the phone. To factory reset your Samsung Galaxy Note 8, follow the below instructions:
Open the Settings menu.
Tap on Backup and reset option.
Then, tap on Factory data reset.
And tap on Reset.
Give your confirmation to perform this action. That is enough to thoroughly clear your Note 8. Now, all bugs and issues should have been removed.
To enhance that perform a bit more, the rest of the tips and tricks will help you.
4. Customize the DPI Value
The term DPI is linked to display screen. The DPI controls the size of on-screen content like texts and icons. The Galaxy Note 8 has a massive screen resolution, thus the default value of DPI is more than 400. That makes icons and text smaller.
In order to get better performance, one can adjust the DPI value. We just to lower down the DPI Value, that makes on-screen contents a little bit bigger. To render those bigger contents, the phone uses a less amount of processing and graphics power.
The impact is not that significant, but surely it makes actions happen smoothly. You'll feel this difference. In order to access the DPI, we are again going to use the Developer Options.
Open the Settings menu on your phone.
Tap on Developer Options.
Now, look for 'minimum width' or 'smallest width'
Change the default value to 360 or somewhat lower than the default value.
While using this feature, we find that value 360 does the job pretty well. After you implement this trick, your phone will use the less amount processing power to render bigger objects. The saved processing power will enhance your experience with other tasks.
5. Enable Force GPU rendering
In order to accelerate the overall performance of Galaxy Note 8, you can't take off your eye from this. The Android OS has evolved so much that is allows users to utilize hardware in the best manner. Once we enable this option called Force GPU rendering, this will force the apps, games, and UI to utilize the dedicated GPU chip for rendering purposes.
It removes the extra load from the processor (that was used to render things). Thus, you have more processing power at your disposal. That you can utilize on other tasks. That will slightly turn up the performance, that's what we want.
To activate this option, you again need to go into the Developer Options. There you'll get this option and you can enable it. Just see the below instructions:
Open the Settings menu.
Tap on Developer Options.
Now, look for 'Force GPU Rendering' and enable it.
Exit this menu.
That's it. Now, enjoy the elevated performance on your phone.
6. Disable Unused applications – Bloatware
For some reasons, all Samsung smartphones are cursed with loads of bloatware apps — unneeded apps that remain unused whole time. And until we have the root access, we cannot remove them permanently. While we worked with the Galaxy Note 9, we find that there are about 120+ bloatware apps.
After we get them disabled the results were surprisingly good. It released about 1.5 of GB RAM on Galaxy Note 9 smartphone after we disable the bloatware apps. That was pretty well and took the over performance to another level.
These results are far better than any other thing we could have done. So, we expect the same for the Samsung Galaxy Note 8. If you're really serious about performance, you must disable the unused application.
Basically, many of these applications keep running in the background. They consume both, battery life and processing power. Because of the stock restrictions, we cannot uninstall. Fortunately, most of these applications can be disabled.
You just need to open the Apps list and disable these apps individually or use Package disable app to disable them all at once.
Tap on Settings.
Tap on Apps->Apps list.
Now, select that App that you want to disable.
Tap on Disable button and confirm your action.
Repeat the same steps for other applications.
This will make your phone lighter. These bloatware apps keep using the processing power, memory, and internet data that directly increase the consumption of battery life.
Thus, getting them disabled not merely improves performance, it also improves the battery life. This thing will boost the overall performance and stability on the Samsung Galaxy Note 8 smartphone.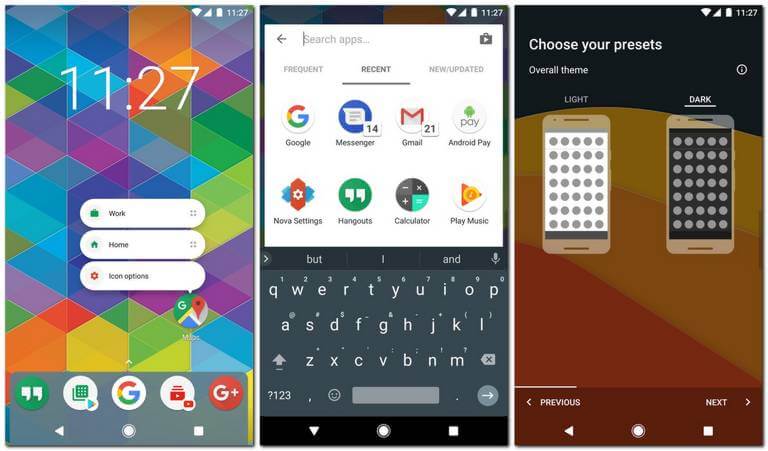 7. Switch to Nova Launcher
One of the most recommended steps that users can perform for better customization while improving the performance. The Nova Launcher is a performance-driven launcher app that serves loads of customization options while it doesn't overload the phone.
The Nova Launcher has extensive customization features that you won't find on Note 8's native launcher application. This launcher has been specifically developed to faster the user interface while the user can personalize interface extensively. It allows users to customize most of the UI aspects. This launcher will make the user interface snappy.
If you have been looking to replace the Samsung's native launcher, then you can consider this launcher. You can revamp the UI easily, control widgets, icons, texts, and many other things. Apart from this, there are many other launchers that you can use. The following list should help you:
8. Switch to SKIA
This is something that most of the people are not aware of. The Android version 7 and 8 brought some major improvements and advanced options. One of these options allows users to switch between available graphics engines.
Many testers have reported that the Open GL SKIA improves games and other 2D and 3D applications. Our recommendation would give it a try and observe it. You should be able to figure out whether it works for you not. Though we tested it with a few games like Asphalt 9, God of War using PPSSPP Emulator, etc., and it was tough to find out the differences. However, for long Run, it works to add some smoothness to the phone.
Again, this option resides within the Developer Options menu. The following steps will take you through this process.
Open the Settings menu.
Tap on Developer Options.
Now, look for "Set GPU Renderer" and tap on it.
Then, select 'Open GL (Skia).
Exit the Settings and reboot your phone.
Make sure to reboot your phone so the changes can take place. Now, hit some graphically dense games on your phone and observe the improvements.
If you're an addict to gaming, there is one more thing you could do. Just open the Developer Options and enable the 'Force 4X MSAA'. That improves the graphics quality. However, it drains battery life faster. So, enable this option precisely.
9. Turn OFF Auto-Sync
Here's the most common reason that the phone's battery discharges that very soon. Nowadays, most the Android apps use the Auto-Sync feature to present you updated data everytime you logged-in. For example, if you use some sort of weather widget on the home screen, each time you open your phone, it will display the updated information.
That means it keeps running the background, using the processing power to run and the internet to sync data. Thus, it constantly consumes the battery life. We know we cannot turn off this feature for all the applications. However, you can selectively choose which apps are necessary to sync and which are not.
That will boost the battery life and speed up your Samsung Galaxy Note 8 for faster performance. Though it looks like a small step, but it can bring some big results if you measure them thoroughly. The recent Android updates make possible to make a selection.
Just follow the below steps to turn Auto-Sync on select applications.
Open Settings.
Now, tap on Account.
From the list of apps, tap on the App that you don't want to be synced automatically.
Repeat the same for other applications.
Remember, those selected applications will be synced as you open them. So, there is no need to keep them running in the background for auto-sync services. This will improve the battery life.
10. Install a custom ROM
For advanced users, nothing is better than having a custom firmware. The custom firmware allows users to install different mods including specifically developed for performance sake. The custom ROM gives the ability to users to edit core settings and features of an Android OS.
Basically, they are developed by third-party developers and have no relation with Google or the device's manufacturer. The custom ROM avoids bloatware apps and features, that makes them perform faster and stable. While they improve performance, users get many advanced features for enhanced users experience and performance.
For customization purpose, they come with loads of features. That we won't find on stock firmware usually. Many of the custom ROMs do support OTA updates just like the official stock firmware. So, your device set to remain on the latest build of that ROM.
Currently, there are many custom ROMs that you can install on your phone. For rock-solid performance and stability, we recommend to install LineageOS ROM, being the most popular ROM, it's got tons of advantages over the stock firmware. To find custom ROMs for your phone, you must head on to XDA forum.
There you'll get some good custom firmware for your phone. However, you must know that installing a custom firmware is against the manufacturer's terms and conditions. That means you'll lose the warranty of your device. Apart from that, there is nothing that we find to worry about.
11. Update your phone
This is that action that you must take. I've seen many people that ignore the forthcoming updates for some reasons. And after that, they complain about low-performance issues. It is critically important that you apply all the new updates and security patches as soon as the OEM rolls out them.
Or you can manually check for the updates under About Phone-> Check for updates menu. These new updates include many fixes to existing bugs and issues with many improvements. Most ideally, they include the latest security patches that keep our information safe from being used by the toxic applications.
The phone updates are supposed to bring several improvements and fixes that are necessary sometimes. So, we highly suggest you to regularly check for the updates and install them on your phone.
That way, you'll keep your phone updated all the time.
Wrap-up
That ends our tutorial that helps to speed up Samsung Galaxy Note 8 for faster performance. We hope that our readers would find these tips and tricks helpful. If you have a better one, do share with us so we can implement within this tutorial.
Don't forget to share your comments and thoughts in the below comment section. We would love to hear from you and make this tutorial even better. Stay connected with us; follow me on #Twitter, like us on #Facebook and subscribe to our #Feeds.