Mobile
TOXIC 8.0 ROM – Fastest Custom ROM for Samsung Galaxy S7
The Samsung Galaxy S7 has been the most prominent smartphone in the Galaxy Line-up so far. And those flagship essences were passed on to the descendants. The brand new looks and fascinating specification make this smartphone a perfect deal. If you've been looking out for a custom ROM for this smartphone, then this could end your search. The TOXIC 8.0 ROM has been launched for Samsung Galaxy S7 which is the fastest ROM we've seen so far. This ROM has less bloatware, optimized well for high-performance and stability and of course, you get new options for customization.
This will speed up things on your smartphone and add smoothness to the existing user interface. The TOXIC 8.0 ROM is based on Android 8.0 Oreo operating. And it can be easily installed on your smartphone. Basically, you get the opportunity to have your hands on the latest Android firmware with custom tweaks. If you're determined to make your phone faster, then you just need to replace the stock with this custom ROM. And leave the rest to this ROM.
In that respect, we should thank @davecotefilm, an XDA developer for bringing out this custom in front of us. With this custom ROM, you get fewer bloatware applications, better battery life, pumped up performance and Android UI would be smoother. Since it has been optimized for better performance, you'll get an improved battery life as well. Along will all native Android 8.0 capabilities and apps, you also get advanced features. Those you won't get on the stock firmware usually.
Most importantly, you shouldn't consider this ROM as the official thing distributed by Samsung or Google. This custom firmware is developed and distributed by third-party developers. You cannot associate them with Samsung and Google in any manner.
Also see:
Unlike the stock firmware, you ROM cannot be flashed through OTA. You have to manually flash this ROM on your phone. And there are some requirements as well. Since it doesn't belong to Samsung or Google, it will void the warranty of your phone. The Knox will be tripped. Thus, you required to have a rooted Galaxy S7 with a custom recovery installed on it. A custom Recovery is required to flash this ROM. Otherwise, you'll end up bricking your phone. Our recommendation would be TWRP image. The TWRP recovery offers comprehensive options to install firmware and maintain performance.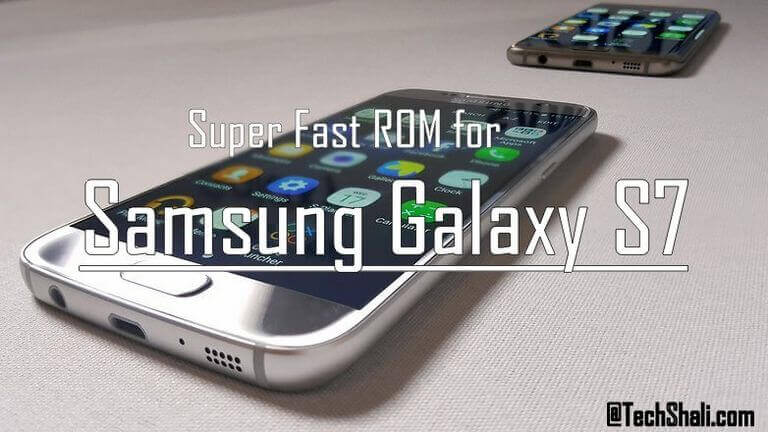 Other than that, a complete backup is highly recommended. A Nandroid backup is recommended as it creates a backup including the firmware that runs on your Samsung Galaxy S7. The TOXIC 8.0 ROM is a performance-driven custom that focuses on outcome better performance without sacrificing any of its aspects. Out of the box, this new Oreo operating system should bring better capabilities, functions, and applications. In simple words, you can expect better productivity out of your phone. But it will void the warranty terms. Therefore, you should read all the warranty terms carefully. In order to flash this custom ROM on Samsung Galaxy S7 for better performance, there are some requirements and prerequisites that you must read and accomplish.
Prerequisites
This custom firmware is built for Samsung Galaxy S7. The user shouldn't apply it to other smartphones. That could brick the phone. Or even worse can happen. Make sure to properly check the device model number.
In order to flash this custom ROM, a custom recovery is required. The TWRP recovery would be the best for this process. We recommend you to install this recovery and then move further. Otherwise, it wouldn't possible to flash this ROM successfully.
As outlined already, installing this ROM voids the warranty of the phone. So be sure to perform such action. Although, you can restore the warranty by flashing the stock firmware on your phone. That will restore your phone and warranty as well.
Creating a Nandroid backup is another important thing you could do. It can be created by booting into the recovery mode. Using this backup, you can restore your phone anytime you want. Afterward installing this custom ROM, if you don't like or things do not go the way you want, you can simply switch back.
You need a Windows-based computer with a USB cable for connection purpose.
That is all you required to proceed further and have this ROM installed. Make sure to read all these prerequisites precisely to avoid problems.
We hope that you will manage to bring the outlined requirements. Now, let's proceed further and install this custom ROM on Samsung Galaxy S7.
How to install TOXIC 8.0 ROM on Samsung Galaxy S7
On your computer, download the CP and the BP Odin flashable files from →here and from →here. Save these files on your computer.
Download the ROM package file from →here. Save this ROM file on your computer. Later, we will transfer it to the mobile.
Download the Odin flashing tool from →here. Extract the content of the package on your phone to obtain Odin3.exe. Tap on this program to run it. The Odin program looks like:
Now, turn OFF your phone using the Power menu.
To boot into the Download Mode, press and hold Volume Down, Home and Power buttons together until the phone gets turned ON.
Now, connect your phone to your computer. The Odin program will automatically detect your phone. The ID:COM will turn to blue once your phone is detected. If nothing happens, just install the USB Drivers of your phone on the computer. Then, try connecting it again.
On the Odin program, tap on the BL and CP buttons and load the appropriate files — which we have downloaded initially.
Tap on the Start button to initiate the flashing process. Once it is completed, a PASS!! message will appear. Now, your phone will reboot and take you to the home screen soon.
Now, transfer the ROM file to the phone. Remember the name and location of the ROM file. Use the USB cable to transfer the ROM file to your phone
Again, turn off your phone.
Boot into the recovery mode — press and hold Volume Up, Home and Power button at once. Release them all once your phone vibrates.
The recovery mode looks like below:
Now, tap on the Install button and locate the ROM package file. Follow the on-screen instructions to flash the ROM.
Once it is done, tap on the Reboot button to exit the mode.
This should finish the flashing process on your phone. You've successfully flashed the super fast TOXIC 8.0 ROM on Samsung Galaxy S7.
For the very first boot up, your phone might take several minutes to boot up. It will soon take you to the newer home screen. Enter your Google account details and customize your phone.
That ends our tutorial here. Don't forget to share your thoughts about this custom ROM. We'll be glad to hear your feedback. Stay connected with us for more useful ROMs, tutorials, and other stuff.