Mobile
How to clear cache on Samsung Galaxy S8
The cache memory intends to improve user experience by delivering content fast and smooth to users. Android apps generate temporary files in the cache memory so they can be accessed faster and easily while the user uses the applications. This tutorial should help you clear cache on your Samsung Galaxy S8 to improves performance, stability, reduce bugs and problematic clutter present on the phone.
If you're not aware of this, basically cache memory is associated with applications. Whenever we open an application, it generates some amount of cache files. Most of these files are temporary in nature. These files keep gather in the phone and over the time it becomes so huge that it starts influencing the overall performance. Therefore, it becomes a mandate to get rid of this excessive memory.
While it hurts the performance, it also causes some apps to malfunction, stop working, crash and behave abnormally. These are the symptoms that you could observe and if they happen, you can try clearing cache memory to remove them. There is no need to clear the entire cached data if the problem is limited to certain apps/actions. If you find that some apps crash often while opening them or behave abnormally, then probably clearing their cache data should make them work normally.
It usually happens because of the clutter/garbage files that keep growing up. Eventually, it affects the functionality and working on these applications and they become unresponsive (freeze and lags) and abnormal. If you're facing the same issues on your Samsung S8, probably you should give a try to this method. Most importantly, it won't have any impact on the other files stored on your phone.
Clearing cache memory on Samsung Galaxy S8 is pretty simple. You could two things; either you delete the cache memory of individual apps or have it cleared all the cached data at once. If you observe that the entire phone's performance is getting down and many issues like app crashes, reboots, and unnatural behavior are going around, then clearing the entire cache would be the ideal.
In order to perform these troubleshooting solutions, you don't need to use any kind of third-party app or utility. The Android OS is blessed with many sorts of maintenance tools and utility. We will use the inbuilt options to clear the cache on this smartphone. The important fact is that performing this action won't delete any of your apps and files. It merely deletes the cache files present within the cache partition.
Must see:
Basically, the Android OS has evolved so much that not it uses different partitions for different purposes. There are many partitions like System, Data, Cache and many more. Thus, getting rid of this clutter (cached data) won't affect any other partition. However, for safety the purpose, we would recommend you to back up your phone's data first.
During this tutorial, we about to learn three methods; clear app cache, delete all the cached data and wipe cache partition. Each of these has its own significance and purpose. While we perform each of these actions, we will discuss them thoroughly and when you can use them. Without ado, we must get going.
How to CLEAR CACHE on Samsung Galaxy S8
Method 1. Clear App Cache
Whenever you figure that certain application is behaving unnaturally, crashes too often, freezes and similar issues arise, then it makes sense to clear the cache memory of that application.
Most of the time it works to make applications stable and work normally. Otherwise, you can uninstall that application and re-install the latest version that app on your phone.
On the Samsung S8 smartphone, you can clear the app cache. The problem can relate to one or more apps, so make sure to figure those applications first.
Now, follow the below steps to clear app cache on this phone:
Open the Settings menu on your phone.
Then, tap on the Apps menu.
Now, open the Apps list.
Now, select the appropriate app that facing problems and issues.
Then, tap on Storage menu.
Tap on CLEAR CACHE
Repeat the same steps for other applications.
That's how to clear cache data associated with an application. After you perform this action, probably the issues and problems should have been removed.
We highly recommend you to perform this action on social media applications on a regular basis. Apps like Facebook, Instagram, Reddit, accumulate loads of cache data and clutter. So, you must keep track of these applications and clear cache files often.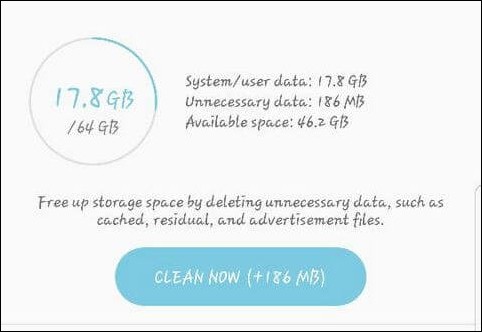 Method 2. Clear All Cached Data
If low performance and stability are the major issues happening on your phone, then consider this method. Mostly it happens if the user uses the phone for a long time. The cache memory keeps on getting bigger over time and eventually brings down the overall performance and stability. It causes many other issues that come in front while we use our phone.
Clearing all the cached data removes all the cached files created by applications. It removes all clutter out from the phone. Thus, after you perform this action, you'll observe that a considerable good amount of free storage is available. The cache files, grab a good amount of internal storage, that you can use for other purposes.
Now, it should be clear to you whether you should perform this action on your phone or not. The following instructions will help you through:
Open the Settings menu on your phone.
Now, tap on the 'Device maintenance' option.
Then tap on 'Storage'
Under this hood, tap on 'CLEAN NOW' button.
That will thoroughly clear your phone. You should observe a hike in overall performance and stability of your phone. There shouldn't any bugs or issues left on your phone.
There's one more way to do this. If you want to go in advance, just follow the below method.
Method 3. Wipe Cache Partition
As we have discussed that the Android OS uses different partitions. It allows users to format each partition (don't perform any carelessly) to fix some certain problems.
And of course, we can wipe the cache partition on the Samsung S8 phone. To perform this action, you need to get into the Recovery mode. This smartphone has a stock recovery that offers several maintenances and updates related options.
If you wish to try this advance method, just follow the below instructions:
Power OFF your phone.
Now, get into the recovery mode:

Press and hold Volume Up, Home and Power keys at the same time.
Release these keys once the Samsung Logo appears.
You should enter into the recovery mode. Use Volume Up/Down to navigate and Power key to select.

Under this mode, tap on 'Wipe cache partition'.
Perform this action on your phone.
Exit the recovery mode.
That's it. You've successfully wiped the cache partition on your Samsung Galaxy S8 smartphone. It should take away all the bugs and issues that affected the performance stability of your phone.
Now, things must have settled on your phone, it should become stable and everything would work normally. We hope that our readers would find this tutorial.
That ends this tutorial here on clearing the cache memory on Samsung S8. Do share your favorite thing about this smartphone. We would love to from you and implement them in our tutorials.