Mobile
How to clear cache on Google Pixel 3 and 3 XL
Although, Google Pixel 3 and 3 XL sport solid hardware configurations that help them run smoothly all the time. However, just like any other Android phone, you might face some common problems related to performance and stability on these two smartphones over the time. Therefore, to get over such problems, you must know the basic troubleshooting. In this tutorial, we'll help you to clear/delete cache on Google Pixel 3 and 3 XL to improve performance, stability, fix sluggish interface, app crashes, and similar issues.
Troubleshooting Android phones are much easy as compared to any other OS. Most importantly, you don't have to any sort of third-party utility or service. The Android OS offers multiple troubleshooting tools that are really helpful. These tools include recovery mode, download mode, fastboot mode, Developer Options and Settings panel. Even if you're not familiar with these modes, you can manage your phone through the Settings menu. That helps users to perform basic tasks including a factory reset, manage applications, system settings, and allows users to get rid of the cached data.
There are two methods to clear cache on Google Pixel 3 and 3 XL — either you can use the recovery mode or use the Settings' menu to deal with it. Through Settings -> Apps-> Apps list, you can manage cached files associated with individual applications. Whereas, through, recovery mode, you can wipe the entire cached data at once. Thereby, before you perform this action, you better understand your situation. You should figure whether certain applications are causing problems on your phone or whole have been impacted. Based on the condition, you can either delete the cache files of certain apps or all at once.
The Android OS works systematically. It has different partitions for different purposes. To store cache files, it has a separate cache partition. Consequently, while we clear cache memory on our phone, it doesn't impact the apps and stored data. Though there's nothing to worry while we perform this action, we recommend you to back up your important. That would be a safer way for you to proceed further. There's on more thing you should know. Clearing the cache files on Google Pixel 3 and 3 XL would remove that data related to apps. Like, games progress, login details, and similar data are deleted during this action.
During this tutorial, we will discuss both the methods; through recovery mode and through settings. Sooner or later, you might want to clear cache on your phone. Basically, cache files are generated by the applications. And over time, the cache memory becomes so large that impacts that overall performance and stability of the phone. If you figure that your phone become slower over time and stability issues happen frequently, then you should perform this action to see if that resolves these issues. Or else, you can just factory reset your Pixel phone to get over most the Android problems.
Thus, clearing cache on your phone should remove the burden of clutter and junk files that have been gathered within your phone. That fixes app crashes, freezes and sluggish problems. The following instructions shall help you clear app cache on your Google Pixel smartphones.
How to clear app cache on Google Pixel 3 and 3 XL
Open 'Settings' menu on your phone.
Tap on the 'Apps'->'List of Apps'.
Now, tap on the App that you want its cache to be deleted.
Then, tap on 'Storage' entity.
Then, tap on 'Clear Cache'.
Repeat these steps for other applications.
That's it, you've successfully cleared the cached data on your phone. Through this method, you can fix problems and issues associated with a certain app. For example, if you find that particular app crashes each time, doesn't work properly, or becomes unresponsive. Such problems are easily fixed through this method.
To maintain performance on your phone, we recommend you to clear the cache of certain applications frequently. Mostly, all social media apps tend to accumulate heaps of cache data. For example, the Facebook app can gather cached data in GBs within two or three weeks. Similarly, you should take care of such apps. Or else, they would negatively impact the overall performance of your phone.
That's the way to clear off cache data associated with applications. If you want to wipe the entire cache partition, you would need to use the recovery mode. Below, we discuss this mode and how to get rid of all cache data at once.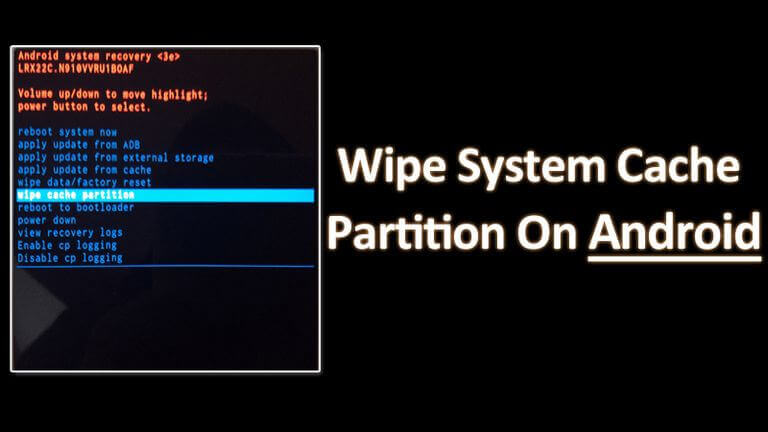 How to wipe cache partition on Google Pixel 3 and 3 XL
As we have discussed that Android OS uses different partitions to store different files. One of them is cache partition. The cache files created by apps installed on the phone are stored within this partition. And over time this partition becomes large. Therefore, wiping this partition will surely help you free some good amount of storage space. That would positively impact the overall performance.
Must see:
In order to wipe cache partition Google Pixel 3 and 3 XL, we use the recovery mode. This mode runs independently and allows users to customize and modify Android firmware. Most importantly, accessing this mode won't void the device's warranty. Thus, you can use this mode anytime you want. Now, just follow the below instructions to wipe cache partition on your phone:
Turn off your phone using the power key.
Under the recovery mode, select 'Wipe Cache Partition'.
Perform this action and wait till it gets completed.
Exit the recovery mode.
That's it, you've successfully wiped off the entire cache partition on your phone. That should have removed most of Android bugs and issues. You'll observe that some good amount of internal memory has been released and you can use that to store other files.
Most importantly, it should calibrate the overall performance and stability on your phone. That's one of the basic troubleshooting you can apply on your phone.
That ends our tutorial here that explains how to delete cache on Google Pixel 3 and 3 XL for better performance and fix multiple issues. We hope that our readers would find this tutorial helpful. Don't forget to share your thoughts and feedback.
If you're facing any problem on these phones or have any question about this tutorial, use the comment section below to write to us. We would be glad to help you further. Stay connected with us for more such tutorials.