Mobile
5 Best Launcher Apps for Samsung Galaxy Note 9
The Samsung smartphones come with Samsung Experience Android Skin good enough to provide a smooth and sleek user experience. This skin has received enormous changes so far since released. However, there are still many folks who would switch to another skin using third-party launchers. If you want to change the looks of your phone, then you must do the same. In this roundup, we gather some of the best theme launcher apps for Samsung Galaxy Note 9. That should help you customize your phone in a better manner the way you want.
Android smartphones, mostly come with their own launchers, but for those who wish for more convenience, we have got some better alternatives to customize the home screen layout and app icons. The Android launchers possess different home screens, app grids, and app launchers that you won't get on Samsung's native home launcher app.
These launchers can differ in their types and specs as per the user's needs, some of which are a part of the list of the best Android launchers mentioned below. We hope that our readers would find them helpful. If you do, please share your feedback in the comment section below.
We hope that our readers would find them helpful. If they are, do let us know through your comments. We would love to hear your feedback and improve this list. We would try to add your favorite one in our list and make it even better. Without ado, let's start our list of best launchers for Note 9.
1. Nova Launcher
One of the best launchers for Android is the →Nova launcher, which is highly customizable as well. The launcher not only enhances the phone's appearance and effectiveness but also prevents its performance from being slowed down. This is the most performance-driven theme launcher for Android smartphones.
Moreover, the users can always play around with a wide range of options provided by Nova, which extends from its collection of color themes to the usage of transparent system bars. Nova has got two versions, namely the prime version and free version, for its users to choose from. In this free version, you could customize your Galaxy Note 9 to a good extent. If you wish to move further, you probably need the premium version of this launcher.
If you're concerned about the performance, then you should follow our tutorial below: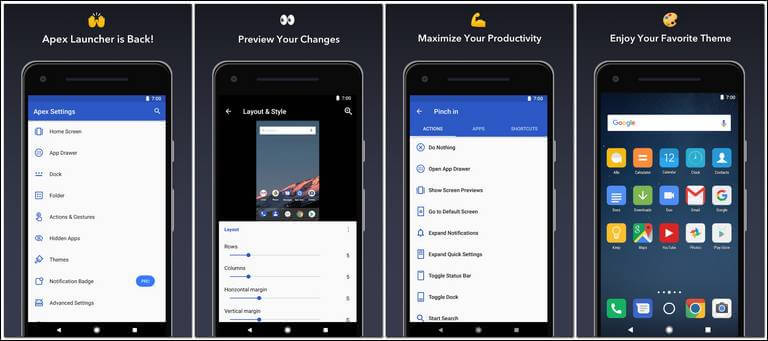 2. Apex Launcher
Second, on our list, the →Apex launcher boats excellent features and remarkable performance are sure to make it to this list. Consisting of features that allow the user to customize the home screen grid size together with the scrollable dock, the launcher has multiple drawer styles, drawer apps sorting, backup settings and data. Apart from the free features, the users can always enjoy, the launcher also offers exclusive pro features, which includes a list of functions that are both convenient and easy to use.
Just like the Nova launcher, it has free version good enough for detailed personalization. Additionally, it has brilliant Apex Notifier service, which shoves all the phone's notifications to a widget present on the phone's home screen. It consumes quite a bit of battery life, but this can be neglected compared with the feature it's providing.
Must see:
3. Pixel Launcher
If you believe in simplicity and would prefer a simple yet beautiful theme launcher, then this launcher worth your install. The →Google Pixel Launcher has simple interface skin that makes navigation easy. To access the applications, you just need to swipe up. If you have tons of applications installed, then use the search bar present at the top of the Apps menu to search applications. Along with that, it displays results from our browser history and internet.
Unlike other launcher apps, the Pixel Launcher app is completely free to download and there is restriction either. It brings some latest news and blogs directly from the internet based on your interest as you swipe right on the home screen. You customize those feeds using Google cards. I personally use this launcher on my OnePlus 5 smartphone and it has been a pleasant experience so far.
4. GO Launcher EX
More than 10 million people use this Android launcher on their phone. Of course, there are reasons for being that popular. The GO Launcher EX is one of the oldest launchers I've seen so far. The team has brought major changes in the past few years.
Now, this launcher offers 3D themes, widgets, and icons. The customizations allowed by the launcher include a variety of themes, gesture app launching, and numerous animated transitions for navigation.
It's incredibly intuitive to use, which is what makes it so popular. It has over 10000+ themes that you could try and apply to your Samsung Galaxy Note 9. You can easily make your phone look unique, beautiful and sleek.
Must see:
5. Buzz Launcher
The →Buzz Launcher, being one of the top Android launchers on the market right now, comes with the facility of designing your own personalized Android interface. The users are free to create their home screen and can even share them online.
Other than this, the users can also look through the designs created by the others and have the freedom to download the ones they find appealing. One can always experiment with their wallpapers, icons, folders, drawers, and home screen options using this amazing launcher.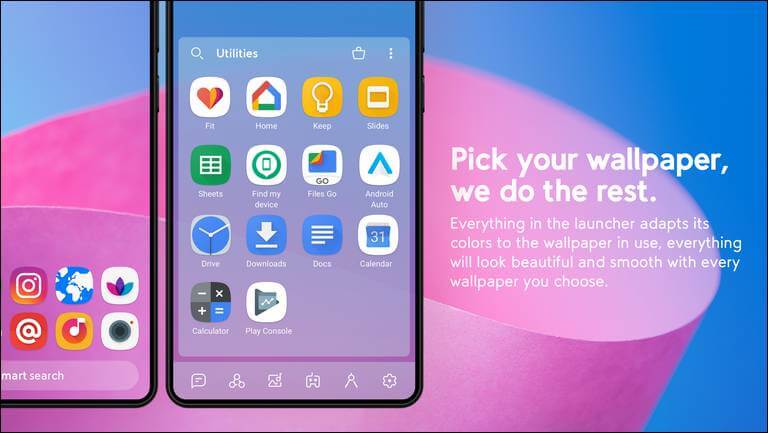 6. Smart Launcher 5
This free Android launcher version comes with a simplified home screen consisting of a circular menu where the most frequently used apps can be placed. Moreover, there is an intelligent app drawer that sorts the phone's apps into its relevant categories, preventing the user from doing it manually.
The →Smart Launcher 5 has its paid version as well with additional features such as a secondary screen for placing widgets and an expanded lock screen. Recently this launcher has received many updates that make it a solid contender in our list of best theme launcher apps for Samsung Note 9 smartphone.
7. Zero Launcher
The →Zero launcher, although small, is good in terms of delivering well-designed visual and usability customizations. Having simple 3D transitions, it offers user visual feedback at the least cost of performance. Swiping the screen up and down brings down the search and settings bar while squeezing the screen brings up the management interface.
This launcher, like all other launchers, has a premium version as well, which is equipped with some additional features that are worth the price.
Although all these launchers are different in their style and functionality, they serve the purpose of providing convenience to their users with less manual work and higher efficiency.
Although all these launchers are different in their style and functionality, they serve the purpose of providing convenience to their users with less manual work and higher efficiency. That ends our list of best launcher apps for Samsung Galaxy Note 9 smartphone. Do share your favorite one with us in the comment section below.