Mobile
How to speed up Samsung Galaxy Note 10 for faster performance
Having an Android-based smartphone like Samsung Galaxy Note 10 is great, to begin with, but on the other hand, it can bring in quite the challenge to maintain its performance, stability, and user-interface over time. If you're among those facing slow performance and related bugs, this guide shall help you overcome those problems. In this guide, we help you speed up your Samsung Galaxy Note 10 for faster performance and a more user-friendly interface.
The more apps you add, the more clutter you will end up having on your device. Not only that, but the experience does tend to degrade in the long run and you want to avoid any potential problems right from the start. Because of that, you should consider using these great tips as they are designed to boost the performance right from the start.
Best tips to speed up Samsung Galaxy Note 10 for faster performance
1. Use lightweight background apps
Always try to download apps that have a very small size. Don't opt for a 100MB app when one with 10 MB can do the trick just as nicely. At the end of the day, you will have more free memory and this does provide you with a great boost, to begin with.
For example, you can use Facebook lite applications instead of using their absolute versions. There's no doubt that social media apps keep running in the background, however, some of them consume a lot of processing resources. Therefore, it would be better to have their lite version, that keeps RAM and processor to do other tasks.
Keep that in mind and you will be more than impressed with the results for sure!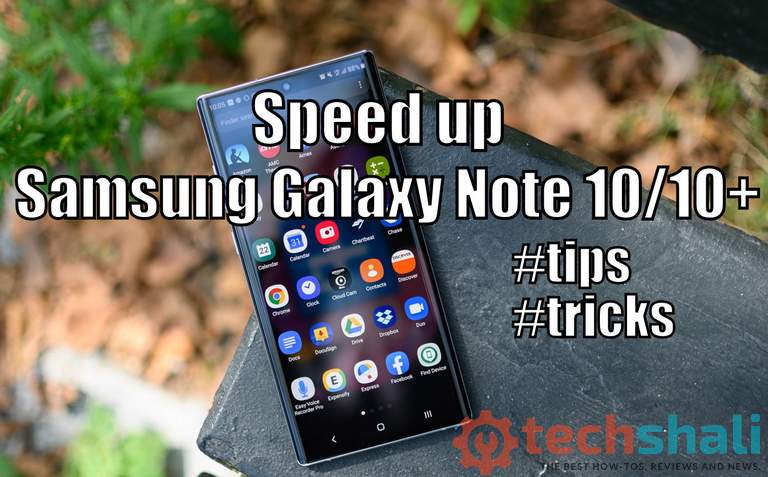 2. Use a dedicated boosting app
An app like the Android assistant will allow you to move the unwanted files to the SD card in order to acquire more free space. While Samsung Galaxy Note 10 comes with a plethora of internal storage, there's no doubt that current videos, media files, and applications do require bigger space too.
As you keep using your phone for a long time, the internal memory or external storage may get filled with unnecessary files and data. Therefore, you should definitely clear and maintain other aspects of your phone. For that purpose, you can use performance boosting or phone cleaning applications once in a month or twice.
It's a very helpful tool because it helps you keep less stuff on your phone's memory and that does help acquire better performance and more battery life, to begin with. Just head over to Google Play and search for a relevant application.
Must see:
3. Access the battery saver
If you want to save battery, this is the tool to help you do it. This is very easy to use, it does provide very good quality and the fact that you can save battery life is very helpful as well.
You should consider giving it a shot as it's well worth your time. Plus, saving battery life will also allow you to make your phone last longer, which is exactly what you want in the first place. Such applications are helpful in a case where you seek longer battery life due to a certain condition or situation.
There are plenty of options that you can find on Google Play. Further, we suggest you visit our dedicated list of such applications, you can choose any of them:
Also, many of these applications can be used to maintain performance through cleaning your Note 10's storage space and customizing other aspects.
4. Remove widgets
Aside from wasting precious performance, widgets don't really offer any benefit. Sure, they inform you about various stuff but they do so at the detriment of performance. It's important to try and remove widgets as they end up doing more harm than good.
Plus, you do want a performance boost and their information can be found in a wide variety of locations, to begin with. Nowadays, you don't have to use widgets for most of the purpose. The theme launcher applications come with inbuilt widgets that won't hurt the performance that much.
For this smartphone, we have already gathered some of the best launcher applications that you might be interested:
5. Reduce animations
Believe it or not, the idea of reducing animations can come in handy.
It's very helpful because animations do end up hampering performance and they don't offer much value aside from performance. It's very good to use and it does bring in front of a stellar experience.
The options you should use are found in the Developer Options and they include the transition animation scale and the window animation scale. If you have forced GPU rendering then you should consider removing that as well, so try to keep it in mind.
Either you can disable or reduce these animations on your Samsung Galaxy Note 10 smartphone. We won't recommend you to entirely disable animations, that could mess the user experience. Rather, we expect you to reduce the extent and duration of animations. That improves the overall performance, that you can experience while launching apps, swapping from one to another, and through browsing one window to another.
In order to access the Animations setting, you would need to enable the Developer Options on your phone. Just follow the below tutorial to do that:
This should definitely make your phone faster and smoother than before. If you find that helpful, make sure to share your response in the comment section.
6. Clear cache data
There's no apprehension that cache files keep grasping storage space within our phone and they cause common problems that users face frequently. Whether your phone's performing has become dull, it freezes or facing an unstable user interface, this can be caused by the cache data. Basically, these files turn into nothing over a certain time period and probably, they resist the usual working of our phone.
Therefore, it becomes important to be certain of data and we should wipe it frequently. Social media apps like Facebook and Instagram can generate heaps of cache files within a small span. So, you can clear the cache of individual apps or can wipe the entire cache partition at once.
For those facing app-related problems, clearing the cache of that particular app can help. Otherwise, deleting entire cache data would be helpful in tuning overall performance of the phone.
Here's how you can clear the cache of individual apps on Galaxy Note 10:
Open Settings
Tap on Apps and open the Apps list.
Then, tap on the Storage
Tap on 'Clear Cache' and 'Clear Data', perform these two actions.
Repeat the same for other apps.
To delete the entire cache on this phone, follow the below tutorial:
**Must know that clearing cache files associated with apps wipe the related data like login details, downloads, progress, and other information.
Must see:
7. Restrict background data
Syncing uses the web connection and thus it requires a lot of processing power and battery life. You should stop syncing to the best of your capabilities. It's very easy to do that and the results will indeed pay off very well. You shouldn't stop syncing everything, but options like the browser, contacts or calendar aren't really mandatory for syncing, so you should think about that.
Apart from the system applications, you would find many third-party apps like Facebook, Twitter, Reddit, etc, that run in the background and keep syncing data. You don't need all the apps to do that. Therefore, you better keep this ability turned off for these applications.
To do that, just open the Apps manager on your phone, then browser each application, tap on 'Data usage' and toggle off 'Background data'. This saves your Internet data being used carelessly, makes your phone last longer and surely, should bring some performance benefits.
8. Update the apps
Make sure that you update apps because this will help you obtain very good performance and results will be more than impressive all the time.
It's the best thing you can focus on and results will be great for that reason alone. You should consider updating apps because devs always tend to fix security and performance issues. So if you do want better Android performance you definitely need to think about doing a quick update!
10. Disable unused apps
It's important to try and make sure that you obtain a very good set of results right from the start. The idea here is that you should try and disable apps that are included in the operating system but which don't really deliver any value, to begin with. You will be more than impressed with the results here, so try to keep that in mind the best way you can.
Basically, on your Samsung Galaxy Note 10, you will plenty of bloatware apps (referred to unnecessary/unwanted applications) that you might not have used so far. Many of these applications consume different resources like processing power as they run in the background, storage space, Internet data and of course battery power.
Thus, keeping tabs on these unused applications can make a huge difference. While we working on Note 9, we found about 120+ bloatware apps that we disabled, resulted in 1.5 GB extra free RAM. That surely makes sense.
Just go ahead and disable apps that you don't use. Just open the Apps manager, tap on the application and then, tap on Disable. That's it!
11. Stay up to date
Aside from updating apps, you should also update the operating system.
This is very important if you want to maintain good system performance and you want to boost stability. It will not be easy to do so and results will indeed pay off quite a bit in the long run. You should consider doing this as soon as the updates appear.
Keep in mind that these updates can be checked via the About Phone option. It's important to perform these updates as fast as possible as they do matter quite a bit!
12. Understand what your device can do
If you don't have lots of space and processing power or the latest OS, you shouldn't overburden your device. Try to make sure that you understand what your device can do and what it can't do. In the end, this will help you prolong the battery life and it will also provide you with a great return on investment.
Make sure that you follow all these tips if you want to optimize the performance and battery life of your Samsung Galaxy Note 10 and Note 10 Plus smartphones. Some of these seem very simple, but they do bring in amazing quality, so you should definitely do all these tasks as they will help you boost your device's speed and overall performance.
Don't forget to share your experience with us in the below comment section. If you have any other tip, share with us.