Mobile
13 Best Games for Samsung Galaxy Note 10 and Note 10+
We are not always around the internet or WiFi, there may be times when we have to survive without the internet and those times are really tough. What shall you do in that leisure time? Play games possibly but for that, you would need games no WiFi games. Here we gather some of the best offline games for Samsung Galaxy Note 10/10 Plus smartphones, so you're not bored even when there's no access to the Internet.
Wait! What are "No WiFi Games"? It's simple, the games that don't require internet or WiFi to connect or to be played. You can enjoy those games without WiFi and for free. There are paid one but our main focus for this particular list is. With that good hardware, definitely, you would be enjoying these games on your phone.
Now you may be thinking that what category we are going to target here. We understand your concern as taste vary from person to person and the game you like might be hated by someone else.
So, we'll be listing free games that don't need WiFi from various categories, be it action games, arcade, puzzle or fighting. Time to begin with the list of best offline free games, don't forget to tell us which of these game that doesn't need WiFi is your favorite.
List of best offline games for Samsung Galaxy Note 10/10+
1. Badland Game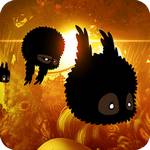 Let's begin with the "Adventure" category. The graphics are quite good and the backgrounds do give a feel of badlands. It is a 2D runner game where you have to escape through numerous obstacles without getting killed.
The background will keep you addicted to the game and the challenges are quite good. The game can also be played in multiplayer mode however it can only have 4 players at a time in multiplayer mode. So, you can enjoy this game on your Samsung Galaxy Note 10 with your friends and family.
Indeed a good game who like adventure, running and escaping from obstacles. One more thing, you are not a human in this 2D running games, it's a weird character. Have a look at the attached video to get an idea about the game.
Download this game here.
2. Shadow Fight 2
What's up action lovers? Look what we have got for you, a highly popular and amazing action-packed no WiFi game "Shadow Fight". You have got no face in this game, neither your opponent. These are all shadows fighting all around and the stronger one wins.
You can customize your fighter with epic swords, nunchaku, armor suits, magical powers,
and more, and the animation gives more feel to the characters of the game. Indeed a very nice game without WiFi.
Download this game here.
Must see:
3. Asphalt 8
If you not new to the gaming world then you already know about this game, a true racing game that ever racing lover would love to play. This game also falls into the category of no WiFi Games and indeed if one of the best.
With ultimate graphics and gameplay, this games becomes one of the most loved and downloaded games ever on Google play store. The game has already crossed the mark of 200 million, which is huge.
You can also challenge players from around the world but that would need internet or WiFi connection.
If you truly need a racing game that can be played without WiFi then just go for this without thinking about any other game.
Download this game here.
4. 2048
This is a brain game and one of the most interesting WiFi free games, the beginning of the game is easy that even a 5-year-old can solve but up to certain levels, after that, it will become difficult for a fully grown up too.
The games just ask you to add the same numbers and make the highest score possible. Yes, you read it right, it's all about adding numbers. Adding numbers? Oh, that would be very easy! WAIT! Don't ever judge a book by its cover, it's not that easy.
Don't believe us? Try it once and you'll get to know what's so special about this no WiFi game.
Download this game here.
5. Candy Crush Saga
Half of the Facebook users are irritated by the candy crush requests, let's make some more. A game which is highly addictive and keeps you engaged for quite a long time with it's interesting and never-ending levels.
This game without WiFi is based on classic matching the same game but today also it has a lot of user base and millions are still enjoying it. If you're looking for more addictive games that you can play almost to infinite time, then this game wouldn't disappoint you.
This game is among the most popular Android games so far. It is being played by billions of people around the world.
Download this game here.
Must see:
6. Six-Guns: Gangs Shutdown
Another gift for action lovers, it's the second action game on our list of no WiFi games. You will feel the adventure and action in this single game, packed with some supernatural activities and powers.
If you've ever loved that cowboy stuff then you're going to love this game. You can race in this game, kill the gangs in multiplayer mode, face the supernatural creatures and whatnot, a complete action-packed game.
This game offers an extensive range of weapons and armory throughout the missions that you get. Most importantly, it has fantastic visuals that go around. We are pretty sure that you're going to like this very much on your Samsung Galaxy Note 10 smartphones.
Download this game here.
7. Color Switch
This is a simple yet very difficult game. The developers of this game claim that you can't even reach 25 scores in your first 5 chances and it is something true.
The game is inspired from the color switch but can be played offline. Indeed, one of the good. And most intitutive one that you can play for long hours throughout the day.
Your job in this game is to prevent the ball from getting burst, you have to bring it down but without bursting. It has got 2 games modes, levels and endless. Try to make the highest possible score you can make.
Download this game here.
8. Sudoku
How can we forget this classic yet very interesting game on our list of no WiFi games? This game was there when there was no mobiles and Android and still people love this as much they used to do years ago.
A brain powered game which enables you to use your brain up to a nice extent and some even get irritated when they couldn't solve the puzzle. If you are looking for those no WiFi games which require some thinking and logical skills then go for this game, it's all about playing with numbers and patience.
Download this game here.
9. Plant VS Zombies
You have seen humans killing zombies, robots, and cars killing zombies but have you ever seen plants killing zombies? No? Then this is among those no WiFi games in which plants will zombies.
This game is among strategic games, you would need to plan your actions and plant weapons to fight against zombies. You mustn't let your guards down, or else, zombies would get over you.
Let the plants take their revenge by killing zombies after all zombies cause harm to them also. A unique and interesting game that deserves a try.
Download this game here.
If you're looking to play games like God of War, Dragon Ball Z, and more, just follow the below resources:
10. Hill Climb Racer 2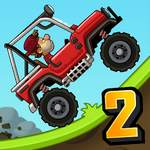 Last but not the least on our list of no WiFi games is Hill Climb Racer 2. You will definitely not see Asphalt 8 like graphics and animation but this is also a nice one with a nice gameplay.
You can definitely play this game without WiFi, just download and install and play it offline whenever you want. I remember, once it was among most played games and still it really worth playing this version.
You can also go online and play online challenges and races.
Download this game here.
11. Google Dinosaur Game
This is one of those free games that don't need WiFi which works only with computers. You can play this offline game inside google chrome when there is no internet. The only condition to play this game is that you should have a Google Chrome browser, computer/laptop, and no internet.
Open chrome, visit any website without internet, it will show an error with a dinosaur, press space bar key and the game will start immediately.
Whether you're working on your PC or mobile, you can play this game anytime you want.
12. Duet
Duet is one of those free games that don't need WiFi. You can download this game on your Android or iOS for free. This game needs your attention and you can't ignore it for a second even, else you will lose. Your goal is to keep the 2 colored balls in sync and dodge the hurdles.
It is not that easy as it seems. You can definitely try out this game right now on your Galaxy S10 phone. This is game really very tough, you would need to keep your eyes up all and make you move quickly to avoid obstacles coming to you. If you're looking for something really challenging, you must have this game installed on your phone.
Download this game here.
13. Brothers in Arms 3
An awesome game that has all the action any action lover would want to see. Go for dangerous missions and turn back alive, a truly awesome game by Gameloft, this is one of the best offline games in the action category.
Being developed by Gameloft, a top game maker, you can expect stunning visuals beautifully blended with an epic story. The gameplay offers a complete 3D environment, visuals are good, and it definitely worth your installation.
Download this game here.
Conclusion
The game you want to go for totally depends on your choice. Choose it according to your taste and if you have any other good offline game then let us know.
All the games mentioned in the list are really worth space on your Samsung Galaxy Note 10 and Note 10+ and you can pass your free time with these anytime and anywhere. Have fun gaming. Stay connected because we will be adding here more free games that don't need WiFi.