10+ Best Apps for Samsung Galaxy S10 and S10+
The Samsung Galaxy S10 series is finally here! There are some super-exciting features that are making mobile enthusiasts literally drool! However, there is no fun in using any smartphone without downloading the right kind of apps no matter how good the phone is. To make most out of these smartphones, we have gathered some of the best / must have apps for Samsung Galaxy S10E, S10, and S10+ smartphones.
Through these apps, you should be able to use these smartphones more precisely for different purposes and get the best productivity and fun out of them. Samsung Galaxy S10 and S10 Plus have a Dynamic AMOLED screen that comes with a HDR10+ certification. There are in-display fingerprint sensors that have been embedded below the screen.
The triple-lens camera of the smartphones has some awesome software enhancements such as the 'Bright Night' feature. It is surely something that photography enthusiasts can immediately connect with and would, therefore, be eager to download the most highly-rated photo editing apps. The Samsung Galaxy S10 series has up to 1.5TB of storage and a 12GB RAM.
This seems like a power-packed combo! The other exciting features of these smartphones include AI app prediction, Wireless Charging 2.0 support and Wireless PowerShare. After learning about the exciting new features of Samsung Galaxy S10 and Galaxy S10+, you would obviously be raring to know about the apps that will take your experience with the phone to another level. So, here are some well-rated apps that you should definitely consider downloading on your Samsung Galaxy S10E, S10 and S10 Plus smartphones.
List of best Apps for Samsung Galaxy S10E, S10 and S10 Plus
1. IGTV
Entertainment is one thing that you always want your smartphone to provide you with. The superb display of Samsung Galaxy S10 series should give you a great experience whenever you watch videos or view photos on it, right?
There is an app from Instagram that has long length videos to offer and it is called IGTV. This app lets you make hour-long videos as well as watch the ones made by others. It is highly unlikely that you don't have an Instagram account because everyone these days are posting their daily antics on it! So, all you need to do is simply log in to your existing Instagram account.
Must see:
By doing so you can watch videos on IGTV created by the people you follow on Instagram. The videos can also be liked and commented on. You can browse for content you like to view. As it is a part of the main Instagram app, you are technically not required to have the IGTV app on your smartphone but if you exclusively want to watch longer videos, you can always download the app.
2. Lens Distortions
The triple-lens camera of the Samsung Galaxy S10 series would make you want to make the most of it. Though you might already have in-built photo-editing features in the phone, with the Lens Distortion app, you can up your photography game.
The app adds effects that no one feels that you have added. Unlike other photo editing tools, this app adds natural and life-like effects to your photos. Also, there won't be any artificial-looking filters when you use the Lens Distortion app.
Your photo will appear as though it has been captured by the camera. There are sunlight, fog, rain and snow effects that are best-suited for photos clicked outdoors. After applying a filter, the brightness, contrast and other pointers can be adjusted. The app is easy to use and the photos edited can be saved to the phone's memory, uploaded to the cloud or shared on social media. There are a plenty of photo filters to choose from. You can pick the filter that suits your personal preferences.
3. Evernote
They can be accessed from your desktop or through the browser. A handy tool for professionals, it will definitely give you the much needed edge over your colleagues!
It is obvious that the owner of the Samsung Galaxy S10 series must be climbing high up on the corporate ladder. Back to back meetings and discussions are a common part of your life, right? In that case, having a note taking app will definitely be of tremendous help to you. Evernote is one such app that helps you take notes along with saving information like email ids, web links and schemas.
Must see:
4. Frontback
Another photo app but this one is quite different and innovative. The Frontback app lets you click a picture of objects facing the front as well as the rear camera and share both of them as one single image. It will be the ultimate app for you if you are backpacking around the globe and want to capture what is on both sides of the smartphone camera!
It seems to be the perfect app for avid travelers who want to share pictures with their friends on social media. The awesome camera quality of the Samsung Galaxy S10 series will ensure that you get the most amazing pictures every time.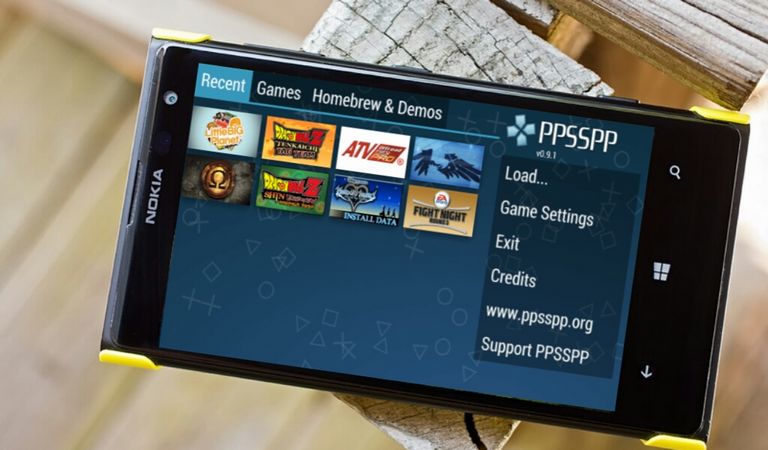 5. PPSSPP Emulator
Do you find yourself a gaming addict or just like to play games in the free time, whatever be the case, you mustn't miss this application on your Galaxy S10. The PPSSPP Emulator is the far most complete PSP emulator that is able to play almost every PSP game at original FPS rate. Since these Galaxy smartphones have powerful blend of hardware and software aspects, you can experience seamlessly good gaming experience.
Through this emulator, you can easily play big titles like God of War, Naruto, Dragon Ball Z, Final Fantasy and so on. We highly recommend that you use this emulator to everyone seeking real gaming experiences on their phone. To get more out of this app, users would need to configure it correctly. For that purpose, we have already published following tutorials:
6. Dropbox
Data storage! Yes, it is definitely one of our growing needs after food, water and shelter! Though the Samsung Galaxy S10 series has a lot of memory space to store all the stuff you like, it is important that you have a cloud storage app on your phone also. One such app is Dropbox. It helps you save all your data online and then make it available on any device you use.
All you need to do is sign in from the same account. When you have stuff saved in the cloud, you can sit back and relax as there is no chance of losing your precious data. Must visit our list of best cloud storage apps available for Android phones.
7. Netflix
The awesome display of your Galaxy S10 and S10+ should be put to good use and therefore you must consider downloading an online video streaming app like Netflix. It is one of the most sought after app when you talk of entertainment anytime and anywhere. You can watch a number of different movies and TV shows you like and the good news is that the interface of the app is a piece of cake.
A must-have for movie buffs, this app is definitely going to change your definition of video streaming. Though there are already many other such services like Amazon Prime, etc., still Netflix has many advantages over other contenders.
Must see:
8. LastPass
Remembering passwords can be a tough job and credit goes to the plethora of different apps you use on a daily basis. Keeping track of all the passwords can be a nightmare and it is at this juncture that you would need an app to help you out. If you want a password manager for your smartphone, you can totally depend on LastPass as it is one of the best! Easy to use, the app helps you create stronger passwords.
You can synchronize your passwords across different devices such as your PC and mobile phone. Isn't it great to have LastPass to help you out? Also, we suggest you check our list of best password manager apps for Android. There are many more such apps that you can use on your phone.
9. Pushbullet
If you want to share files, photos or videos to another device from your Samsung Galaxy S10 or S10+ smartphone, you can do so with Pushbullet. This app lets you view your mobile notifications on your PC, and share files, addresses, links etc with other devices.
Pushbullet comes handy if you want to send data from your smartphone to your desktop instantaneously without the hassle of plugging in USB cables. It will make your file-transferring job very simple. If you're just looking to transfer content from your mobile phone to computer or another device, there's an alternative that you can rely on; Xender. We personally use this application and it really makes transfer actions simple and quicker.
10. Runkeeper
Fitness is extremely important if you want to live a fulfilling and enjoyable life. However, if you don't have a workout partner or a friend who lifts your spirits up when you are down, you can seek the help of a fitness app called Runkeeper. This app will keep a track of your walking, running and bicycle riding.
It will calculate and tell you the number of calories you have burnt during every session. And it will record your progress and also let you share it with your friends on social media. That should boost your morale. This app is a must-have if you want to keep yourself motivated while you are working out to get fit.
11. Tasty
Have you been into cooking lately? It has become a passion for most people these days. Do you want to try out new recipes? You might, therefore, be on a lookout for an interesting cooking app! It is highly unlikely that you have not heard of the famous website of Buzzfeed – Tasty. They make super quick and easy to understand videos of yummy recipes. They have an Android app that is a total delight to use.
You can select the recipe you want to see by a single tap and sit back to watch it being made. To help you out there is a list of ingredients and a complete guide. If you love cooking, you should definitely try out this app. Watching the videos on your Samsung Galaxy S10 or S10 plus smartphone's amazingly clear display is going to be a complete joy!
Mobile apps have made themselves indispensable to the smartphone-toting world today. Nowadays, people know exactly what they need, they don't seem to be patient sufficient to sit down again and wait, they want it all right now. With most of the info stored throughout the app itself, the 'waiting' and 'looking out' time is diminished to a substantial extent.
Apps are a lot faster with an enhanced stage of person-friendliness, value-effectiveness and very handy if you find yourself on the go. And if you don't find your app working well in other countries, just localizing your apps that result in further downloads, followed by further prospects and corresponding extra purchases, which is exactly what companies look out for in international markets. There are many online services like TheWordPoint.com that offer this app localization services.
So, rounding it all up, your new Samsung Galaxy S10 and S10 plus would leave you awestruck when you download the apps mentioned above. These are just a fraction of the existing apps on Google Play. There are many more for you to discover and use as per your choice and preference.
https://techshali.com/must-have-apps-samsung-galaxy-s10e-s10-plus/
https://techshali.com/wp-content/uploads/2019/03/Best-Apps-Samsung-Galaxy-S10E-S10-Plus.jpg
https://techshali.com/wp-content/uploads/2019/03/Best-Apps-Samsung-Galaxy-S10E-S10-Plus-150x150.jpg
Mobile
apps,Galaxy S10,Galaxy S10 Apps,Galaxy S10 Plus,Samsung
The Samsung Galaxy S10 series is finally here! There are some super-exciting features that are making mobile enthusiasts literally drool! However, there is no fun in using any smartphone without downloading the right kind of apps no matter how good the phone is. To make most out of these...
Vinita Kochhar
Vinita
Kochhar
vinitakochhar007@gmail.com
Contributor
Techshali