Mobile
How to Update Samsung Galaxy Note 9 [The Definitive Guide]
The update process includes different aspects and procedures. Whether you want to update, modify or downgrade the Samsung Galaxy Note 9, this tutorial has covered all such operations. Thus, you don't have to look for any other resources. Updating process helps to put a newer software version, third-party ROM and install the stock firmware. Therefore, it becomes important for you to learn these different solutions. Being powered by Android OS, it is much easier to update the firmware and make sure that our phone runs stable and smooth all the time. It helps users to fix several problems and troubleshoot their smartphone.
There are several update operations can be performed on Samsung Galaxy Note 9. This tutorial is not limited to official operations, we will also discuss some custom updates. Whether you want to update firmware or flash custom ROM, these guidelines should get you through the required procedures. There are many alternatives to replace the default Android UI like LineageOS, Paranoid, PixelExperience and so on. Thus, you always have options to customize and modify your phone the way you want. We all aware that mostly OEMs release updates through OTAs based geographical locations. It happens that in many regions it takes a lot of time to reach those updates. Instead of waiting for those updates, users can manually flash those updates.
In that respect, you should remember this tutorial or keep it bookmarked. You can perform any update procedures if you're aware with the correct steps. Therefore, we have divided this tutorial into different parts. We will start by applying OTA updates manually, then take things further to stock firmware and in the end, we discuss custom ROMs. If you're already prepared for tweaks and intense customizations, the custom ROMs would the best to start. You find lots of ROMs for this Galaxy Note 9 over Android forums, or soon we'll be publishing a dedicated list of them. If you're looking for some useful applications that you must visit our list of best apps for Galaxy Note 9, we cover productive applications in this roundup.
Sometimes updating process could end up corrupting the internal storage space. Therefore, we highly recommend to backup all important stuff before taking an action. You can start by keeping photos, contacts, messages, videos, and documents synced to online services like Google Drive or create an offline backup of your Galaxy Note 9. For Samsung users, there is an application called Smart Switch, it helps to sync data between different devices. Or you can search the Google Play store for such applications. That should make the backup process easier for you. If something happens after you perform any of these actions on your phone, it cannot be undone. Thus, a general backup is highly suggested.
You must remember, installing a custom firmware or something that manufacturer doesn't support, will void the warranty on your phone. Most probably, it would hit the KNOX. Therefore, you should be careful while you perform any sort of custom operation. Now, going ahead, we discuss different update operations can be applied to Samsung Galaxy Note 9. Some of them are officially accepted by Samsung and the rest of them not.
How to flash OTA updates on Samsung Galaxy Note 9
Mostly all OEMs release OTA updates based on the region and a few other metrics. For some countries, it takes 2-3 months extra (or even more ) to reach particular updates. Thus, if you do not want to wait that uncertain time, you could update your phone manually.
Before we learn to apply OTA updates through that particular method, we should discuss OTA updates first. Basically, OTA is the kinda channel through which most of the manufacturers roll out official updates for their smartphones. Companies like Samsung, LG, Google, etc., release such updates based on the device's configuration and country region. Thus for users delays happen, some users receive updates quickly and others keep waiting for them.
OTA updates help to keep our smartphone updated with latest Android version, features, and functionalities. Just like other OEMs, Samsung too releases updates for their smartphones. For Samsung Galaxy Note 9, we can expect Android 9 Pie to be released soon or you could flash a particular custom ROM to acquire it.
While we talk about OTA updates, you can be relaxed and wait until they are released by the Samsung. You don't have to anything, as soon as the Samsung release an update, you get the notification and then just download it and install it through available on-screen instructions.
Or you can check manually if updates are available on your phone or not. You can make it through:
Open the Settings on your phone.
Then, tap on System Updates.
Tap Check for system updates:
If new updates are available, you'll get to see the details and further instructions to download and install them. Just follow the on-screen instructions.
That's how most of the users install an OTA update on their phone. As we have already told you, these OTA updates are released based on the region. Therefore, it takes a long to reach some regions.
Thus, if you face such update problems, then you can flash such updates manually.
How to flash OTA updates manually
There is no need to worry if your device failed to receive updates quickly as we can flash them manually. You don't need any sort of tool or flashing utility, you just need to download the rolled out an update.
Then, we will enter into the recovery mode and flash this update. And this is what our device after receiving the update. It reboots to recovery mode and installs this OTA update.
You just need to download the OTA update released by the Samsung for your Galaxy Note 9. Make sure that model number is the same for this update. Otherwise, it can brick your phone or even worse can happen. You must be careful while you perform any manual action.
We even put an update manually, it doesn't void the warranty or hamper any of your data stored. Still, we recommend you to take appropriate safety measures. You must backup important stuff like photos, videos, documents, and contacts.
The following instructions will help you flash an OTA update on Galaxy Note 9 manually:
First, download the appropriate OTA update released on your phone. You can download this update from Samsung's official website or Firmware forums. Save it on your phone and remember the name and location of that file.
Now, turn off your phone and get into the recovery mode — How to boot into the recovery mode on Galaxy Note 9. The stock recovery mode looks like this:
Now, tap on Apply update from SD Card.
Then, locate the downloaded update package and install it using the on-screen instructions.
It will take several minutes to complete this update procedure like we usually see in OTA updates.
Once you one with the installation, tap on 'reboot system now' to reboot your phone.
As soon as you exit this mode, your phone will reboot. After this operation, your phone might take several minutes to bring the Android UI in the front.
Now, go into the Settings->System Updates to check for the updated version. Or just open the Software Information->About Phone->Android Version.
That's another official method through, you can manually flash the updates. Most importantly, it won't trip the KNOX on your phone. Thus, it is completely safe and secure.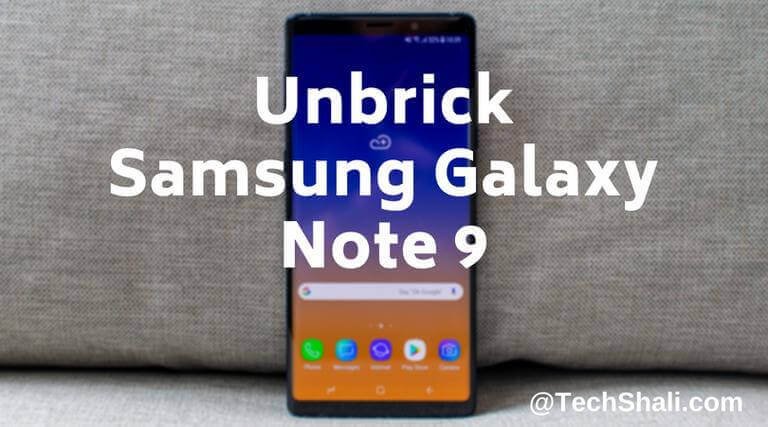 How to Flash stock firmware manually on Galaxy Note 9
This is one of the most important aspects you should learn. We know that Android OS can be bricked and your phone too. Thus, you must be certain with solutions that help to repair the bricked Samsung Galaxy Note 9. Until the problem is related to Android software, we can cure it.
Otherwise, the problem has relation to the hardware, you better submit the phone nearest service outlet. Just any other Android phone, the Galaxy Note 9 can be bricked easily. Users usually face such problems while performing some kind of custom operations.
Generally, it happens while we try to install custom firmware and third-party mods. Although, custom ROMs are good and better in most of the manner, but sometimes we end up depolarizing things. That might cause the current OS to malfunction and behave abnormally.
In such cases, the user is unable to use the phone and nothing seems to work, then installing the firmware could help. If the firmware has been affected somehow on the phone, and it could not boot up, then re-installing the firmware should restore the phone.
This process will wipe your phone completely and revert all the custom changes. Custom things like firmware, recovery, mods, and settings are wiped post we perform this process. Installing the stock firmware can cure following things:
Helps to unbrick the Android phones.
Replaces custom firmware and recovery with official stock aspects.
Restore the warranty in case you've lost it.
Removes all sorts of custom settings and configurations.
Restores phone's performance, stability and calibrates the battery life.
If you ever end up bricking your phone, or would like to downgrade the phone to its default operating system, then install the stock firmware. That will reset and restore the default firmware on your Samsung Galaxy Note 9 smartphone.
To install the stock firmware, we have published a dedicated tutorial. Just follow the below tutorial to learn different methods to unbrick and load stock firmware on Galaxy Note 9 smartphone:
In this tutorial, we explain different solutions to remedy problems on this smartphone.
How to install a custom firmware (custom ROM) on Note 9
If you're really serious about taking things in your control, then you must switch to a custom firmware. They are better in many aspects as compared to the stock firmware. Basically, the Android Developers take the pure Android builds, and create custom ROMs. Intentionally, tweaked well for better performance, stability, and user experience.
With custom firmware, you get access to the core-settings on your phone. You can almost access/edit the core part of the Android software. Thus, you can customize your phone the phone you always wanted. However, installing a custom firmware is not a straight path.
It requires some preparations that you should complete. In order to install a custom ROM on Samsung Galaxy Note 9, you need the TWRP recovery, a custom recovery that gives privileges to install custom firmware and access root. Most of the custom ROMs come pre-rooted, that provides you extraordinary privileges to control your phone.
Since TWRP recovery is developed by third-party developers, installing it would void the warranty. So, if you decided to install custom ROM, then the warranty on your phone will be voided.
There are many custom ROMs you can choose like LineageOS, PixelExperience, Paranoid Android and many more. Each of these offers better customization options and performance. You can expect many improvements after installing these ROMs. So, before we get into action, you must know that installing a custom firmware will wipe the internal memory of your phone.
You should back up your Samsung phone so you won't lose your data. That is a much safer way to perform this action. Before that, you must install the TWRP recovery on your phone, just follow the below tutorial:
Once you install the TWRP recovery, you can maintain your phone in a better manner. It allows users to install custom firmware, perform resets, advanced options and back up current firmware. The TWRP recover allows users to create a backup of current firmware, that generally known as a NANDROID backup.
Now, you're ready to flash the custom firmware on your phone. Just follow the below instructions to flash a custom ROM on Galaxy Note 9:
First, download the custom ROM on your phone, remember the name and location of that file. You can Google to find out the best ROMs for this smartphone. Stay tuned with us, we will publish such list very soon.
Turn OFF your phone.
Now, boot your phone to the recovery mode to access the TWRP recovery menu (steps are mentioned above):
Tap on 'Install' and load the downloaded custom ROM file and flash it by swipe right. Follow the on-screen instructions to start the installation process.
Once the installation is completed, tap on 'reboot system now' to reboot the phone.
Now, your phone will reboot and bring forth the new Android UI soon. Now, you can customize your Android experience your way. The custom firmware brings different improvement opportunities.
Thus, it serves you better performance, stability and customization features. Also, you get access to many advanced features and applications.
Troubleshooting
While we install a custom firmware or perform some sort of custom operation, sometimes things become bad. Therefore, you should know how to counter them and get your phone out of these problems. The very best thing you could is to perform a hard reset.
That removes most of the problems and makes the device work properly. If something like that has happened to you, try performing a hard reset. Just follow our below guide for the purpose:
In the above tutorial, we discuss different ways to perform a reset this smartphone.
The Wrap-up
So, there are the different ways the Samsung Galaxy Note 9 users could update their smartphones. Now, you should be certain with different update procedures that can be applied safely on this smartphone. If you stuck anywhere or face any kind of problem, do let us know. We'll reach out to you with a solution as soon as possible. We hope that our readers would like this tutorial, do share your opinions and thoughts in the comment section below. We would love to hear from you.