Mobile
How to Speed up Moto G6 and G6 Plus for faster performance
This is a quick guide on improving performance on Moto G6, G6 Plus, and G6 Play smartphone. Android has many options that help to customize and personalize things. However, most of us never use those options. People are most likely tend to root and install custom firmware to achieve better control, and of course, it gives extraordinary privileges. But that voids the warranty, and for sure, the manufacturer won't support it. In this tutorial, we gather some of most ethical-working methods to speed up performance on Moto G6 smartphones.
There is no need to root or install a custom firmware until you need some extra privileges. Otherwise, you can a lot with your, improve the general performance and user experience by applying some basic tricks. Even though we support root and other custom operations, but we dedicate this guide to those who prefer to stay under official limits. The tips and tricks we mention in this tutorial are simple to implement and they work. I've used them on many smartphones and found better results. We expect the same for you. Post applying these tips, you should be able to calibrate and optimize the performance on your Moto G6 smartphone.
There is need root if you're looking to calibrate and optimize the performance. The Moto G6 smartphones run on Android Oreo operating system that brings new features and user interface. Within the Android OS, there are inbuilt options for maintenance purpose. We will focus on those inbuilt options to configure your phone for faster performance. The methods we mention in this tutorial won't hurt your phone in any manner. Neither they interfere with working operations. Once you apply these solutions, you can expect fast performance, quick responding time, and somewhat improved battery life. So, let's begin with our gathering of best methods to speed up Moto G6.
Tips and tricks to speed up Moto G6
1. Limit Animations
Animations are all around the Android UI. Whether you open Settings or close all running applications, animations take place. To render such animations, your phone uses the processors, RAM and of course, the battery life.
However, we cannot remove them completely too. If we disable them completely, it can make your phone look weird. That's not what we want to happen with you.
But, we can reduce them. We can limit their extent and duration. That will outcome better performance since less power source is required to render small and fewer animations. Thus, it improves performance on Moto G6 smartphone.
In order to access the animations settings, you need to enable the Developer Options on your phone. The below guide will help you activate this option on your phone:
We hope that you've enabled this option on your phone. Now, follow the below instructions to limit the animations on your phone:
Open the Settings->System menu.
Then, open the Developer Options.
Now, locate
"Windows Animation Scale", "Transition Animation scale" and "Animator duration scale".
Set 0.5X value to each of them.
Exit the menu.
Putting 0.5X value means that we are reducing the extent and duration of animations to half of the default value. Therefore, now animations will use half the processing power.
Thus, you get better performance and battery life.
2. Reduce DPI Value
If you're really want to improve the overall performance of your Moto G6, then you can't skip this one. Well, actually it won't improve performance to the measurable extent. But, it will add smoothness to the existing one.
The DPI stands for 'Dot Per Inch' and by changing its value, we control the size of the On-screen content like text and icons. The phenomena go simple, large text and icons require less amount of processing power.
Thus, if we reduce the DPI, it will make On-Screen content a bit larger (it won't affect the screen resolution, wallpaper, etc.,). And it becomes easier for your phone to render these on-screen content. That adds smoothness and somewhat improve performance too.
Follow these steps:
Open the Settings->System.
Then, open the Developer Options on your phone.
Under this menu, look for "Smallest width" or "Minimum Width" and tap on it.
Now, change the default value to 320 or 340.
Exit the menu.
The 320 or 340 value works best most of the time. Based on your experience, you can change it.
3. Disable Unused Apps
Unlike Samsung, Motorola doesn't put loads of bloatware apps on their phone. But still, there many native and Google apps that remain unused all the time. Try to look inside your phone thoroughly and analyze applications that you've used or even don't know the purpose of them. You can replace these apps with some useful apps for Moto G6.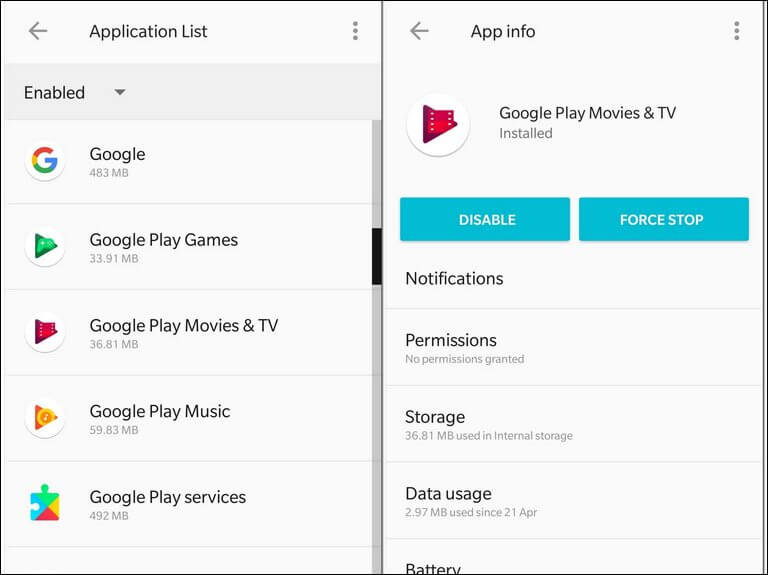 These applications are referred to as bloatware apps. Many of these applications keep running in the background and consume a lot of power resource all the time. No matter whether you use them or not, they will use those resources.
Even these applications consume your internet data and battery life. So, you should get rid of these unused/unwanted applications. Since they come pre-installed, we cannot delete them. However, we can disable them.
Open the Settings.
Then, open the Apps manager.
From the list, select the application.
Then, tap on Disable button.
Repeat the process for other applications.
You must get rid of all applications that you usually don't use. That simply speed up the overall performance of the Moto G6 smartphone.
4. Clear Cache memory
Cache is really a thing. On Android smartphones, the cache memory creates many performance-related problems and issues. The cache memory is related to installed applications and keeps on growing as we use the applications. And eventually, it becomes so big that it starts causing problems.
If you've noticed that performance on your phone has been declined over the time, you must clear the cache memory. That should resolve these problems and overcome the dip in performance.
Open the Settings on your phone.
Now, open the Apps manager.
Then, tap on the app to clear its cache.
Next, tap on Storage option.
Then, tap on Clear Cache to clear the cache memory.
Repeat the steps for other applications.
You must perform this action on social media applications like Facebook, Reddit, Instagram etc. These applications gather heaps of cache memory in a small span of time.
This will calibrate and optimize the performance on your phone.
These are some basic tips and tricks to optimize and maintain the performance on Moto G6 smartphone. None of these harms your phone in any way. We hope that these tips will improve your user experience and performance. If it has helped you in any way, do let us know through comments. You're most welcome to make comments. Stay connected with us for more tutorial and lists.