Mobile
How to boot Recovery Mode on Samsung Galaxy A30
For troubleshooting problems and bugs on Android phones, there are several options that users can use. The most important among them is Recovery Mode. Though Samsung Galaxy A30 is enriched with the latest Android interface and features, still many basic things are the same. Or if you're unaware of this mode, just follow this guide. We mention different methods to boot/enter Samsung Galaxy A30 into the recovery mode, so you can perform basic actions like factory reset, manual update and so on.
If you ever encounter problems where your phone doesn't boot beyond the logo screen or it gets bricked, in that condition, you'll need the recovery mode. There's one special thing about this mode, it runs independently of the Android firmware. So, in case your phone doesn't boot up or shows up anything after the logo, you can still enter into this mode. Once your phone entered into this mode, there are several troubleshooting solutions.
Using the recovery mode on your Samsung Galaxy A30 smartphone, you can perform a factory reset action, wipe its entire cache at once, update firmware manually and install custom firmware. There's a lot you can do using the recovery mode; while flashing OTA updates, this mode is used during that process. That means users can manually flash OTA updates through this environment. This mode is widely used to troubleshoot bricked Android phones.
Since almost all OEMs put this mode into their smartphones, so getting into this mode doesn't void the warranty. You can access this mode anytime you want. However, we recommend you not indulging with this mode unknowingly. It has sufficient privileges to wipe off everything that's present within the phone. And if that happens, we cannot undo that. So, use this mode precisely, you must know that its applications. Otherwise, you might end up losing your precious data.
During this tutorial, we'll discuss all possible ways to get into the recovery mode on the Samsung Galaxy A30. While using hardware keys is the easiest way of getting into this mode, however, that may not work if something bad happens to them. Therefore, there must be some alternatives. Fortunately, there are more ways of booting this device into the recovery mode. We can use Google's ADB tool for that purpose as well. And if you've rooted it, things are even easier.
Must see:
How to enter recovery mode on Samsung Galaxy A30
Power OFF your phone using the Power Key.
Then, press and hold Power and Volume UP buttons at the very same time.
Release both the buttons once Samsung Logo appears.
Press the Volume Up key once to confirm your action.
Thereafter, your phone should boot into the recovery mode.
That's the most common way of getting into this mode. The recovery mode offers a simple interface stacked with different options. Use the Volume buttons for navigation purpose and Power button to make the selection. The recovery mode on the Samsung Galaxy A30 should be identical to following one: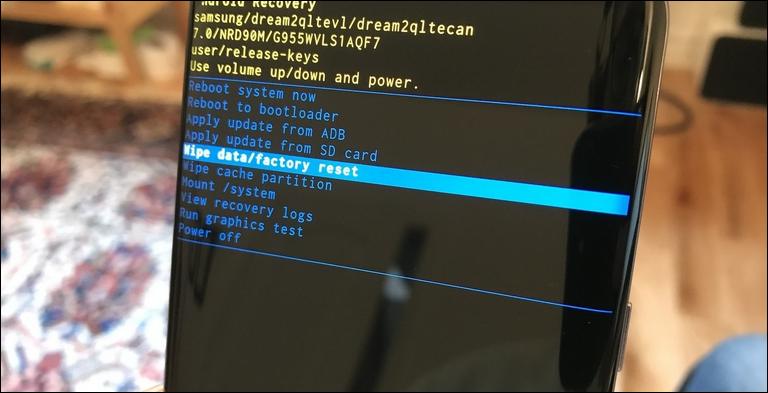 The very first option within the list is 'Reboot system now'. To exit this mode, either you can use this option or just press and hold the Power key until the phone turns OFF.
The next option, 'Reboot to bootloader', reboots this device into the bootloader mode, it used by developers. 'Apply update from ADB', again, users like us have nothing to do with this option.
If you ever wish to install custom firmware or OTA update manually, use 'Apply update from SD card'. Further, for cleaning purposes, 'Wipe data/factory reset' and 'Wipe cache partition' are there. The rest of the choices aren't that important.
The above information is sufficient enough for newbies and those who are using Android phones for the first time. Going further, we'll discuss an alternate method to boot this recovery mode on the Samsung Galaxy A30 smartphone.
How to boot recovery mode on Samsung Galaxy A30 using ADB commands
Google brought this ADB tool, a command interface tool, for Android development purpose. This tool is generally used by the developers, so it doesn't have much for ordinary users like us. Through ADB tool, developers control Android based mobile phone through commands. They can be booted into different modes and command to perform certain tasks.
Through this command interface, we use boot Galaxy A30 into recovery mode too. Most importantly, this method doesn't require any hardware keys to be pressed. Therefore, in case you're unable to boot into the recovery mode for some reasons, or hardware keys aren't functioning well, you can try this way.
Must see:
However, you would need to set up ADB tool on your computer. Either you can use the Windows or Mac computer. To make it easier, we've packed this into a portable version, that works on Windows computers. For Mac users, they would need to set up this tool from Google's database. Here's you need to gather to work with this method:
You need a Windows computer to use this minimal/portable version of ADB tool.
Enable the USB Debugging on your phone using this tutorial.
You need a USB cable of your phone for connection purpose.
And at last, you must install the USB Drivers on your phone. You can download and install the USB Drivers of your phone from here.
If you've done with the preparations, you can follow the below instructions to use ADB commands to get into the recovery mode:
Step 1. Download the Minimal version of ADB tool from here. Extract the file and double tap on 'Run Me.bat' file. This will open the following command prompt:
Step 2. Using a USB cable, connect your phone to the computer.
Step 3. Now, write the following command to confirm whether your phone has been connected or not.
adb devices
This above common will list all connected devices. Your phone should be on the list.
4. Next, type the following command to enter into the recovery mode.
adb reboot recovery
After the above command, your phone will reboot to the recovery mode. That's another method to boot recovery mode on Samsung Galaxy A30 smartphone that doesn't use the hardware buttons.
Further, there's one more method to boot into this mode. However, that requires root access. There are plenty of root applications that intend to make such tasks even easier. Quick Reboot is one of them, you can use this app to switch from one mode to another just tapping once. While rooting has many advantages, but, it voids the warranty as well.
Here our tutorial ends that explains different methods to enter recovery mode on Samsung Galaxy A30 smartphone. So, next time you need to troubleshoot your phone, just get into this mode. You can easily maintain performance and stability on this phone. We hope that our readers would find this list helpful. Share your notions below with us, we would love to hear'em.