Gaming
7 Best Games Similar To Among Us For Android Free
We are sure Among Us has stolen some hours of sleep, either by playing it or by watching games on Twitch or YouTube. And yes, it is the game of the moment. And if you like this game, Among Us, you would be happy to know that there are many similar games that you can play. If you're looking for such games, we have this list of best games like Among Us, that you can install and play on your phone right away.
Finding out who is the imposter among friends while trying to survive is an addictive combination that has fascinated thousands of users. Do you want to know if there are games similar to Among Us? If you play on your PC, games like Project Winter, Deceit, Enemy on Board, Unfortunate Spacemen, or Barotrauma surely come to mind.
But we are going to focus only on free games similar to Among Us available for Android, so take a look at this selection. We have handpicked these titles based on different aspects that make them a strong contender against this popular game. Without waiting further, we should move ahead and go through the list.
List of best games like Among Us
1. WEREWOLF ONLINE
Up to 16 users can participate in this multiplayer game. In the game you can play the role of a werewolf or a villager, so you will have to hunt down your friends or defend the village.
And for that, you will have to find out who is who the game is. And it is not as easy as you think to distinguish who your enemies are from your friends.
And of course, to make the game more entertaining, you will have items to unlock, you can influence other players, etc. You can play with your friends or join public matches and compete with players from all over the world.
Download Werewolf online here.
Also see:
2. SPY ONLINE
You may not know this game, but looking at the image you will realize that it is a clone of Among Us. It has the same gameplay dynamics: a crew in a spaceship with one or two imposters on board. You will have to find the impostors before they eliminate the entire crew.
They can play from 4 to 12 participants per game. At the moment, users are not very happy with the gaming experience it provides, as you can see in the comments on Google Play. But if you want to give it a try…
Download Spy Online here.
3. TOWN OF SALEM
In this strategy game, there are mainly two sides, the members of the city and the mafia. Although players can also choose other characters that are neutral.
Players, who can range from 7 to 15, are randomly assigned roles with their own abilities, attributes, and objectives. The good guys will have to detect who the bad guys are before they kill them, and for this, they will have to follow a series of clues and procedures.
So you will have to use many strategies to identify the bad guys while convincing the good guys that you are on their side. It is an interesting game, but a negative point is that it has a very invasive ad system.
Download TOWN OF SALEM here.
4. MURDEROUS PURSUITS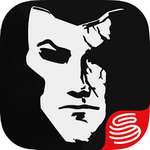 You are in a blimp with 6 other players. They all seem charming, but each has the same mission: to kill the rest.
So while you develop a strategy to kill the other passengers, they too are trying to kill you without raising suspicions. So you will have to learn to act naturally and mix with the rest without losing sight of your goals.
Of course, you will have some aids to avoid exposure, deceive your enemies, and some resources to get out of difficult situations.
Download Murderous Pursuits here.
5. NO ONE ESCAPE
In this game, you can be the hunter or the victim. Regardless of the role you choose, you will have many challenges to face to achieve your goal (hunt or survive) in different scenarios in a limited time.
Each level has its own challenges and a timer that will mark who will go to the next phase. So hunters are also not safe if they do not meet the objective in each of the levels. It's a simple game, but it can get addicting.
Download No One Escape here.
Also see:
6. ZARYA-1 STATION SURVIVAL MISSION
In this game, we put aside the plot of discovering an impostor or fleeing from a murderer, and we focus on one of the aspects of Among Us: survival in space. In this case, four astronauts on the moon, and a lot of Prometheus-style suspense.
You will have to command the team of astronauts and each decision you make will change the development of the game. There are multiple endings, so you can go back to zero if you want the mission to have other results. One detail to keep in mind is that the game is free, but it contains ads.
Download ZARYA-1 STATION Survival Mission from here.
7. HORRORFIELD
And far removed from the friendly characters of Among Us, but following the theme of survival games, we find Horrorfield. This horror game proposes you to join a group of 6 more players and try to survive, or become the murderer.
Each member of the group of survivors has a role with unique abilities. This will not only serve to save himself but also to develop a strategy to save the group. And the same dynamic works for those who want to be the killers.
Download Horrorfield from here.
That's all for now. We hope that our audience would find this list of best games like Among Us. If you have anything better to share, make sure to drop your comments below.