Mobile
The 6 Best Apps for Samsung Galaxy J4 that Enhance its Experience
This year, Samsung has rolled out many pocket-friendly smartphones, the Galaxy J4 seems the most affordable one. This smartphone has some decent specification and out of the box, it runs on the latest Android Oreo firmware. That ensures that you get the new features and applications. To get more out this smartphone, we gather these best apps for Samsung Galaxy J4 that enhance its experience. With these applications, you can do more with your phone. These applications should make your phone more functional and productive in all terms.
There is no doubt that applications make our smartphone really a usable thing. Otherwise, they would be no different than the feature phones. Although Samsung puts loads of applications on their smartphone, but we see that most of them remain used, they usually are known as bloatware applications. You better disable them, those applications that you don't use generally. And instead, install these six applications we have collected for Samsung Galaxy J4 smartphone. These applications are very productive and should make your many tasks easier. This smartphone has plenty of internal space, or you use the expandable memory to extend it.
Backed by the Exynos 7570 Quad processor and 2 GB, this phone has enough power to execute most of your programs. But, you can't expect good enough to play high-end games on this smartphone. However, based on its price, it is an ideal one that fits the pocket perfectly. Since it runs on the Android OS, you can improve your experience with countless applications for a different purpose. We hope that our readers would like our list of these applications. Your suggestions are most welcomed. Don't forget to share your thoughts and views about these applications in the comment section. We should start our list of the best apps for the Samsung Galaxy J4 smartphone:
The best apps for Samsung Galaxy J4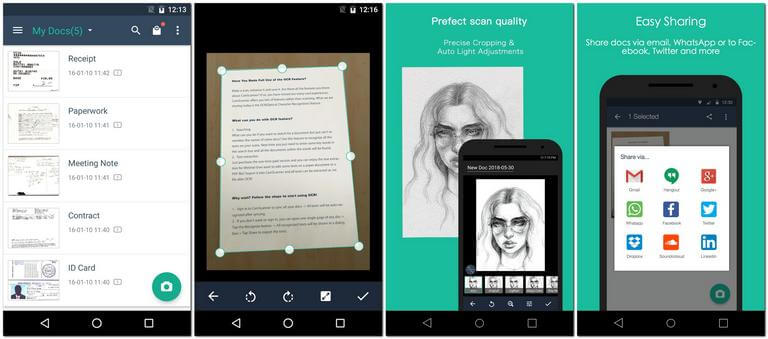 1. CamScanner— Keep scanned copies of your documents
This should become your favorite application too, just like me. From the outside, it looks just like another Android application. That's not enough for it.
This application helps to keep the soft copies of documents, photos, papers, pages and other similar things organized. If you ever intend to capture photos of your important documents, then instead of using the camera application, use CamScanner.
This application will capture your documents, photos, pages, etc., in their proper aspects size and digitize them in different formats like PDF, JPEG, and more.
This application has inbuilt cropping, and image enhancement algorithm that captures clearer images. That you can print and share anytime with your friends and family.
And importantly, you can sync these documents on different devices like computer and tablets.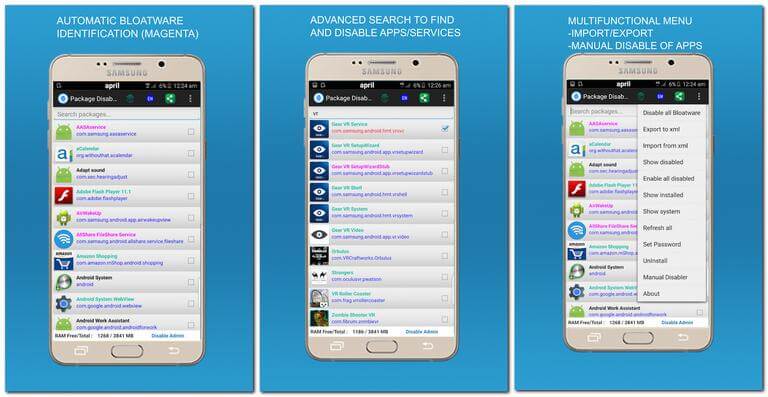 2. Samsung Package Disabler — To remove bloatware apps
We have included this application with the intention to improve performance on your phone. Since this smartphone has 2GB RAM, there are greater chances that a big chunk of it is being used by the bloatware apps, those applications that you don't use.
If you're concerned about the performance of your phone, then you must check the below tutorial:
Just like other smartphones, on Galaxy J4, you would observe that there are many applications remain unused. And probably, you tried to remove them, but you couldn't because they come pre-installed on the phone.
But, there is one thing that we could do. We can disable them. Either, you can disable these applications manually or use the Samsung Package Disabler application (paid application) to complete this task. This application lists all the bloatware apps present on your phone and lets you disable them all at once.
Otherwise, the manual method works perfectly. For this purpose, we have a dedicated guide, this should help you. Follow the tutorial below:
The above tutorial is built for Samsung Galaxy J8, but it works for this smartphone too.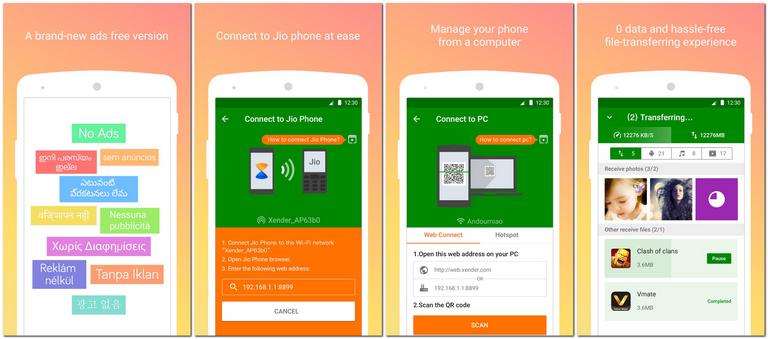 3. Xender — for transferring files, phone to PC and vice versa
There is no need to have a USB cable or any other medium to transfer files between computer and your phone if you Xender application installed on your phone. This application wonderfully brings an amazing way to browser storage of our device directly from the computer.
This application doesn't require a USB or an internet connection to transfer the files. And nor, you don't have to install any kind of PC application.
You just need to open the following weblink on your computer:
http://web.xender.com/
It will open an interface: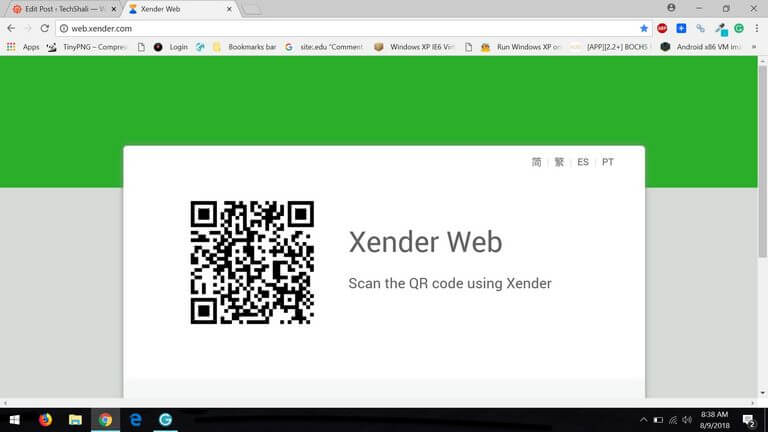 Next, you just need to Open the Xender application on your phone and scan this QR Code.
This will form a connection. Now, you will have access to the storage of your phone through your computer.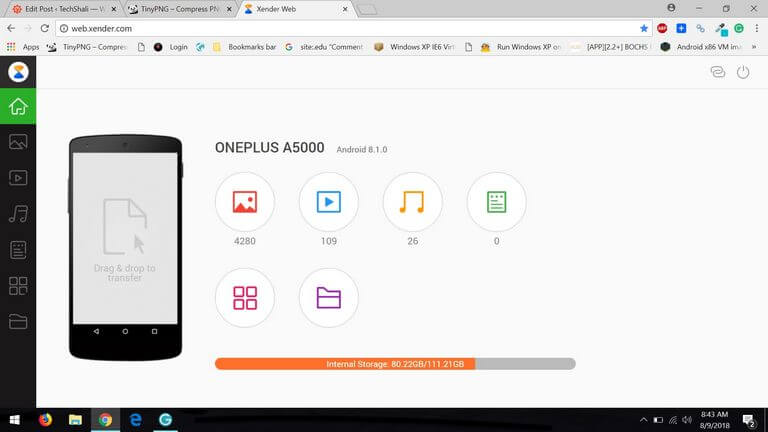 This application brings you a drag and drop interface. You can easily transfer files from PC to phone or and vice versa.
Apart from this feature, it's almost like ShareIt application. You can transfer apps, games, photos, videos, and documents to your friends.
Must see: How to backup Samsung Galaxy Smartphones on PC
If you do connect your phone frequently with your computer to transfer files, you must have this application installed on your phone.
It can save your time you and lots of efforts.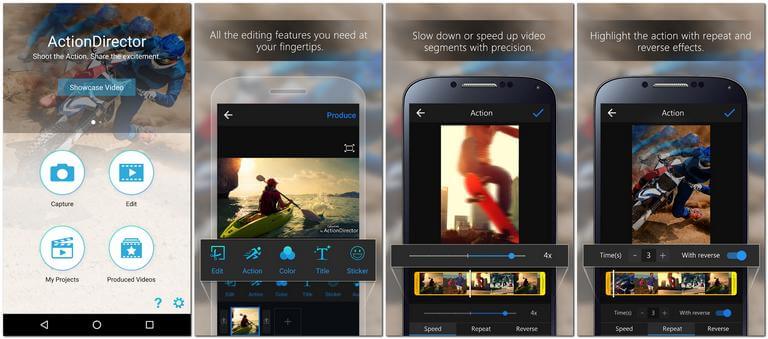 4. ActionDirector — Video editing tool
A must-have tool for your video editing needs. Nowadays, it is easier to create stunning videos right from our smartphones. There tons of applications available having features equivalent to our PC applications.
Whether you're looking for basic features or an advanced panel, the ActionDirector has everything you need. This application offers an easy to use interface so anyone can start editing videos easily. While it serves basic options like cropping, mixing, and filters, it offers many advanced options like adding slow-motion effects, video rewind, and slow-mo rewind to highlight your videos.
Apart from that, you can add text, stickers, and frames your videos. This video supports 4K resolution, you can use your 4k videos. You can set the output videos to have 4K resolution too.
Overall, this application satisfies the needs of video editing purpose. This application is completely free to download and use. Though, there are in-app purchases you can get more features and filters.

5. Photo Effects Pro — Photo editing tool
Our smartphone remains incomplete without such an application. People are most often intended to share photos on social sites like Facebook. With a custom touch, you can improve your photos greatly. With a few touch-ups, you can make your photo better and present yourself in the best manner.
You can download and use Photo Effects Pro application for this purpose. This application helps you enhance your photos with easy to use tools, and filters. You can easily make your photos more beautiful, add different objects, frames and do a lot more with them.
For customization purpose, this application has over 40 filters. Through you can easily customize the color/contrast and many other aspects of your phone. Use the pre-built filters to convert your photo into a cartoon, black-and-white, sketch image and much more.
You can make collages with your photographs, or create an awesome artwork using your different photos. Or put your photos in a magazine, billboards and much more. With the inbuilt sharing options, you can easily share your photos with your friends and family members.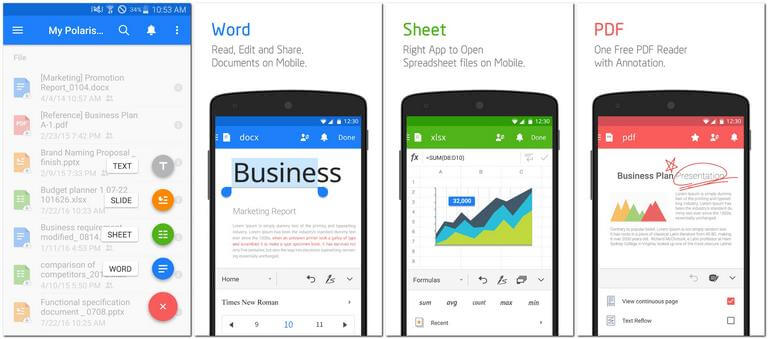 We do our document related work on our phone. For Android smartphone, there are Microsoft office applications are available, but they limit users from many features until they buy the paid version. Whereas the Polaris Office does the same work for you, and it won't limit you.
The Polaris Office application is completely free to download and use. However, it includes some advertisements that we can manage.
Through this office application, you can easily create, edit and manage your document files, excel sheet, PDFs, and presentation files. This app is fully compatible with all sorts of Microsoft office files and formats. You get all the basic features enough to carry out all your office related tasks.
Apart from these, this application has an inbuilt cloud storage service or you can use Google Drive, Dropbox, etc., However, such options can be limited in the free version. To unlock more options, you can for the paid subscription.