Mobile
How to boot Samsung Galaxy A70 into Recovery Mode
In a few past months, Samsung has brought us many affordable and mid-range smartphones with refreshed hardware specs and software configuration. When Samsung Galaxy A70 is provided with an Android Pie firmware that ensures users have everything latest within their hands, alongside it is important to learn the basics. In this guide, we'll describe different methods to boot /enter recovery mode on the Samsung Galaxy A70 smartphone.
In different aspects, recovery mode helps users to maintain their smartphone. Basically, recovery mode is a maintenance environment provided to Android smartphones. Since this mode runs independently, it works even when the Android firmware isn't working. There are many options available within the recovery mode that should help you maintain smooth performance and stability on your Samsung Galaxy A70 mobile phone.
Most of the time, this mode is used by users to perform a factory reset and clearing cache on their smartphone. As you keep using your phone for a long time, you might face some usual problems that happen on an Android-based smartphone. You might observe low-performance and stability related issues. For those problems, users can format or clear clutter memory through getting into the recovery mode and perform one of these actions.
Especially, when Android firmware isn't loading properly, you can enter into this mode to troubleshoot such problems. While getting into the recovery mode, one should be careful enough to avoid data loss. This mode is powerful enough and has sufficient privileges that can wipe off your phone's memory instantly. And if that happens, we cannot undo that action. Thus, we suggest you use the recovery mode on your Samsung Galaxy A70 more precisely.
Recovery mode is easily accessible on the Samsung Galaxy A70. There are different ways to get into this mode. Either we can rely on the hardware buttons to get into this mode or get advanced using the ADB commands. The very first method that includes hardware buttons is the most common way of entering this mode. And in case that doesn't work for reasons, users can use the Google ADB tool to get into this mode.
Must see:
There's one more way to reach this mode. If you have rooted your phone, then there are different possibilities to get more out of this smartphone. There's a dedicated application, Quick Reboot, that allows users to get into different modes just tapping. And there's more that users can do with a rooted smartphone. Now, we shall proceed further and learn different methods to boot recovery mode on the Samsung Galaxy A70 smartphone.
How to boot into Recovery mode on Samsung Galaxy A70
Turn OFF your phone using the power key.
Wait till your phone turns OFF completely.
Now, press and hold Volume Up and Power buttons simultaneously.
Release these buttons once Samsung Logo appears on the display screen.
Now, your phone should enter into the Recovery Mode or just press Volume Up button to confirm your action.
Your Samsung Galaxy A70 has booted into the Recovery Mode.
Being a most common method, it works most of the time and remains the same for most of the Samsung smartphones. This method remains valid for other Samsung smartphones that do not have the Home button. So, if you've already familiar with that one, this should probably come pretty handy to you.
Must see:
Through this method, users can easily switch to recovery mode on the Samsung Galaxy A70 smartphone anytime they want. While this method works most the time, it will not work if any of these hardware keys malfunctions for reasons. Or if for some reasons that you're not able to use this native to get into the recovery mode, you can use the Google ADB tool for that purpose. Though it requires some preparations, still it's worth your try in case you couldn't access this mode using the above method.
Once you get into this mode, you can easily perform actions like a factory reset and clear entire cache on your phone. Moreover, if you ever wish to install a custom ROM or MOD, you would require this mode. Recovery mode facilitates options for updating their existing firmware or install third-party firmware. If you're about to do that, one should know that applying a custom firmware or mod voids the warranty of the device.
Therefore, you better read out all warranty related terms and conditions. Now, moving forward, we'll learn to reach this maintenance mode through ADB commands.
Enter recovery mode on the Samsung Galaxy A70 using ADB commands
ADB tool is developed by Google for Android development purpose. So it is common among developers and for ordinary users like us, it has almost no use. However, if you're unable to get into the Recovery Mode or Download or a similar one, then this tool can help a lot. Basically, this tool provides a command based interface allows users to perform certain actions, related to Apps/games development on Android phones.
Through this tool, we can switch to different Android modes through commands. Whether you want to enter into the Recovery mode or Download on your Samsung Galaxy A70 smartphone, there are certain commands for that purpose. Before we can get started with this tool, we need to install the ADB tool on your computer. So, here are the requirements that you need to complete to get started:
You need a Windows computer to proceed with this method.
Enable the USB Debugging on your phone using this tutorial.
You need a USB cable of your phone for connection purpose.
And at last, you must install the USB Drivers on your phone. You can download and install the USB Drivers of your phone from here.
If you're done with the preparations, just follow the below instructions to boot into the recovery mode on your Samsung Galaxy A70 mobile phone:
1. Start by downloading the Minimal ADB tool package from here. Extract the package and double tap on 'Run Me.bat' file. It looks like this: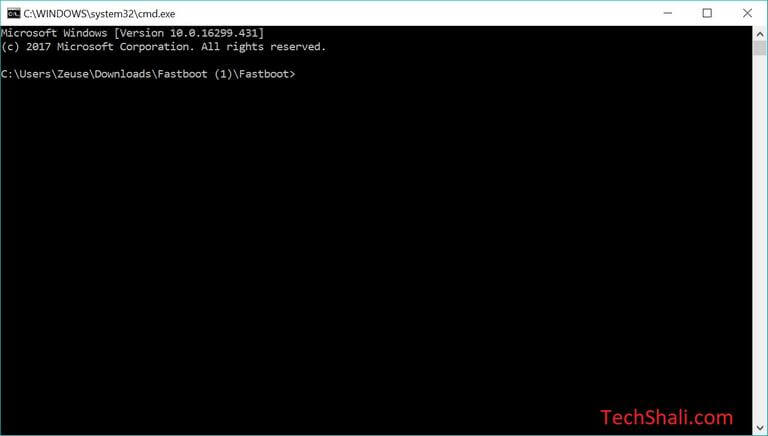 2. Now, connect your phone to your computer using the recovery mode.
3. Type the following command to check whether if your device is connected or not:
adb devices
This will show the connected devices. Your phone should be listed there and if you don't find your phone, re-install the USB Drivers on your computer again.
4. Now, type the following command to enter into the recovery mode.
adb reboot recovery
After you put the above command, your phone should turn off and enter into the recovery mode. In a similar way, users can enter into different modes like Bootloader and Downloading mode.
That ends our tutorial ends here that explains different methods to boot Samsung Galaxy A70 into the recovery mode. You can choose one of them based on your condition. Though the very first method works all the time, if you're totally out of luck, you better stick with the second method. Although, it requires some preparations initially, still it's worth your try.
If you're facing problems getting into this mode, make sure to drop your comments below. We would try our best to get it resolved with the proper solution. Don't forget to share your thoughts and views on this tutorial.