Featured
5 Best Custom Roms for OnePlus 6T [2019]
As per the recent report, Apple faced about 50% loss in selling numbers in the last year. And OnePlus was one of the major mobile brands that achieved a peak while defeating this gigantic company. The OnePlus 6 and 6T were sold very well last year, and still, more and more users are purchasing them. If you have that already one for yourself, you must be enjoying the latest Android experience. If you wish to get more out of your phone, you can use the custom ROMs. In this list, we have gathered some of the best custom ROM for OnePlus 6T smartphone that you can install right now.
Before you step further install one of these custom firmware, you must know some important things. Installing a custom ROM is against the manufacturer's terms and condition. Thus, it voids the warranty on your device. You must think twice while installing custom firmware on your phone. These custom ROMs have no relation with Google or OnePlus in any manner. They have been developed and distributed by third-party developers. And installing them can brick your phone as well. So, if anything bad happens to your phone, you're the one responsible for that.
Custom ROMs are developed specifically for better performance, stability, and customization. Although OnePlus 6T runs on the latest Android Pie operating system, still you would find many stock restrictions. Whereas, custom ROM allows users to access and edit system core files. Thus, you can easily customize your phone and make it look even better. We hope that our readers would find our list of best custom ROMs for OnePlus 6 T smartphone helpful.
The custom firmware not like our stock operating systems. They might not receive updates over the OTA channel. Also, you can expect some bugs and problems while using these ROMs. Therefore, before you start with them, it is recommended that you read their description thoroughly. That will give you a clear idea about features working and not working on this ROM and bugs that you can expect. If you're looking for performance and stability drove custom ROM for your OnePlus 6T, then this list should help you get one for yourself.
The installation instructions are given on their forum thread. We should be very thankful to XDA developers for bringing us these useful custom firmware. If you're using one of them or having one better to share with us, use the comment section present at the bottom. We would love to hear from you and make this collection even better. Over time, we will update this custom ROM list, so you can bookmark it. Now, we shall start with our list of best custom ROMs for OnePlus 6T smartphone.
List of best ROMs for OnePlus 6T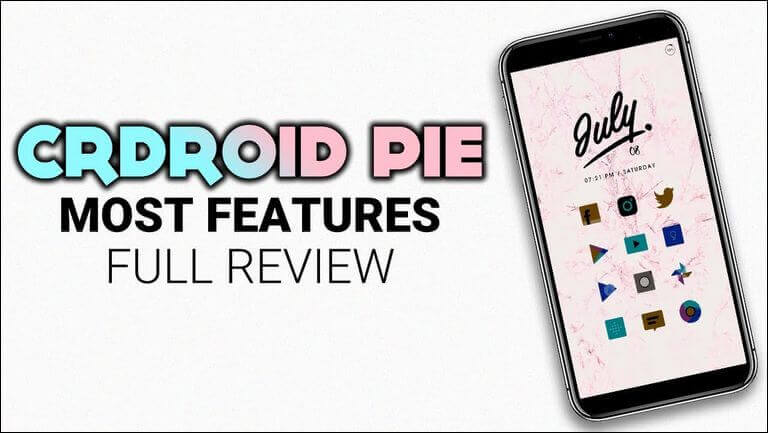 1. CrDroidAndroid Pie ROM [Unofficial]
Being top on our list means it has lots of features and minimal bugs that you except. This custom ROM is based on CrDroidAndroid V5 build and ported very well for OnePlus 6T. The best feature of this ROM includes the most customization kernels. That allowed users to customize this smartphone extensively. Whether you want to set performance profile or use a root explorer, you can do it right away.
Just like our stock firmware, it comes with an OTA update that will land future updates. For users security and data safety, this ROM has been blessed with patches and sources. Thus, you can use your phone without worrying about your privacy. For better performance, this ROM has been debloated (there are no unnecessary apps) and several other patches have been done. That ensures that users have better performance and stability while using the OnePlus 6T.
Must see:
However, just almost any other ROM, the In-Display-Fingerprint doesn't work. Hopefully, we can expect this bug to be removed in future updates. Otherwise, there's nothing that could bother. This is the most complete ROM available for OnePlus 6T and it is highly recommended. You can use this ROM as your daily driver.
Download and Install this ROM here.
2. Havoc-OS 2.0 ROM
If you're anything interested in making your phone look similar to Pixel smartphones, then this ROM is for you. It is based on Google's native AOSP firmware. It features many options that we won't easily on any other custom ROM. The user interface has been ported to look similar to Pixel's interface. There are Round User-Interface and Model-driven Mobile Interface for that purpose that gives material looks. Further, you can find many footprints of Pixel firmware like Pixel Lockscreen, Weather app, and launcher.
While this ROM has been debloated for better performance and stability, still there many native OnePlus apps like Gallery and camera. For customization and themes, it has Substratum Support. This feature really makes this ROM best for OnePlus 6T users. Through Substratum, you can access to countless UI themes, widgets and do some extensive customization on your phone. For those who prefer to personalize their smartphone, this ROM is just a perfect one.
Apart from that, there are tons of new features added to this ROM. Users can customize most of the UI aspects while using this custom firmware. This another option that you can have while looking for a reliable custom ROM for your OnePlus 6T. However, for future updates, you would require to flash the entire firmware again. The OTA support isn't available within it.
Download and Install this ROM here.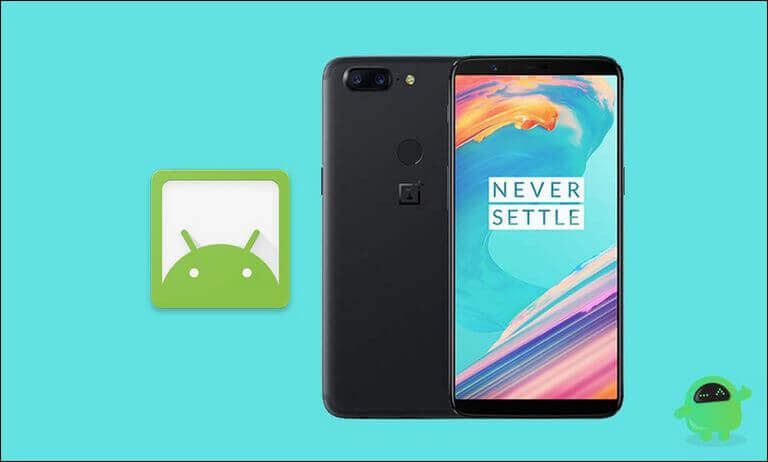 3. Omni Rom [Unofficial]
This is one of the most popular custom ROMs among Android users. In straight words, it has two major advantages over the stock firmware; high performance and solid stability. And that doesn't mean that this ROM doesn't have extensive customization features. Just like the above two, the In-display-fingerprint scanner doesn't function on this ROM. For installation purpose, you need a working TWRP recovery image on your phone. Through that, you can easily flash most of the firmware on your phone.
It is a simple ROM blessed with unique customization features and just like above one, it supports Substratum so that you can switch to different themes easily and personalize your phone well. For device customization, Omni ROM offers some custom setting panels like OminGears, custom Omni Wallpapers, Quick Settings, Viper's icon pack and many more. There are no frills about this ROM, it is easy one to configure and use.
Since it is an unofficial build, you cannot expect OTA updates. Or you can wait for it to go official. Recently, this ROM has been made official for OnePlus 6, so we can look forward to going it official for OnePlus 6T soon. And if that happens, that would be our top contender in this list. While flashing this ROM, make sure to remove all security patterns, locks, and fingerprint.
Download and Install this ROM here.
4. PixelExperience Rom
Your friends will wonder about your phone, whether it is Google Pixel 3 or OnePlus 6T. The PixelExperience Rom is based on the latest Google's Android Pie firmware with all Pixel goodies and Google apps. From UI to widgets, everything has been ported from Pixel firmware like launcher, wallpapers, icons, boot animation, and fonts. Almost everything is working in this and soon In-display fingerprint support will be added in coming updates.
In terms of performance and stability, this ROM has been vitalized with good kernels, and additional optimizations have been done. This ROM is solely built to provide solid stability and security while it ensures that users have enough customization features. During the installation, users don't have flash Google Apps package separately. All essential Google apps have been injected within this ROM. If you're anything like, you're going pass your love to this ROM.
Personally, I use the Google Pixel launcher app on my OnePlus 5 mobile phone. With all Pixel goodies and apps, you can expect a lot from this ROM. Overall this ROM has plenty of features and advantages over the stock firmware. You can use this custom ROM as a daily driver on your phone.
Download and Install this ROM from here.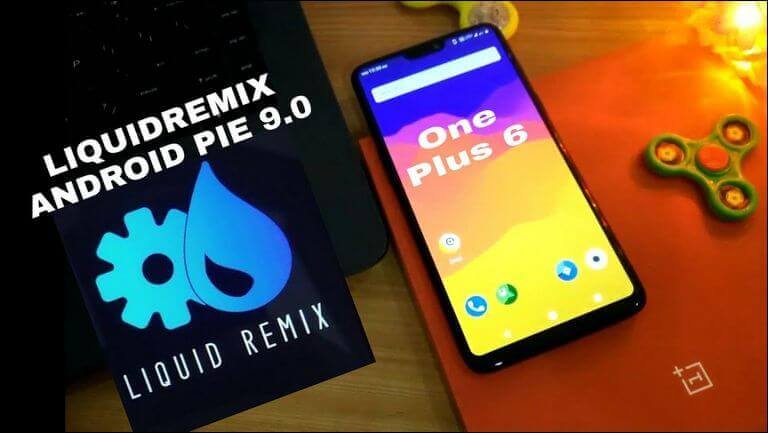 5. Official LiquidRemix ROM
If you're looking for something official and that picks up a variety of advantages, then look no further than LiquidRemix Rom. This ROM is perfect blend of multiple aspects like features, stability, performance, optimization and customization. And most importantly, there's no major bug within this ROM. You can use this ROM to ditch the stock firmware on your OnePlus 6T. To be able to flash this custom ROM, you need a custom recovery like TWRP. Without it, we cannot flash this custom ROM.
The LiquidRemix ROM comprises unique features from different ROMs like LineageOS, Dirty Unicorns, Google AOSP, Hovoc OS, and many more. Thus, you can expect a lot of features on this ROM, smartly picked for better performance, usability, and customization. As per the status, this ROM is completely stable and has no major bugs. Thus, you can use this ROM on your OnePlus 6T mobile phone.
Also, OTA support is available. So, if there are any further build rolls out, you'll get a notification for that. In general, this ROM is based on LineageOS and AOSP ROMs. That gives solid stability and performance. Overall, this ROM is an ideal choice for those who are looking for feature-rich ROM.
Download and Install this ROM here.
Wrap-up
That ends our list of best custom ROMs for OnePlus 6T that are stable, feature-rich and performance driven. If you have your favorite ones or a better one to share with us, make sure that you leave your comment below. We would love to hear from you and add more useful ROMs to this list.
Which your favorite one? Share your experience with us!