Mobile
How to Reset Samsung Galaxy J6
Just like any other smartphone, the Samsung Galaxy J6 requires a reset to work properly. Whether you're selling your phone or facing internal issues, performing reset can help you. Our smartphones tend to become slower over time and many issues occur while we use it for a long time. Thus to calibrate the performance, a reset is required. In this tutorial, we'll help you to factory reset your Samsung Galaxy J6 through different methods. Indeed, resetting can help you in many ways. It helps to restore performance, removes your personal data (necessary when you sell your phone, removes bugs, and so on.
Since you're having an Android-powered smartphone, it becomes important to be certain about such actions. Either you can perform a factory reset through the Settings menu or do it manually through the recovery mode. Resetting the Samsung Galaxy J6 would help you get out of many problems. Like any other operating system, the Android OS can be stuck too. If your device gets stuck, freeze, and shows lag, performing a factory reset can help you cure this problem. The factory-reset deletes all the custom settings and application. And replace applications with their native (downgraded) version.
If you're looking for a way to reset your Samsung Galaxy J6, then guide should take you through the appropriate steps. Performing a factory reset wipes the device completely. All the downloaded stuff, including apps, games, documents, videos, photos, etc., will be deleted. Everything stored under the internal memory gets wiped off. And once performed, it cannot be undone. Therefore a backup is strongly recommended.
You should backup all the important stuff like messages, contacts, photos, videos, and documents. If you perform a reset, then it wouldn't be possible to recover the deleted files. Thus, you should consider a backup before moving ahead.
How to Reset Samsung Galaxy J6
As we have already outlined above, either you can use the Settings menu or the recovery mode to perform a factory reset on your phone. The second method, through recovery mode, is advisable for advanced users.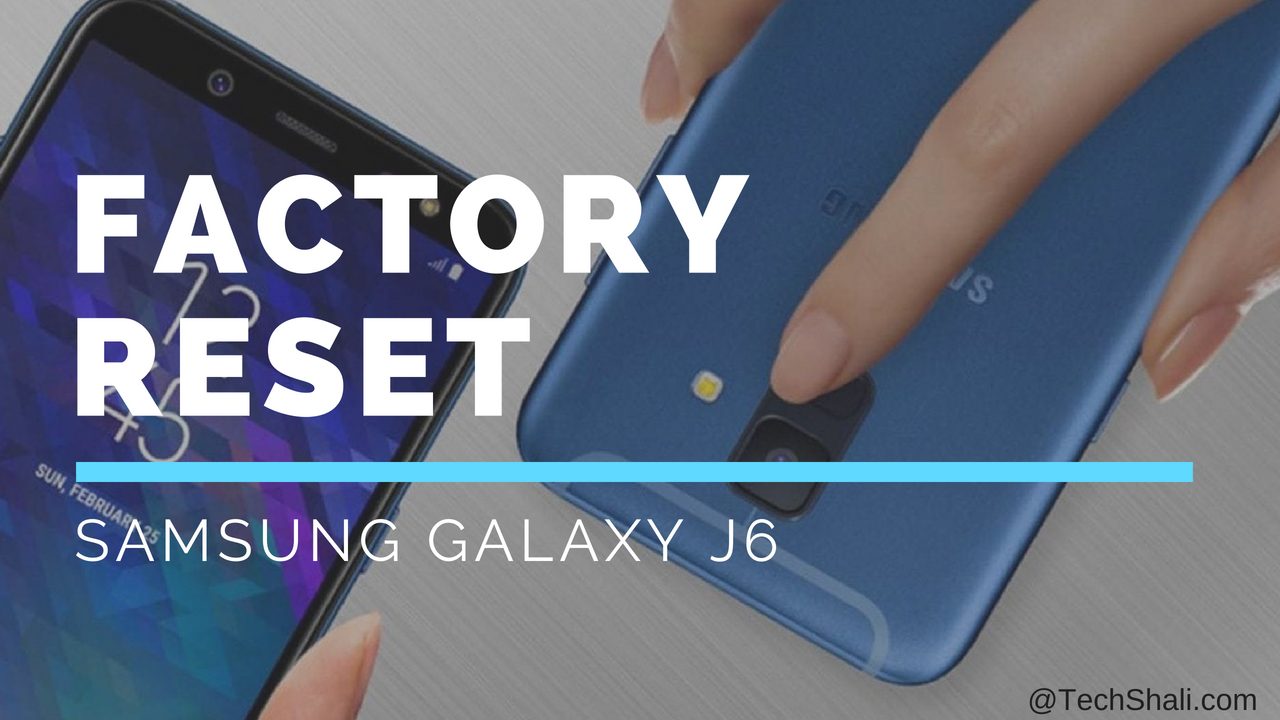 If you're selling your phone, then your Google account shouldn't link to it. Otherwise, other people can access your personal information.
Also see:
Follow the below instructions to reset your phone through Settings:
Go to the Settings and scroll down to General Management.
Now, tap on Back up and restore option.
Then, tap on the Reset option.
Locate Factory data reset and select Reset and then Delete all. Confirm your action, if such options appear on the screen.
This process will delete all the stuff present on your phone and reset your phone.
As soon as the reset gets completed, your phone will reboot.
After booting up, it will ask for your Google account details. Enter the required details to get started with your phone.
That should've cleaned your phone completely. Your phone will look like a factory-fresh piece. The bugs and other issues should be rectified now.
If for some reasons, you're not able to perform a factory reset through Settings, then go to the next option. In this method, we will use the recovery mode to access the factory-reset option. And perform a hard reset on Samsung Galaxy J6.
How to factory reset the Samsung Galaxy J6 through recovery mode
The Android smartphones are blessed many useful modes. The recovery mode is among them. It has a set of powerful features that help to manage our smartphone.
Through this mode, performing a factory reset is seamlessly easier. The below instructions will take you through the required steps to reset the Galaxy J6.
Turn OFF of your phone through the Power button.
Now, boot into the recovery mode using the tutorial given →here.
Select the Wipe data/factory reset option:
Confirm your action and select Yes on the next screen:
After performing this action, exit the recovery mode — select reboot system now.
Your phone will restart and bring you to the default screen soon. Enter the mentioned details to get started with your phone. This will turn your phone into a factory-fresh piece.
The reset becomes necessary in many cases. If you frequently encounter lags, freezes, and similar issues, then you can perform a reset to cure them.
Sometimes it happens that we cannot use the Settings to factory reset. That could freeze or become unresponsive. In that case, the recovery mode is very useful. You just need to get into the recovery mode and have this reset performed on your phone.
Conclusion
Now, you know these methods to perform a reset on your Samsung Galaxy J6. Next time when you face some performance issues or if you're about to sell your phone, you should try resetting your phone. Also, you can try clearing the cache memory on your phone. That can help you to fix many problems without resetting a device completely. Follow the below tutorial to clear the cache on your phone:
This can help you calibrate the performance and optimize the user experience. That ends our tutorial on how to reset the Galaxy J6. If you need further help or get stuck anywhere while performing this action, do let us know. Use the below comment form to leave your messages.