Mobile
Enter Recovery Mode on Samsung Galaxy M40
The Android operating system has been blessed with inbuilt tools that allow users to troubleshoot most of the problems on their own. Unlike iPhones, it is relatively easier to flash stock firmware on Android phones and modify them further. If you're anything familiar with them, probably, you must know the Recovery Mode and how important it is. Through this step-wise-step guide, we'll learn to enter Samsung Galaxy M40 into the recovery mode.
More precisely, we'll learn different methods to reach into this mode. This mode has been built for solely intention to empower Android smartphone users with troubleshooting methods and solutions. If you ever invoke into a condition where you find that your phone doesn't work as it should, that can be rectified through putting simple solutions. For that purpose, you would seek knowledge to get into the recovery mode on your phone.
The recovery mode offers several options that are useful in multiple ways. Using this mode, users can easily perform cleaning actions including factory reset and delete all cache data at once. Besides it offers these cleaning options, there's more we can do. Through recovery mode, we can flash stock updates, firmware, custom firmware, and third-party mods. Both; stock and third-party firmware updates are installed through this mode.
And getting into the recovery mode on Samsung Galaxy M40 is much easier. As most of the users do, there's a certain hardware key pattern that we need to follow. And press the hardware keys in a manner that it reboots this device into the recovery mode. In addition to that, we have two more that we can rely on to reach this environment. However, expect the hardware keys combo method, any other method would require some preparations and prerequisites.
Because this mode has these cleaning options, you mustn't exploit this mode unwittingly or without having sufficient knowledge. This mode has sufficiently enough prerogative that can wipe off everything from your phone instantly. And if that happens, there's nothing we can do revert that action. So, you use this mode very carefully and fire it only for a purpose. Now, we are going to discuss the first method to boot Samsung Galaxy M40 into the recovery mode, the most used one, using hardware keys.
1. Boot Samsung Galaxy M40 Into Recovery Mode [Hardware Keys]
Press and hold the Power button, then select Power OFF.
Then, press and hold 'Power+Volume Up' buttons simultaneously.
Release these two once the Samsung Logo appears.
Press the Volume Up once to give a confirmation.
Thereafter, the phone should boot into the recovery mode.
This method is very much common among Android users. For different brands, that above pattern will vary. For Samsung smartphones, which don't have the home button, most probably, this method would work for them. Otherwise, this method supports most of the latest smartphones from Samsung.
Must see:
Regardless of the fact whether they belong to Galaxy A, M or S series. So, that's that easiest way to boot your Samsung Galaxy M40 into the recovery mode. Now, you can use this mode to perform a factory reset or wipe the entire cache on your phone. A most noteworthy fact is that this doesn't rely on Android firmware. Recovery mode is independent mode, therefore, it works even when your phone bricked.
That makes this mode so special and of course, necessary. It is no hard to get our device bricked. It usually happens right after we update our phone, manually or through OTA updates. So, next time you face such problems, boot into this recovery mode and have your phone factory reset.
That's the most common and basic method. If for some reasons, you're incapable of accessing this mode using the above method, there's an alternative that you can incorporate. Just keep reading to learn that one.
2. Enter Recovery Mode on Samsung Galaxy M40 Using Google's ADB tool
Basically, Google's ADB tool stands for Android Debugging Bridge that allows developers to debug developments, perform tests, side-load codes and a much more. For users like us, the ordinary ones, this tool is no different than the usual CMD prompt window.
Must see:
Expect one thing, we can incorporate the ADB tool to switch different modes on our Android phone. Most importantly, without touching any of the hardware keys. That's the main purpose of this tool. If users couldn't get in the recovery mode using hardware keys, this is the next option that they use. However, in order to work along with this tool, there are some prerequisites that one should know and complete.
Here are required things to get started with Google's ADB tool:
Arrange a Windows-based laptop/desktop.
Enable the USB Debugging on your phone using this tutorial.
You must arrange the original USB cable of this phone. We'll use that to form a connection between this phone and the computer.
You need a USB cable of your phone for connection purpose.
And at last, you must install the USB Drivers on your phone. You can download and install the USB Drivers of your phone from here.
We suppose that you were able to manage above requirements. Now, we can proceed ahead and use the ADB tool to reach recovery mode on this phone:
Step 1. First of all, download the minimal version of Google's ADB Tool from here. This package works on Windows-based computers only. Extract the file and double tap on 'Run Me.bat' file. This tool is identical to our CMD tool like this: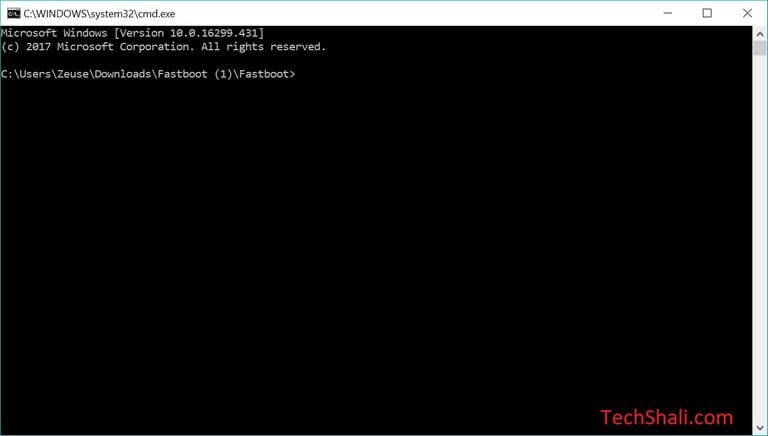 Step 2. Using a USB cable, connect your phone to the computer.
Step 3. Now, write the following command to confirm whether your phone has been connected or not.
adb devices
This above common will list all connected devices. Your phone should be on the list.
Now, apply the following command to boot your phone into the recovery mode.
adb reboot recovery
Similarly, there are different commands to boot different modes on Android phones. This tool works only when the USB Debugging is enabled. So, make sure that you enable that feature on your phone as mentioned above.
Conclusion
These are two methods that Samsung Galaxy M40 users can use to boot into the recovery mode. Furthermore, for root users, such things can be done with just tapping once. There are tons of root applications that users can use. Quick Reboot is among them, it displays the available boot options. So, users can switch to different mode just tapping them. If you find any problem while getting into this mode or using it, let us know through your comments below.