Computer
11 Best Racing Wheels+Addons for Xbox One and PS4 [2018]
While Xbox One Controller and DualShock 4 are impressive gamepads, there are some cases in which other options would give you better gaming experience. For die-hard racing games fan, having a good quality racing wheel can make all the difference when you speed down courses and defeat your rivals. In this roundup, we gather some of the best racing wheels for the Xbox One and PS4 consoles for the best gaming experience. You can tie up them with almost all racing games.
For instance, if you love fighting games, you should consider an arcade stick as it is ideal for advanced combos that will give you the victory.  It can also provide a realistic and more enjoyable experience. However, it is very important to choose a racing wheel that can help you to get the most out of your racing. If you are looking for a good racing wheel for PlayStation 4 and Xbox One, there is a wide selection of options. In this list, you will find the best options for popular games like Driveclub, Forza series and Project Cars.
These racing wheels are highly recommended for anyone who wants to feel like they are actually driving but it is important to consider that not all wheels are suitable for every game so look for the option that better suits your favorite title. You must thoroughly read about each of these racing wheels if you're specific about some games. That will help you select the best racing wheels very precisely. So, we should begin with our list of best Xbox One and PS4 racing wheels for realistic gaming experience and fun. Please know that we include affiliate links to these products, so if you purchase any of them, we will receive some commission.
Best Racing Wheels for Xbox One and PS4 Consoles For The Best Gaming Experience
1. Thrustmaster Vg T300rs Force Feedback Racing Wheel
Thrustmaster offers a racing wheel officially licensed for PlayStation 4 and it is designed to let you put your driving skills to the test. It features a force feedback wheel that accurately replicates the sensation of driving. You will truly feel as if you are driving a top car on a high-speed track. The VG T300RS comes with a 1080 degree dual-belt system that adds responsiveness to the driving experience.
This racing GT style wheel can be detached and it has 11 inches in diameter. It comes with a brushed metal central spoke with a top quality rubber texture on its whole circumference. The wheel also comes with two fixed paddle shifters and a tact switch that has a life cycle of over 10 million activations. There are 13 action buttons and a D-pad that gives you total control, regardless of the game that is being played.
You can adjust the rotation angle between 270 and 1080 degrees, which enables you to customize it to suit the way you play. It is also possible to configure the height and spacing of the pedals in 6 different positions each. Progressive resistance is another cool feature that you will find in the brake pedal. This wheel by Thrustmaster is compatible with many other detachable wheels and pedal sets from the same manufacturer including the TH8A & TH8RS gearboxes, Ferrari F1 Add-on, T500RS GT Wheel and T3PA & T500 RS pedal. The VG T300RS is compatible with games like Project Cars and DriveClub for PS4.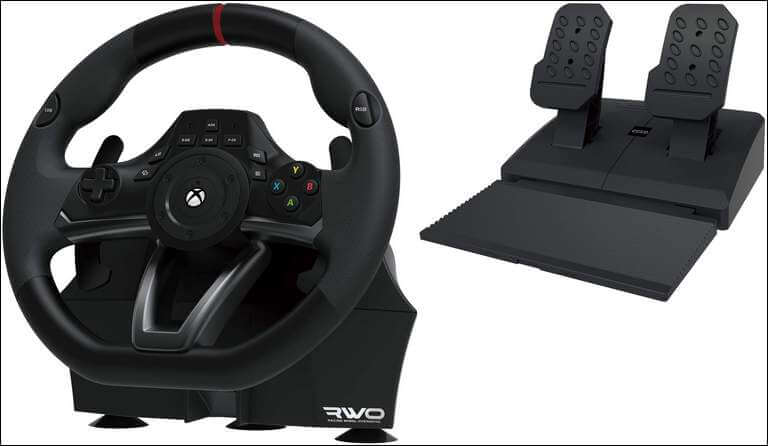 2. Hori Racing Wheel One for Xbox One
HORI is widely recognized for the remarkable Nintendo Wii Controllers, which are based on the original GameCube pad but this manufacturer also stands out for good quality racing wheels. Their models are affordable but they can still provide a realistic driving experience. You can buy this racing wheel for nearly a fraction of what you would pay for other options. The rubber grips and paddle shifters ensure that you feel like you are behind the wheel of a car. The programmable buttons offer a good variety of customization options.
The HORI Racing Wheel One comes with analog foot pedals that feature a base that is designed to provide optimal stability. Although this budget wheel provides good performance, there are a few downsides including the small size (8-9-inch diameter) and the force feedback feature. Still, this wheel is a good option that will allow you to enjoy Forza Horizon 2, Motorsport 5 and Motorsport 6.
3. Thrustmaster T80 Rs Racing Wheel
The T80 is a leading option for PlayStation and it was one of the first racing wheels to be officially licensed for the console. It provides great performance and allows you to enjoy an improved and more realistic racing experience. It offers all the practical features that will ensure that you enjoy your game and the rubber-textured cladding gives you remarkable comfort and grip. The 12-inch diameter wheel has 11 action buttons and D-pad that provides total control over the racing car.
One of the best aspects of the T80 is the large pedal set, which includes adjustable pedals and wheel-mounted sequential paddle shifters, specially designed to work seamlessly. You can also adjust the wheel sensitivity and with the automatic re-centering, you can enjoy an accurate linear resistance. The 240-degree rotation angles and the exclusive Bungee Cord technology are other reasons to choose this racing wheel. The Thrustmaster T80 RS Racing Wheel works well for Project Cars and DriveClub and it is a great option for a very convenient price.
4. Thrustmaster Vg Ferrari 458 Spider Racing Wheel
This is one of the most solid and reliable solutions for those who have an Xbox One and love racing games. The Ferrari 458 Spider is conveniently priced and has an appealing design. The fact that it is a 7/10 scale replica of the wheel that is actually used in the Ferrari 458 Spider, means that you will feel like you are driving the real thing. The red textured rubber provides comfort.
The wheel also offers all the features that you need to get the most out of games like Forza. The wheel is easy to use but it also comes with all the options that you need for an incredible experience. Apart from the Ferrari 458 Spider wheel, you will get two paddle shifters, one Manettino, and one D-pad. Nine action buttons, an Xbox Guide button and a pairing detection LED for Kinect users are also included. The pedal set has a wide footrest, brake pedals with an adjustable inclination and a brake pedal with progressive resistance. The clutch, however, is missing.
The wheelbase sports Thrustmaster's official Bungee Cord mechanism, which gives greater control and comfort thanks to its linear resistance. The steering sensitivity of the racing wheel can be adjusted and the automatic centering with a 250-degree rotation angle is another practical feature supported by the Ferrari 458 Spider. This racing wheel is perfect for Forza Motorsport 5, Forza Motorsport 6 and Forza Horizon 2.
5. Thrustmaster Tx Racing Wheel Ferrari 458 Italia Edition
This fantastic racing wheel is ideal for Forza Motorsport so if you are a fan of this game, this option from Thrustmaster should be in your wishlist. Although it is not one of the latest models available, its quality and great performance have ensured that it remains at the top when it comes to racing wheels. The Thrustmaster TX is so realistic that you will feel how the wheel tries to escape from your control and how brakes are locking. This is due to the force feedback that features industrial-class brushless motor with impressive precision. You will enjoy a smooth and exciting driving experience.
The gas and brake pedals are made out of metal and you also get gear sequential paddle shifters. This will ensure that you can brake and speed up seamlessly at all times. One of the main advantages is that the metal central clamping system is designed with built-in screw threads so it can be attached to any cockpit without hassle. The Thrustmaster TX costs more than other options available, but considering the high quality of this racing wheel, you get good value for your money. It comes supported by the experience of Microsoft and you can also use it with a computer running Windows. With the Thrustmaster TX Racing Wheel Ferrari 458 Italia Edition you can enjoy games like DriveClub for PS4 and Xbox One titles like Forza Horizon 2, Forza Motorsport 5, Forza Motorsport 6 and Project Cars.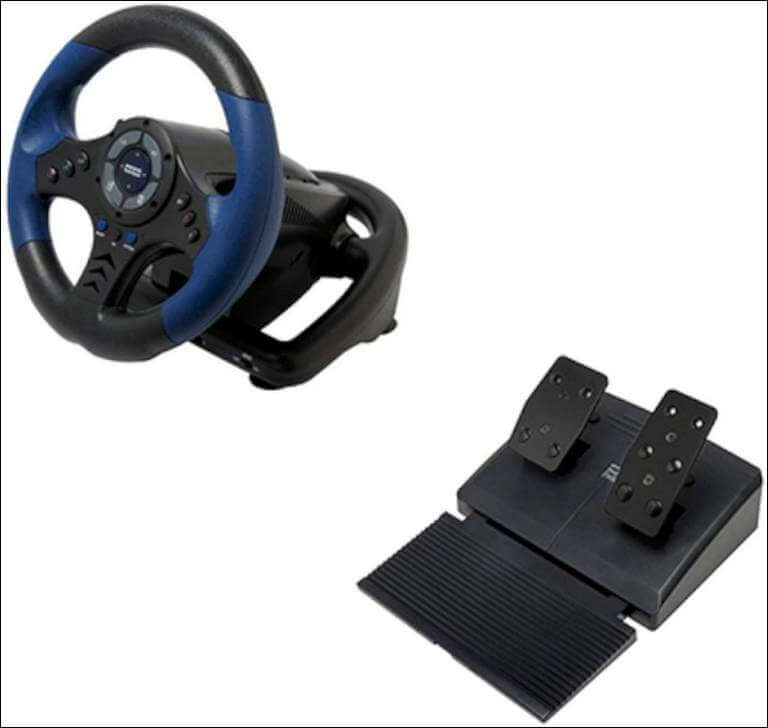 6. Hori Racing Wheel 4 for Ps3 and Ps4
HORI also caters for PlayStation owners and it has designed a racing wheel that will allow you to enjoy the speed and thrill of your favorite games. The HORI Racing Wheel 4 is officially licensed by Sony and it is ready to impress you right from the start. This 10-inch diameter wheel with paddle shifters, also features 180 degrees of motion, 14 buttons and it gives you full control over your car, regardless of the game you are playing. Also see, how to play PSP games on Android phones.
Under the base of the pedals, there is an additional grip that ensures that everything stays in place while you are playing. One feature that is missing is force feedback but you won't miss it too much as the rumble option provides a great simulation of road conditions. Furthermore, there us a spacial steering mode feature that allows you to enjoy a realistic driving feeling. This racing wheel works with DriveClub.
7. Mad Catz Pro Racing Force Feedback Wheel and Pedals for Xbox One
For almost three decades, Mad Catz has built a solid reputation as one of the best brands for gaming accessories. They offer a wide range of options including arcade controllers for fighting games, instruments for music games and much more. With the Pro Racing Force Feedback Wheel and Pedals, Mad Catz has shown again why it is one of the most trusted manufacturers in the industry. The racing wheel was created following the feedback provided by professional racing drivers. This becomes evident through features like the helical gears, dual motors, and the wheel's force feedback. Thanks to the helical gears, the wheel offers solid performance and greater precision without causing a lot of noise.
You can switch between 270 and 900 degrees of lock-to-lock rotation, which gives you the possibility of turning seamlessly and enjoying a highly accurate racing experience. The aluminum steering wheel features genuine suede leather for impressive elegance and comfort. The aluminum construction of the pedals ensures durability and resistance, which you can also expect from the paddles and ABS impart. It is also possible to adjust the spring force of the pedals to suit your requirements. The wheel's rake angle gives you the possibility of setting it up in one of four settings. Mad Catz combines solid construction and enables you to fully enjoy your favorite racing games such as Forza Horizon 2, 5 and 6 or Project Cars. Mad Catz racing wheel can be used along with Playseat's Revolution or Evolution seats.
Additional Options and Accessories for Racing Wheels
Here are some of the best wheels, peripherals and pedal sets that will further enhance your experience with your racing wheels.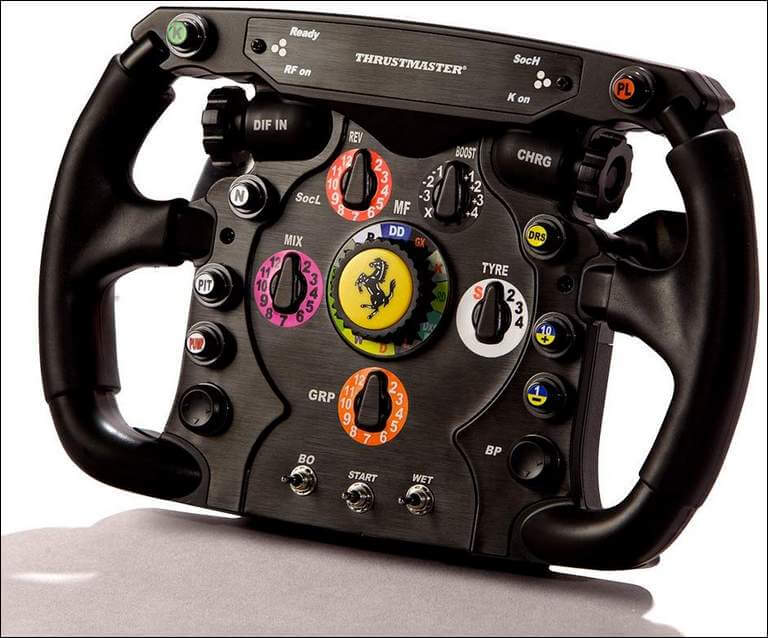 8. Thrustmaster Ferrari F1 Wheel Add-on
Looks are very important for some players and the Ferrari F1 Wheel Add-On from Thrustmaster offers an incredible design, as well as great performance. It is suitable for PS3, PS4, Xbox One, and PC and it provides the same level of responsiveness as a true race car wheel. Officially licensed by Ferrari, this metal-faced full-size replica of the wheel of their Formula 1 Ferrari 2011 racing wheel, includes F1 "Push and Pull" sequential shifters made of scratch-brushed reinforced metal and rubber-textured grips. They can be attached directly to the wheel.
Since there are many buttons, switches and rotary knobs (including two rotary encoder switches that give you the possibility of optimizing the car's settings directly. There are also eight push buttons with 6.5 N dual-detent pressure, two up/down shifters, three 4.5 N metal switches with automatic centering and three positions and two 2.5 N 8 directional D-pads. This add-on works well with the Thrustmaster TX wheel and T500 RS. Forza Motorsport 5 and 6 and Forza Horizon 2 are some of the games compatible.
9. Thrustmaster T3pa 3-pedal Wide Pedal Set Add-on
This is a great option for those who are looking to enhance the pedal of their racing set. This pedal is suitable for the TX Racing Wheel, T300RS and Ferrari 458 Spider Racing Wheel on PlayStation 3, PlayStation 4, Xbox One and PC. Thanks to the solid metal built of the three pedals and the internal structure, this Thrustmaster pedal set will allow you to feel like you are in a real racing car.
The pedal set can also be adjusted in many ways. There are two height positions for the accelerator pedal and for every pedal, there are two angle settings and three spacing settings that can be selected. Just keep in mind that it is also possible that the individual pressure settings of each pedal can also be adjusted. There is also a conical brake mod made of industrial-grade rubber. It can be placed under the brake pedal and makes your racing experience even more realistic thanks to the resistance at the end of a pedal's travel.
The built-in threaded holes ensure that you can easily mount it on any cockpit setup. The Thrustmaster T3PA 3-Pedal Wide Pedal Set Add-On is available for a convenient price and it is designed to last and it is compatible with many different wheels. It is a fantastic option for games like Forza Motorsport 5 and 6, Forza Horizon 2 and Project Cars for both Xbox One and PS4.
10. Thrustmaster Vg Th8a Add-on Gearbox Shifter
The high quality of Thrustmaster's products has earned this manufacturer a leading place in the list of the best accessories wheels and accessories for racing games. The VG TH8A Gearbox is a great example of what this manufacturer can offer. The stick shift add-on is ideal for those who want something that offers a realistic look. It will make you feel like you are in an actual race car. The gear stick includes a detachable knob that is similar to a real car part. It includes a metal internal mechanism that features metal clamping, as well as a gear stick.
Apart from offering stunning design, the gear is supported by Hall Effect Accurate Technology or H.E.A.R.T, which ensures that the stick provides top precision consistently with any game you play. There are other great features such as shift-plate position and rotation that can be adjusted by 360 degrees. The firmware can be upgraded and it also features internal memory with adjustable gear-shift travel. If you have a PlayStation 4, this add-on is compatible with T300RS, Ferrari F1 Wheel Integral T500, and T500RS. However, with Xbox One it only works with TX Racing Wheel. The games compatible include Project Cars, DriveClub (PS4), Forza Horizon 2, as well as Forza Motorsport 5 and 6 for Xbox One.
11. Thrustmaster Vg Tm Leather 28 GT Wheel Add-on
If you want a comfortable and easy going racing experience, you should consider this add-on. It features genuine hand-stitched leather, which covers the whole wheel, plus the fact that it is very light and made of polyurethane molding, makes the driving experience flexible and comfortable. The steel internal hoop offers an improved and more resistant force feedback effect that allows you to feel like you are on the race course.
The high-quality brushed metal large sequential paddle shifters are mounted directly to the wheel. There are also other additions like a multi-directional D-pad, a 3-position rotary switch with a push function in the central position, as well as six action buttons. The VG Leather 28 GT can be used with all the racing wheels in Thrustmaster's T-series, including the TX Racing Wheel Ferrari 458 Italia Edition, T500 RS, T300 RS, and T300 Ferrari GTE. With this add-on, you can enjoy games like Project Cars, DriveClub (PS4), Forza Horizon 2, as well as Forza Motorsport 5 and 6 for Xbox One.
So that ends our list of best-racing wheels and add-ons for Xbox One and PS4. We hope that our readers would find this roundup list. Stay connected with us for useful content and resources. Do let us know your thoughts and views about this list in the below comment section.