Mobile
How to Enter Recovery Mode on LG Nexus 5 [DIFFERENT METHODS]
The Nexus smartphones were used to most popular devices once. These were primarily smartphones powered by a stock-near Google Android operating system. LG Nexus 5 was able to attract millions of mobile users around the world. Almost, five years have been passed since it was rendered for the very first time and now probably looking to give it a fresh look. Of course, you could do a lot of customizations on your phone using different modes. In this tutorial, we'll help you to boot LG Nexus 5 into the Recovery mode through different methods. Whether you want to install a custom ROM or seek different methods to improve general performance, the recovery mode should come helpful to you.
Android smartphones have different modes that help users to carry out some specific tasks. Like using the recovery mode, the users could perform some maintenance and update related things. You could flash custom ROMs, mods, perform resets, backup firmware and a few more options are there. All Android phones are packed with this helpful mode and accessing this mode won't hurt your phone. This is something that every OEM put into their smartphone. You can simply use this mode to maintain the performance and stability of your phone.
The recovery mode is an essential part and you should learn how to get into this mode on LG Nexus 5 smartphone. During this tutorial, we will focus on different methods that help in getting into mode anytime you want. You can implement one of these different methods based on situations and resource availability. Thus, you have multiple ways to access this mode and perform some specific action. Most of the users are aware of one method that uses the physical buttons to get into this mode. What if something happens to these buttons and you want to access this mode anyhow.
For that purpose, there are other methods. That's why you should keep reading this tutorial and learn these different methods to access the recovery mode Nexus 5 smartphone. Once you get into this mode, you can easily perform actions like flashing updates, ROMs, performing a hard reset and there is much more you could do. Most commonly, users access this mode to flash custom firmware and updates. However, for that purpose, it is recommended that you flash the TWRP recovery (custom recovery image) on your phone. That will extend the capabilities and make this mode more useful.
You must note that accessing the recovery mode and using it won't hurt the warranty on your phone. However, you shouldn't use this mode unknowingly. This mode has powerful features that could wipe your phone instantly and there is no way undoing it. Thus, you must thoroughly learn more about this mode and perform some specific task wisely. We hope that now you're having enough information about this mode, its advantages, and disadvantages. So, let's proceed further and learn how to boot Recovery mode on LG Nexus 5.
How to Enter Recovery Mode on LG Nexus 5
We discuss three different methods to access on this smartphone. Based on your situation and available resources, you could one of these methods. The first method is commonly used and the other two methods are helpful in some situations.
Whether you're on a stock recovery or custom one, these methods remain same to access this mode.
This is the most commonly used methods. It includes the use of physical buttons. There is a certain way in which the user has to press the buttons and that will take you into the recovery mode.
Until all your physical buttons are working fine, this method works. If any of these buttons don't work, simply you can't apply this method. This is when you need other methods to access this mode.
If all buttons are working fine, just follow the below instructions to boot Nexus 5 into the recovery mode using the traditional method:
Power OFF your phone using the power button.
Now, press and hold Volume Up, Down and Power buttons at the same time.
Release these buttons once your phone is turned on and Fastboot/Bootloader menu appears.
Now, use the Volume buttons to navigate to 'Recovery Mode'.
Then, press the 'Power' button to enter into this mode.
You're in Recovery mode.
The stock recovery mode LG Nexus 5 has several options and it looks like this: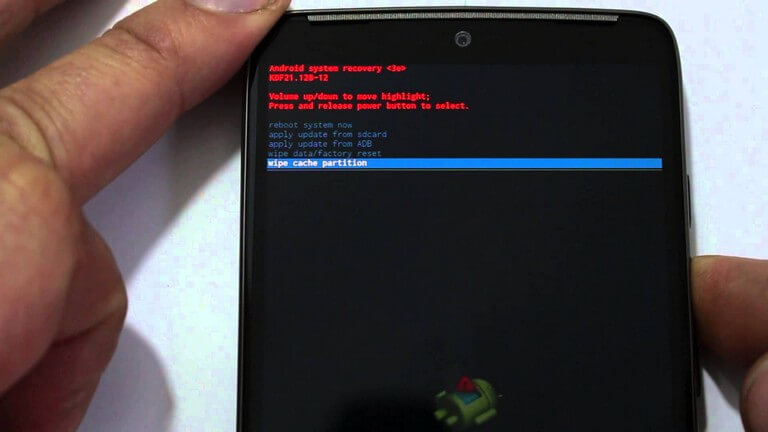 The very first option helps to exit this mode, Reboot system now. Then, the next options, apply updates from SD card comes handy to flash updates manually or install custom ROMs.
If you find that update has been rolled out, and it will take some time to reach your phone, using this option you could flash it manually.
The apply update from ADB does the same thing but only advanced users could use them. For ordinary users like us, it remains untouched whole time.
Coming next, the Wipe data/factory reset is important in many ways. If you ever wish to hard reset your phone, then use this option. This will wipe the internal memory, remove all third-party apps, games, downloads and all stuff along with the cache memory.
The last option, wipe cache partition is dedicated to calibrating performance and stability. Once you perform this action, it removes all the cache memory that has been gathered from applications and causing problems.
Remember, clearing the cache won't erase apps and other files on your phone. That's how you can the Recovery mode to perform these actions on your phone. Now, move forward to learn other methods.
Method 2. Use ADB commands to access recovery mode on Nexus 5
This method becomes important when the user is unable to access the recovery mode using the physical buttons. If something bad has happened to these buttons, probably you won't be able to use the recovery mode until these buttons start working.
In such situations, you could go advance and the Android Debugging commands to access this mode. However, before we can actually start, there are requirements that you must fulfill to make this method work.
Here are things that you required to execute this method:
You need a Windows-based computer, either a laptop or desktop along with a USB cable of your phone.
Install the USB Drivers of your phone on your computer. Otherwise, the computer might not recognize your phone properly. You can download the USB Drivers from →here and install them on your computer.
Make sure that you enable the USB Debugging on your phone, just follow the below steps:

Open the Settings.
Locate About phone->Build Number.
Tap Build Number 7 times to activate Developer Options.
Open Settings->Developer Options.
Enable the USB Debugging.
That's it, now you're ready to use this method to boot into the recovery mode on the Google Nexus 5 smartphone.
Download the minimal ADB package from →here (Fastboot Package). Extract the content of the zip package on your and locate the Run Me file. Double tap on the Run me.bat file to open ADB command tool:
Now, connect your phone using the USB cable to the computer. (In ON condition)
Type the following command on ADB command prompt:
After this command, your phone will reboot and get into the Recovery mode.
Isn't that easy? It doesn't require so much effort once you set up the requirements. This is how you can easily access this mode if the first method doesn't work for you.
You can take OFF your phone from the computer and use the Recovery mode to perform further actions. The next method is for root users.
Method 3. Use the Quick Reboot application
For root users such tasks become simple. There're tons of useful root applications that improve user experience, productivity, and usefulness. If you've rooted your phone already, then you could use an application called Quick Reboot.
This application makes easier to switch to different modes easily. Not merely it allows users to access the recovery mode, there are different modes like Safe Mode, Fastboot, Bootloader, etc., You can easily switch to these different modes with minimal efforts.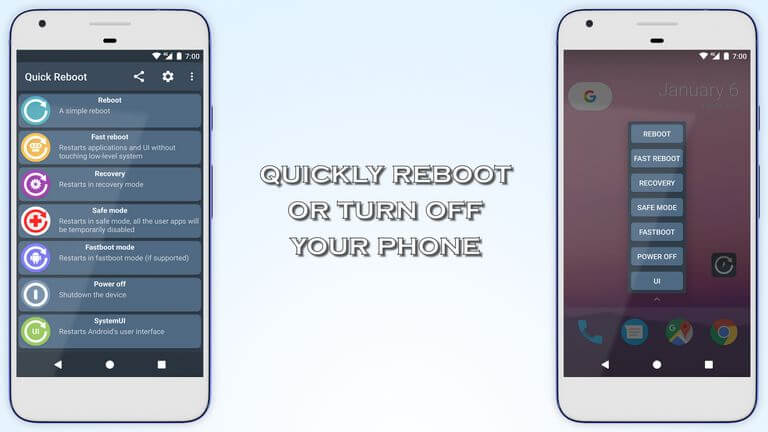 As soon you open this application on your phone, it serves a list of modes that you could boot into on your phone.
Most importantly, this application is available at zero cost on the Google Play store. It makes seamlessly easier to switch to different modes on Android phones.
These are the different ways that boot the LG Nexus 5 into the recovery mode. You must use these methods precisely based on the available resources and situations. Use this mode to install updates, flash custom ROMs, perform resets and clear cache on your phone.
We hope that Nexus 5 users will find this tutorial helpful. If you do, share your thoughts and views in the comment section below. We'll be glad to hear your thoughts and improve our tutorials. Stay connected with us for more useful content and applications.