Mobile
How to Enter Recovery Mode on Poco F1 [Different Methods]
Recovery mode is essential to all Android phones. This panel features a set of important tools required for maintenance purpose. The Poco F1 smartphone comes with a stock recovery image that has several important features. Through this tutorial, we'll learn how to access/enter Recovery mode on Poco F1 and some of its core features. If you're a newbie to this, then there is nothing to worry. Whether you want to format your phone, install custom firmware or mod, you require this recovery mode to complete such tasks. During this will learn different methods to boot into the recovery mode on this smartphone.
We have different ways to enter into the recovery mode. The most common method includes the use of the physical buttons. There is a certain way in which a user presses the physical buttons and that lead the device to boot into the recovery mode. This method is commonly used by the users. It works as long as the physical buttons are working. If for some reasons, the user is unable to use these buttons, he/she could use the other methods to access this mode. The recovery mode is implanted by most of the manufacturers. So, if you access it or use, that won't void the warranty on your phone.
The recovery mode has a significant role while tweaking an Android phone. Through this mode, it becomes possible to flash custom firmware and mods. Otherwise, it won't be that easy to catch up with custom operations. However, doing so would void the warranty on your phone. Therefore, you better use the recovery mode more precisely and carefully. It has powerful options able to wipe your phone instantly and it that happens, there is nothing we could do to bring back the deleted files back. Thus, we recommend you to use the recovery mode carefully. Do not perform any operation knowingly.
This phone a stock recovery image that restricts users to perform some custom operations. This has stock restrictions that won't allow you to install custom firmware and mods until you flash a custom image, like TWRP recovery image. If you ever wish to use the full potential of the recovery mode, then you must have the TWRP recovery installed on the phone. In that way, you'll attain the maximum privileges to use this mode and perform all customs operations. With the stock recovery on the Poco F1 phone, you can perform some general tasks.
These general tasks include flashing firmware updates, perform a factory data reset, Wipe cache partition and install official firmware package. These are enough to maintain your phone on your own. If something bad happens to your phone, you can perform a factory reset or clear its cache memory, that should help you get rid of those issues. To clear the cache memory on your phone, you must visit our recent tutorial:
The above guide will thoroughly take you through the required steps to clear the cache on your phone. You can perform this action to rectify the low-performance problems and issues. Now, let's begin with the first method that boots Poco F1 phone into the recovery mode.
How to boot into recovery mode on Poco F1
Being the most common approach, it works until mentioned buttons are working fine. If any of these fail to respond, this might not work. There is a certain pattern that you have to follow and remember. The below instructions will help you access the recovery mode:
Power OFF your phone using the power button.
Now, press and hold the Volume Down and Power buttons together for a few seconds.
Release the buttons as the boot logo appears on the screen.
Next, select the Recovery mode from the given option and tap the power button to access it.
Now, you should reach the recovery mode.
Note: if you are accessing the recovery mode for the first time, you'll face some configuration first. Just select the English or your native language from the list and follow the other on-screen instructions.
The stock recovery mode looks like this:
This new recovery menu has only one option, i.e Wipe Data.
If you wish to extend the functionalities, you must install a custom recovery image like TWRP on your phone That would bring you a whole new recovery menu screen.
That's how we boot Poco F1 phone to the recovery mode using the physical buttons. Now, the next method includes some preparations to work.
Method 2. Using ADB commands
This method is famous among Android developers. Most of the Android users never get to use this method. It is helpful in cases where you're not able to access the recovery mode using the buttons.
If that is your case, then you could use this method. It doesn't require the use of the physical buttons. Thus it has its own significance.
However, there are some preparations that you must do before we start.
You need a Windows-based computer and a USB cable of your phone.
Enable the USB Debugging on your phone, just →follow this tutorial.
Download the fastboot tool (ADB tool) from →here. Extract the content of the package to obtain Run Me.bat file.
That's it, you just need these things to start this procedure. The following instructions will aware you with further steps:
Double Tap on Run Me.bat file to run the Fastboot tool on your computer. That will open a command prompt like this:
Use a USB cable to connect your phone to the computer. The fastboot tool will automatically discover your phone.
Now, on the command prompt type the following command:
You're in recovery mode.
That's how this method works. We directly put a command through the ADB tool and it gets into the recovery mode immediately. The most noteworthy thing is that it doesn't involve any physical button.
If you have a root access on your phone, then you should take full advantage of that.
Method 3. Use the Quick Reboot application
If you have already rooted your phone, then there is no to bother yourself with the above two methods. You can do so with just a click. There are many applications that give extraordinary advantages to root users.
The Quick Reboot application is one of them. It gives you different reboot options that directly switch to different modes instantly. You just open this app, tap on the mode that you want to get in and that's it.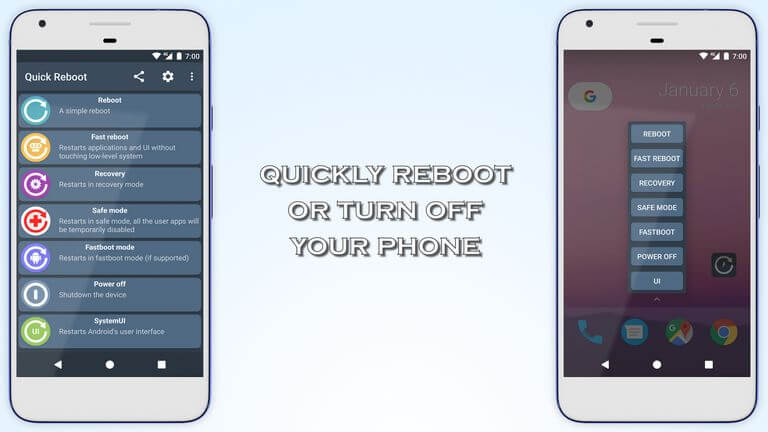 There are different reboot options including Recovery mode, Safe mode and many others based on your phone. This application is completely free to download and use on Android phones. You can get it at Google Play store.
The conclusion
These are several ways that take you into the recovery mode on a Poco F1 smartphone. That ends our tutorial here. We highly hope that our readers would find it helpful. If you find any difficulties while getting into this mode, do let us know through comments. We'll try to provide the best resolution at the earliest. Stay connected with us.