Featured
[Giveaway] The Easiest Way to Backup iPhone Without iTunes Using DearMob iPhone Manager
While Apple devices are mostly managed through iTunes, still there are many aspects where it lacks that make users to lookout for an alternate software. Creating a backup on Apple devices not so friendly as its operating system. iTunes puts several limits that do not allow users to backup their iPhone, iPad or any other Apple devices so easily. Users have to use their iCloud services for that purpose. That surely annoys users like us that generally don't indulge with such services.
There's one more thing that really makes iTunes more uncomfortable, its performance, mostly it runs quite slow on Windows powered computers. While there have been multiple band-aid solutions implemented to fix its performance, still it consumes a low of system resources and still doesn't work as it should be.
Notably, when it comes to backup or transfer files from MAC/PC to other Apple devices (iPhone, iPad, etc.), it takes a lot of time. If you're looking to replace the iTunes, then DearMob iPhone Manager would be the best choice that can improve your Apple experience even better. While Apple has solely focused to make their operating system better, iTunes lacks that.
The DearMob iPhone Manager bring an easy to use interface that simplifies that backup/restore, file management and phone manage tasks on Apple devices like the iPhone, iPad and other ones. That tool works without iTunes, it doesn't restrict users as well. When there are many such software out there to welcome users seeking iTunes alternatives, the DearMob iPhone Manager has certain features that make it unique, more user friendly and productive, most importantly, you can backup iPhone without iTunes.
Most importantly, it allows users to create offline backups and restore them anytime they want. iTunes doesn't have this ability and saves backup on iCloud only. In simple words, this iPhone manager is a complete suite that helps to manage iPhone smartly.
DearMob iPhone Manager Features
Whether you want to manage your iTunes playlist, apps, photos, videos, or sync your music files, this full fledged iPhone Manager has everything within its roof. Here are some important features that make this software worth and a top contender in best iTunes alternatives.
1 Click Full Backup and Restore
Performing a backup and restore operations are very smooth with this software. We know that iPhones come with pretty good storage spaces, however, over time it is certain that they would run out of it. Therefore, it becomes important to create a backup, and store files offline on our computer. This tool works on both; Windows and Mac, therefore, users can save their files, music and videos with an ease.
iTunes does help in creating backups and restore them, on the other hand, it performs relatively slow and could throw errors. With iTunes, it has never been easier to backup and restore files on iPhone. And iTunes does limit users in many ways. Whilst, iTunes creates problems during backup and restore actions, the DearMob iPhone Manager has simple yet effective interface for that purpose that offers 1 Click Backup and Restore option for all files on your iPhone.
The user interface of this iPhone Manager doesn't have bloatware. This simple interface allows users to backup and restore their iPhone quickly. It can backup and restore all iPhone data, including videos, music files, boot, apps, calendar, contacts, message, voice recordings, ringtones, documents, and most all other files.
Unlike iCloud, while creating backups, DearMob iPhone Manager won't limit users. The storage limit depends upon the space available on your computer and if you ever feel that your iPhone behaving abnormally, you can restore those files on your phone through your computer. Most importantly, you don't have to rely on the iTunes for any other purpose.
Create Backups Selectively
Along with 1 Click full backup facility, there you get selective backup feature as well. Whether you want to just backup photos, videos or manage applications installed on your phone, you can do it individually. The user interface of DearMob iPhone Manager offers these options individually, thus you can selectively backup files on your iPhone.
This feature is quite impressive and it reduces a lot of efforts doing such backup manually. Selectively, files be restored and transferred. You can be choosy while picking up your favorite photos, music files, etc. Along with that, users can individual import or export messages, contacts, and manage bookmarks. This feature gives an additional edge to iPhone users to make the most out of their iPhone and iPad.
Includes DRM Removal Tool
Since you're using the Apple iPhone, you must know about restrictions that iTunes put on media files that they rent and sell. iTunes media files are DRM protected, so users cannot share or store them outside their ecosystem. Even if they do, those files won't work with other devices. Whereas DearMob iPhone Manager lifts-up these restrictions and gives freedom to users.
No matter whether you've rented or purchased music files, movies, or ebooks, the DRM protection can be legally removed using this iPhone Manager. While it removes this protective layer, files are restored or transferred to any other device, regardless of the fact whether it is Apple's iPhone/iPad or any other smartphone or multimedia device. You can count this feature an additional benefit of this iPhone manager tool.
Export files more compatible formats
Since iOS ever has been developed, Apple has taken every step to make it better over time. Throughout this time, many formats have been transformed to create an unparalleled / different ecosystem. For example, the photo and ebook extensions used within iDevices are HEIC, and EPUB, these quite unfamiliar with others. These extensions are rarely supported by other devices.
If you're using the DearMob iPhone Manager, you can convert them into more familiar formats, that are widely used and commonly. Users can convert a photo from HEIC to JPG, convert ebook from EPUB to PDF/DOC/TXT, convert contact/messages to PDF/DOC/TXT, and so on. Thereafter, these files can be played and viewed on a non-Apple device as well. And if you're looking to convert PDF files, then you can use onlypdf to do that. Basically, it is an online website that provides an interface to change formats.
Encryption and Security Features
That's where you're getting more out of this tool. While creating backups or transferring files from your iPhone to Windows PC/Mac, users can encrypt them through passwords. Through this, users can easily lock down individual files, folders, contacts, messages, etc., on local storage and as well as on the iPhone. It uses Adopt 256-bit AES, 1024-bit RSA, PBKDF2, and Argon2 encryption technology for encryption purposes. That ensures that files and backups are completely private and there's no privacy leakage.
Users can add additional layers through a password over backups and files. However, one should know that once a password is set, backup files can be restored only through the correct password. If that doesn't happen, there's no way to recover those files and backups. So, one should use this ability very carefully and precisely. It locks down the data completely, no matter whether you're moving it or keeping still on your phone.
These are the main features; whereas it has even more to offer. Now, here's a tutorial that should help you use this iPhone Manager more precisely towards creating a backup your iPhone. If you want to get completely free copy of this software, then you must download it from their free giveaway page. For a limited time, they are giving this tool for free, thus you can access its every feature and function. And if you ever wish to get further updates, you can upgrade it further.
How to backup iPhone using DearMob iPhone Manager
It is quite easier to get started with this tool. Users just need to download this application from their official website. Here are the steps that you need to follow during this procedure:
Step 1: Connect your iPhone to your computer with USB cable.
Step 2: Tap "Trust This Computer" on your iPhone screen.
Step 3: Launch DearMob iPhone Manager and click "Backup".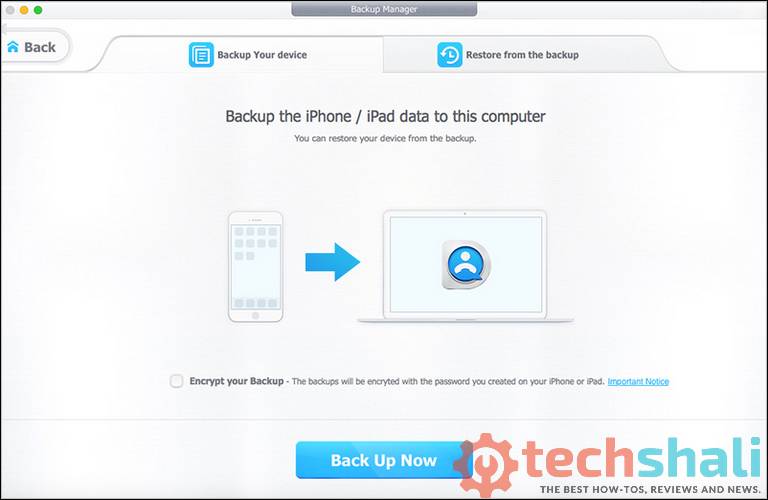 Step 4: Simply click on "Backup Now" and you will get a full iPhone backup file.
Additionally, users can go for selective backup and add a password while creating backups. That's how users can easily backup their iPhone, iPad, etc,.
Overall, we find this tool pretty helpful and we highly recommend iPhone users to give it a try. Specially, if you're seeking something that is better than iTunes, the DearMob iPhone Manager suits your requirements perfectly. Since this team is offering a free giveaway of this tool, you can have it for completely free. We hope that our readers would find this review helpful. Don't forget to share your thoughts and feedback in the comment section below. We would love to hear from you.