Mobile
How to setup RoadRunner Email on Android Phones
The huge development in the field of Information Technology has lead to the development of such programmes, which has made the transfer of messages from one person to another very easy. The RoadRunner email service is among them. Currently, this service is being provided by Time Warner Cable company in United states. If you've been using their IPS service, then you must have given with the RoadRunner email account details. In this tutorial, we'll help you setup you RoadRunner account on Android phones, so you would be use your account directly from your phone.
It is the miracle of science and the efforts of human beings that today the world, for any important work, relies on a singles click. Computer has made the work to man very easy and less time consuming. You need not make huge files and records repeatedly and waste hours in useless things. Today, it is just one click and you are sorted. The huge calculations that people used to do in hours can be done today in a fraction of seconds.
The messages which people used to send at long distances in the form of letter and telegrams, used to take days and even months to reach, which you can easily send today in a fraction of seconds through emails. Webmail roadrunner is a messaging system, which can be used very easily. Its functions and using pattern is very easy and you can understand its process in a very short time. This system is used to send emails wherever you want, sitting at home. You can check emails on any computer, and mobile. Keep reading this guide to learn to setup this RoadRunner account on your Android phone.
There are many facilities provided by the Webmail Roadrunner such as you will have a high storage capacity, an address book with online facility and so on. The mails you sand will be secure without any multiplications and there cannot be any hacking. The person who is using the programme will have an authentication ID, and a password so that there will be no system hacking and that your details and your ID will be confidential.
A master account will be given per house, which will be in the name of the person who pays the bill. All others will make their sub accounts under it. All your messages will be stored and saved unless deleted and you can view whenever required. The receiving and sending limit of the messages is 30MB, which includes the attachments. The programme has proved to be very beneficial and is adopted by people all across the globe, as it is capable of making your work much easier and safe. Now, here's the core part of this tutorial that helps you Setup RoadRunner Email on your Android phone.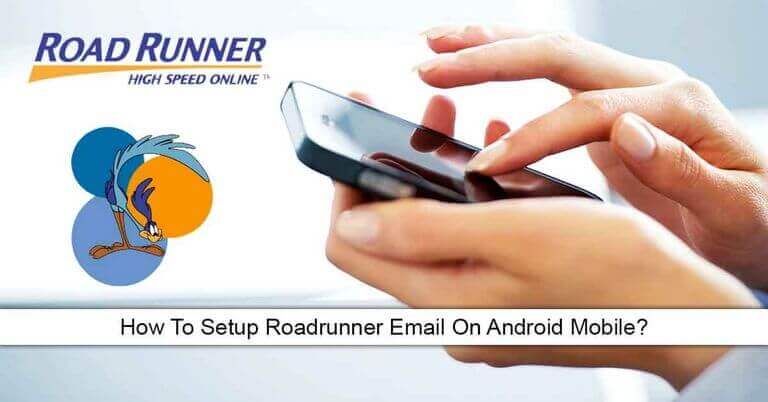 How to setup RoadRunner Email on Android Phones
Open the native Email application on your phone.
Now, enter your RoadRunner Email Id and proceed further.
On the Next screen, tap on "Personal (POP3)" and proceed further.
There enter your RoadRunner Eamil account Password.
Note:- If you don't have one, you could use the Gmail app or download one from the Google Play.  For Gmail App, make sure that you select 'Others' while adding a new email account.
Now, use you must follow the below instructions to setup Incoming Server Settings that comes to the next screen on the Email application:
Username: Ensure/enter that you added correct Email address.
Password: Enter your Password if required.
Server: pop-server.maine.rr.com (this varies based on your location. In case of confusion, you better ask the customer service to provide the correct server domain).
Port: 110
Security type: None
Once you've configured that above settings, the next part covers the Output Server Settings that you are required to setup RoadRunner Email account on your phone:
Within the Server option put: smtp-server.maine.rr.com (remember, it varries based on your location. Therefore, you better ask help from custom service for correct one if this doesn't work).
Port: 587 (also it could be 25)
Security type: None
Require sign-in: Check
Username: [email protected] (domain varies based on location)
Password: Enter your RoadRunner Email account password.
Then, tap on Next and move forward.
On the next screen, put your name wiithin the "Your name" field. This will be seen by the people that you contact through this Email service.
In last, tap on Next to end these settings.
That's all you gotta do to setup RoadRunnder Email account on your phone. If you figure that the email application throws errors saying Input and Outpur servers are not responding or incorrect, you can try the following alternatives:
Incoming server: pop-server.rr.com
Outgoing server: smtp-server.rr.com
Thereafter, you should be able to use your RoadRunner Email account directly from your Android phone. While using the Gmail application, you might need not to configure so much things. That should be little bit easier. And if you find yourself stuck anywhere, do let us know through your comments. We would love to help you out further with appropiate solution.
And if you figure that server input or output value is wrong, you must contact the RoadRunner to get correct values based on your location. That would help you setup up this account carefully. Don't forget to share your thoughts and comments about this tutorial. We would use your feedback to improve our tutorials and bring even more helpful content for our readers.