Mobile
5 Best Launcher Apps for Samsung Galaxy S9 and S9 Plus
In terms of the sales, and progress, Samsung has surpassed all smartphone manufacturers all around the world. While they build amazing smartphones, they intend to care about the hardware and features. The Samsung smartphones come with a customized skin, the TouchWiz interface. If you have already bored with this skin, then we have something better for you. In this list, we have gathered some of the best launcher apps for Samsung Galaxy S9 and S9 Plus smartphone.
These should help you make your phone look better, make you feel better, and of course, should give a piece of mind. Over the Google Play store, there are countless such applications. And that certainly makes difficult to choose the 'best among them'. We gather these launcher applications for Samsung Galaxy S9 and S9 Plus based on users reviews, experiences, and popularity.
Though Samsung's TouchWiz skin has enough customization options, however, the user interface remains the same most of the time. Thus, using other launchers you might be able to skin your phone the way you want. Additionally, you get more customization and personalization options. Those should come handy to you.
We have many full-fledged launcher applications able to transform your phone. Through these launcher apps, you should be able to customize most of the user-interface aspects. They offer you a wide range of customization options. Through you can configure your phone to look unique and perfect for your self.
We hope that our readers would like our list of best Android launcher apps for Samsung Galaxy S9 and S9 Plus. Do share your thoughts and views in the comment sections. Let's start our list of the best Android launcher for Galaxy S9 and S9 Plus smartphone:
Best Android Launchers for Samsung Galaxy S9 and S9 Plus
1. Nova Launcher
This is most successfully Android launcher application with extensive customization features. It allows users to customize all interface aspects. If you intend to highly customize your phone, then probably this launcher would be good enough for you. It has plenty of customization features that should satisfy your needs.
While it is just a launcher, it helps to bring better performance. The Nova Launcher is very light-weight and performance driven home launcher. While it offers better performance, it doesn't impact the animations and other functions. It outcomes smooth animation and improve the user experience. This launcher application comes as a free and premium version.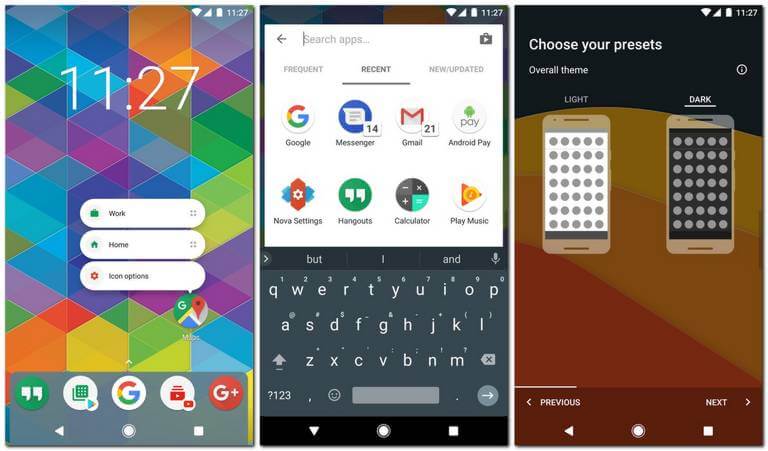 If you're want to go beyond the available options, you must switch to its premium version. That will unlock more opportunities for improvement and customizations. If you're looking for alternatives to the native launcher for your Samsung Galaxy S9, then you must try the Nova Launcher application.
Also see:
2. Google Pixel Launcher
It's my favorite one. In simple words, I can describe this emulator as 'beautiful and snappier'. Google Pixel has limited customization features. That helps you not getting confused while making it your choice. This launcher application turns your phone into one that looks very authentic and sleek. For people who prefer simplicity, this launcher is just perfect.
At the home screen, while your swipe right, it opens the Google Feeds presenting some latest information, news, blogs, etc., of your likes. You can customize that feeds easily and according to your likes. It helps to get quick information about things going on. In the recent updates, a new search option has been added to it.
While we browse applications through the Apps drawer, at the top you a search option. While you perform a quick search for an application, it also shows results from the web. For example, if you're searching for the app on your phone, if that doesn't exist on your phone, you download right away from the search results. Overall this launcher application has smooth, and beautiful looking user-interface. We highly recommend you to try this launcher app on your Samsung Galaxy S9 and S9 Plus smartphones.
3. Microsoft Launcher
This launcher is a must for those who are indulged with Microsoft products. This launcher application has been designed to help you be more productive while it beautifies your smartphone.  With your Microsoft account, it syncs your calendar, documents, and brings personalized feeds based on your activities. Just like the Google launcher but in a better manner.
This launcher application has plenty of customization and personalization features. Through you can manager themes, icons, colors, notifications and put multiple gestures to work. Surprising, this launcher can connect to your Windows computer and allows you to snap it, continue work on your computer and edit Office 365 documents.
Just like the Google Pixel launcher, the Microsoft Launcher has a universal search bar present at the top on the home screen. This search bar helps you navigate web pages, documents, photos, contacts and anything that is linked with your account. That is why it is called 'Universal Search'. This launcher brings some professional looks, and of course, features.
For business owners, this application should be just perfect.
4. Action Launcher 3
Based on the Android P looks, the Action Launcher 3 has some essence from the Google Pixel launcher as well. In simple words, a perfect blend of material looks like Pixel and customization features. Unlike the Google Pixel launcher, it is limited in the terms of personalization features. You can edit most of the user-interface aspects.
Even though, the Android P is launched officially, this launcher provides similar features. The recent updates have brought some Android P features. If you're switching from other third-party launchers, you can import those settings. The Action Launcher 3 supports settings from different launchers like Apex, Nova, Google Now and a few more. That makes easier to get started with this home screen launcher application.
Like the above two, it has an inbuilt search box. That connects you to the internet directly, right from your home screen. It is fully customizable, you can control its color, size, and icon. Further, it has Smart-size icons that fit any screen and design. Making this launcher more adaptive and useful. If you're a big fan of Pixel launcher, then you must try this launcher on Samsung Galaxy S9 and S9 smartphone.
5. TSF Launcher 3D Shell
This is the best 3D launcher available for Android users. Since the Android 2.2 arrived, this launcher has successfully blown the minds of millions of users around the worlds. It has some coolest 3D interface with smoothness. It is really fun to get started with the launcher. It helps you customize most of the UI aspects with 3D features and options.
You can turn almost the entire launcher interface into some really beautiful animations. Whether you step on the home screen or open the Apps drawer, it brings with animations. There are more 150+ customization features and settings. That you can use to make things better on your phone. You can set 3D home screens, apps area and do a lot more on the home screen.
Just like the Nova Launcher, this launcher has a free and premium package. With the free versions, you get it this launcher with some limited features. These are enough to test this launcher. And if you ever wish to get more, just purchase the premium one. This launcher worth your every penny you spend to purchase. Since Samsung Galaxy S9 and S9 Plus have amazing hardware specs and display screen, you can expect better 3D rendering and more fun with this launcher.
We also suggest playing the PSP games like God of War, Tekken 6, and similar ones on your phone. The PPSSP emulator will help you to play these games easily on your phone. Follow the below tutorial:
Best PPSSPP Settings — Setup the PPSSP emulator to play your favorite PSP games on your Android phone.
That ends our list of some best Android launcher for Samsung Galaxy S9 and S9 Plus smartphones. We hope that our readers would find it helpful. Stay connected with us for more helpful guides and list.