Mobile
How to Install TWRP Recovery on Samsung Galaxy On6
If you ever step further towards tweaking your phone appropriately, you might want to require to install a custom recovery on your phone. Also, if you wish to root your phone, a custom recovery like TWRP recovery becomes an important aspect. In this tutorial, we'll help you to install the TWRP recovery on Samsung Galaxy On6 smartphone. While this recovery extends the functionalities of the recovery mode, it allows you to install third-party mods, custom firmware, and root binary files as well. The TWRP recovery is somewhat essential to Advanced users.
There Android OS has been designed so well that it can be tweaked further. However, some things are there that resist those tweaks. In order to get those extra privileges, their user must root their smartphone. To achieve, the TWRP recovery becomes mandatory these days. But such changes and tweaks are not appreciated with by the OEMs. The TWRP recovery is not linked to Samsung in any way. This recovery image is created and distributed by third-party developers aiming towards better Android UI. Thus, installing the TWRP recovery image on Samsung Galaxy On6 voids the warranty terms.
This action will trigger the KNOX on your phone. That means you'll lose the warranty on your phone. To restore these actions and get the recovery back, you'll have to flash the stock firmware on your phone. That will restore the KNOX and replace all the third-party aspects with the stock ones. The TWRP recovery will be removed as well. Apart from the fact that it makes possible to flash custom firmware, and mode, it also helps to create a Nandroid backup. This backup includes the Android OS running on your phone. Thus, you can backup your current firmware.
If anything bad happens, you can switch back to the old firmware anytime you want. That makes this TWRP recovery so important and useful. To install the TWRP recovery image on your Galaxy On6, we will use the Odin tool. The Samsung smartphones have been blessed with this amazing tool. The Odin tool helps to install firmware, recovery images, and let you do other multiple actions on your phone. Through Odin, it becomes seamlessly easier to put the stock firmware on Samsung smartphones. We are about to start the process. Before we get into the real actions, you read the below prerequisites:
Prerequisites
This guide and mention files belong to Samsung Galaxy On6 2018 smartphone. You're not supposed to use them on any other smartphone. If you do, that cause some uncertain Android operating system related issues. Make sure to check the Model number before you step ahead. To check the device model number, tap on Settings->About phone->Software info or something similar.
You need a Windows-based computer at your disposal along with the USB cable of your phone. So you connect your phone to the computer, laptop/desktop.
Install the USB Drivers of your phone on your computer. That will ensure that a proper connection happens between the computer and your phone. You can download the Samsung USB Drivers from →here.
Since we are about establishing a connection between the computer and your phone, you need to enable the USD Debugging on your phone. Follow our tutorial on how to enable USB Debugging on your Samsung Galaxy phone.
While we flash the TWRP recovery on your phone, we might need to wipe out your phone or your phone might get corrupt. Therefore, a general backup is highly recommended. We recommend you to back up your important photos, video, and documents. Follow our tutorial on how to backup Samsung Galaxy smartphones.
Makes sure that the battery is charged more than 50%. That is good enough to carry such actions. Your phone shouldn't go down while we perform this action.
Make sure that you read all the things we mention above. Since we are doing something opposite to officials, we might some brick conditions too. You'll be responsible for such circumstances.
We assume that you've managed to compile the above prerequisites. Now, we move forward and flash the TWRP recovery on your phone.
How to Install TWRP Recovery on Samsung Galaxy On6
The method is really very simple. We will flash the TWRP recovery image on your phone using the Odin tool. Follow the below instructions to install the TWRP recovery image on your Samsung Galaxy On6 smartphone:
Step 1. Download and run the Odin tool
Use this →link to download the Odin tool on your computer. Extract the package to obtain an executable program.
Double tap on the Odin3.exe file to run this application. The Odin tool looks like this: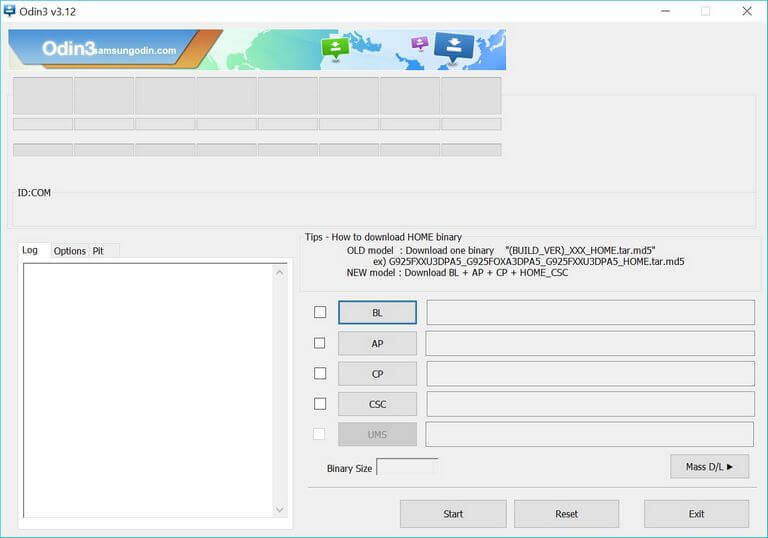 Step 2. Download the TWRP recovery image on your computer
Download the TWRP recovery image for Samsung Galaxy On6 from→ here. Extract the content of this package to obtain recovery.img file.
Step 3. Boot your phone to the Download Mode
The Odin tool requires the Download mode to perform actions on your phone. The below instructions shall help you get into this mode:
Turn OFF your phone using the power button.
Next, press and hold Volume Up, Volume Down and Power buttons all at once.
Release these buttons once Samsung's logo screen appears on the screen.
On the next screen, use Volume Up button into the Download mode.
Now, you should enter into the Download mode.
Step 4. Connect your phone and establish a connection
Since you're in download mode, now you can connect your phone to the Odin. Through USB cable, connect your phone to the computer.
The Odin tool will automatically detect your phone. The ID:COM section will turn to blue on detecting your phone.
If nothing happens, try re-installing the USB Drivers, restart your computer and repeat the above step.
Step 5. Flash TWRP recovery image
Now, tap on the 'AP' button present on the Odin tool. Then, locate the recovery TWRP recovery image.
Then, hit the 'Start' button to begin the process.
Wait until the process is complete. Then, take OFF your phone.
It is done! The TWRP recovery has been installed on your Samsung Galaxy On6. Now, you can proceed to certain tweaks like rooting, some performance improves and tweaking the Android UI.
After you perform this task, your phone will reboot. And soon take you to the home screen. If nothing happens and it sticks at the Samsung Logo, then probably, you need to reset your phone. That's why we recommend creating a backup. Follow the below reset guide, that will help you fix this boot-stuck issue on your phone:
So that ends our tutorial on how to install TWRP recovery on Samsung Galaxy On6 here. Use this recovery to get extended privileges on your phone. And make your experience more personalized and better. If you have any problem, do let us know through comments.