Business
Social Commerce: Use Social Networks To Boost Your Sales
Social commerce is the sales strategy that uses social networks to leverage sales and reach new customers.
Have you ever used social networks to promote your brand and boost your business? If so, you have already made use of social commerce.
Social networks have become an essential part of most people's daily lives. Far beyond the ease of contact with family and friends, the major platforms are now channels for information and entertainment. At the same time, the virtual market is making efforts to follow and adapt to these changes in consumer habits.
With this in mind, we have prepared this article explaining what social commerce is and how to use it in your networks. If you want to leverage your sales using this strategy, read on!
Social commerce is the sales strategy that uses social networks to leverage sales and reach new customers.
As time goes by, it is increasingly difficult to find anyone who has not surrendered to one of the most popular networks. In parallel, the giants in the market are working to launch new tools that facilitate the integration of products and online stores, turning their platforms into true sales channels.
Social commerce emerges with the proposal to prepare irresistible content and structure your networks so that you can sell more and attract new customers.
New trends and trends are created and disseminated on the networks every day. TikTok has become a worldwide fever, with generation Z (those born between the late 1990s and 2010) taking the lead in producing new content.
Songs released years ago get an afterlife thanks to viral videos. New influencers are born thanks to the power of a single video. Ordinary people reach the mark of millions of followers with content from their daily lives. These are just a few examples of the reach and power of social networks.
According to a study conducted by We Are Social in partnership with Hootsuite, Brazilians spend an average of 3 hours and 31 minutes per day on social networks. This is a considerable amount of time-consuming content. Therefore, many brands have already understood that it is important that they are also in the race for some of these seconds.
With this in mind, it is clear that, with an assertive strategy, there is also an audience to be reached by your business through the content you produce.
Also see: Best Etsy Alternatives In Latin America To Sell Products
Also according to the study of We Are Social and Hootsuite, Instagram has today more than 1.45 billion monthly active users worldwide. Only in Brazil, there are more than 122 million people connected to the network. The main benefit of social commerce is that this strategy allows you to be in direct contact with these people.
But, besides this, social networks are also a point to conquer new customers and to keep old ones. These are some of the advantages:
Ease of making sales directly on the platforms;
Having a communication channel with greater proximity to your customers;
Ability to viralize and reach new people;
Promote events and exclusive discounts.
Among all social networks, Instagram is the clear leader in sales. According to NuvemCommerce, an annual survey conducted by Nuvemshop, 87% of sales made on social networks happen on Instagram. This points to this network as a powerful channel to win new customers. Nevertheless, social networks such as Facebook and TikTok also have great potential to be explored.
Another important factor for the success of your strategy is the type of content you produce. After all, your posts are the main attraction factor for your brand. Below, we have listed some tips for your content to be aligned with what most grabs attention and yields shares today. Check it out:
Caprice the images of what you're selling
Investing in professional photos of your product can be the difference between a user choosing your brand or the competition.
You may have already come across food photos of low quality, from an unfavorable angle, or with an unnecessary flash. In contrast, famous brands invest in professional images, often even in videos with effects, showing every detail of the product.
Picture this: A very common image in the advertising world is a pizza being bitten in slow motion, with a string of melted cheese hanging down. Other pizzerias present dark pictures of their pizzas, inside a box, or often with a flash too close.
Can you imagine? The effect of this on people's psychology is that a product can either cause aversion, or arouse desire and urgency for the item. This shows how important it is to have quality photos in your feed.
Write simple texts with short paragraphs
This is a widely used technique in many areas of marketing. Always write simply, with short sentences and paragraphs.
Short paragraphs are more likely to capture the readers' attention and make them read to the end. By writing simply, avoiding fancy words, you establish more direct and familiar communication with your customers.
At the end of each text, try to include a call-to-action, inviting the reader to perform a clear action: click the link in the bio, share the post, or make a request in the WhatsApp link.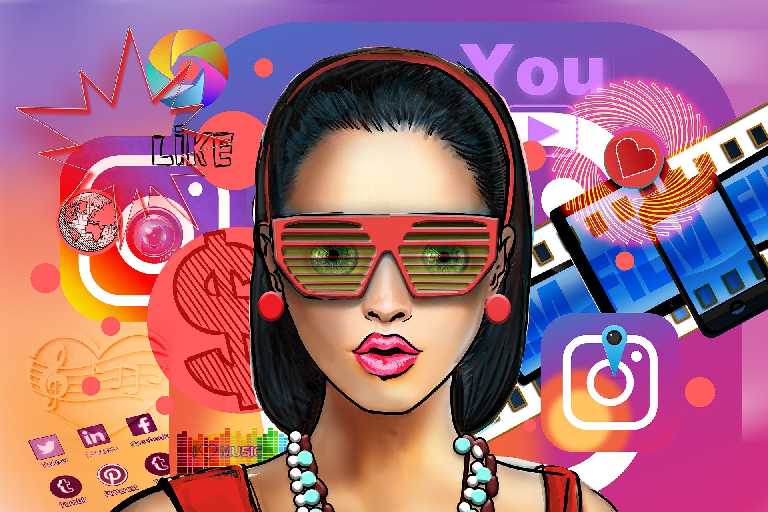 Partner with influencers
Not so long ago, only high-priced celebrities were hired to promote brands and products. This has changed with social networks and the emergence of ordinary people who, for some reason, have gained a legion of loyal followers.
You also don't need to worry about hiring influencers with the biggest numbers in the market. Today, nano and micro-influencers, even with less expressive numbers, can have a closer and more trustful relationship with their followers, bringing the attention you need for your brand.
Through live broadcast partnerships or sponsored posts and Stories, you have the opportunity to demonstrate your product, offer exclusive discounts, and thus attract new customers through impulse purchases.
By choosing influencers from your niche, you ensure that your brand and content will reach people who have already shown interest in what you are selling.
Also see: 13 Trends in Social Networks to Be Successful in 2022
Produce video content
Since the launch and popularization of TikTok, content in short video format has shown great viral potential. Because of this, Instagram launched a new tab with equivalent content: the Reels.
Investing in video production can have a very positive outcome for your business. When a video of yours goes viral, you can reach hundreds of thousands of new people. In the best cases, millions.
By maintaining consistency in releasing similar content, besides attracting users' attention, you increase the chances of gaining new followers, i.e. new potential customers.
Now that you know how to make your content more attractive, we have separated other tips for your social commerce strategy to be as assertive as possible. Check them out:
Create a business account on Instagram or other networks
Since Instagram is the network that concentrates the largest percentage of social commerce sales, it ends up being the starting point of this strategy. Nevertheless, social networks such as Facebook and TikTok may also be of interest to you.
Facebook, for still concentrating on a large audience and the integrating with Instagram. TikTok, because it is the social network of the moment.
Link your account to an online store
An important step is to integrate your network with your e-commerce. Today, several platforms offer this option, automating the sales process and information exchange between the two platforms.
If you don't have e-commerce yet, we recommend that you create one. A virtual store, besides facilitating management processes, transmits more seriousness to your business, which is of great help in winning the trust of your customers.
Know well the tools of the network you are going to use
There are several techniques that can be used in order to improve the engagement of your networks. On Instagram, for example, the use of interactive tools such as polls and question boxes can significantly increase the reach of your posts.
You can also create strategies with a good QR Code generator, which will help your followers engage on your social networks and end up selling more. By knowing the features of each network, you will know which type of content is more suitable for them and invest in a more targeted production.
Establish a publishing schedule
One factor that greatly influences the engagement levels of an account is the periodicity of its publications.
Even if you produce good content, it is important to also think about the frequency of publications. Networks with very old posts give the impression that they are abandoned, or that the business has closed. In addition, the algorithm favors accounts that make new posts with a certain regularity.
We hope that you have understood everything about this sales strategy that is still expanding, with no signs of slowing down. Social networks have become powerful sales tools, and exploiting this potential can be a decisive factor for your business.
With our tips, you can produce the best content, attract new customers and, at best, gain loyal followers for your networks. Explore your brand's full virtual potential and leverage your business with social commerce.