Mobile
How reset Network Settings on Galaxy M20
There's no doubt that users wouldn't indulge with network related services on this smartphone. This smartphone offers most of the networking features like WiFi, Bluetooth, Mobile network and a few more. Being a pocket-friendly doesn't restrict you on useful features. In order to troubleshoot networking aspects like SIM Networks, WiFi, and Bluetooth, we reset the entire Network Settings on our phone. In this tutorial, we'll help you reset Network Settings on Samsung Galaxy M20 smartphone to fix network related problems.
There's no telling when you can face problems related to Internet Data, SIM signal or WiFi that's not connecting to a particular network. Till the moment, the problem is limited to software, we can cure it easily. There's no need to have so much technical knowledge or reach technical team each time you face problems. On Android smartphones, it's quite easier to troubleshoot even bigger problems.
This OS comes with plenty of inbuilt troubleshooting options that help to fix most of the Android problems. Most importantly, you wouldn't need any kind of third-party tool for most of the things. Just most of the Android phones, we expect some network related bugs Samsung Galaxy M20 smartphone. The problem might be related to SIM networks, WiFi or Bluetooth. If you're facing connectivity problems on your phone, there are chances that issue is being caused the custom settings that you've done so far.
If there's anything that's causing your phone to throw an error while connecting to networks, that should be wiped off if we reset the entire network settings on our phone. And most importantly, this reset won't hurt any other aspect on your phone. However, that would delete the existing connections and paired devices.
Therefore, it would be better if you can write down the passwords of important connections somewhere else. That would be a much safer way to proceed further. While we reset Networking settings on Samsung Galaxy M20 smartphone, it helps to fix most of the problems linked to SIM Network, Internet speed, WiFi and Bluetooth connectivity problems. Over time it is usual to face problems and bugs.
Most of the time, we encounter performance and stability related bugs. And sometimes we stuck trying connecting to a particular network, but couldn't get success in that. You might be facing problems while paring your phone to the Bluetooth headsets or connecting to WiFi sources. Though we try to troubleshoot these problems through basic solutions, in some cases they won't work.
If you frequently face these problems with your phone, you can try resetting the network settings to see if that works in making things correct for you. Now, without much more talk, we shall proceed. You just need to follow the below instructions that we mention to reset Network Settings on your Samsung Galaxy M20 smartphone. Before that, ensure to back up passwords of important connections.
How to Reset Network Settings on Samsung Galaxy M20
Open the Settings on your phone.
Now, scroll down and tap on Reset.
Then, tap on Reset Network Settings.
On the next screen, tap on RESET SETTINGS and confirm it once again.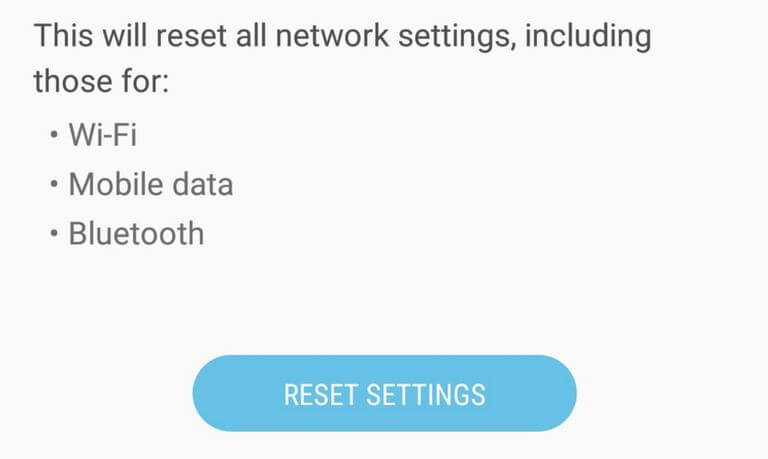 Right after that, reboot your phone so changes can take place instantly. That's how we can reset Network Settings on Samsung Galaxy M20 smartphone. This should fix most of the problems related to connectivity features like SIM networks, Internet data, Bluetooth and WiFi.
This will delete all settings associated with these connectivity aspects and existing connections. That most probably remove anything that is causing your phone to suffer from connectivity problems. Now, you should be able to connect your phone to other devices through WiFi and Bluetooth and there shouldn't be further issues regarding the SIM network.
That's the way to manage this smartphone. There's more you can do on this phone using the Developer Options. Basically, it is a hidden menu that allows users to access some core settings. That one can use to improve performance, stability, usability, and user experience. You must follow our guide that helps to enable Developer Options on Samsung Galaxy M20 mobile phone. We highly recommend our users to try this menu at least once.
If you don't find resetting network settings helpful, you can go advance and clear the cache on your phone. The cache keeps growing over time and that causes different problems on Android phones including some network related. We suggest you use the recovery mode to wipe its cache partition. That fixes most of the bugs and issues that we find bothering on our phone.
That ends our tutorial here that helps to wipe network settings on the Samsung Galaxy M20. We hope that Samsung's users would find this tutorial helpful. There's one more thing that one should know. That tutorial works on most of the Samsung smartphones. So, you can implement these same steps on other devices as well. If you're still facing the issue on your phone, don't hesitate to contact us. We would love to help you out.