Mobile
How to Enter Recovery Mode on Samsung Galaxy J8
If you're seeking a budget-friendly smartphone, then Samsung Galaxy J8 would be fine. Definitely, this smartphone packs fascinating hardware specifications. Apart from all, it runs on the latest Android Operating system with comprehensive tools. The recovery mode is one of them. In this tutorial, we'll help you to enter/boot into the recovery mode on Samsung Galaxy J8 through the simplest method. There are different methods to access this mode. Once you get into the recovery mode, you'll be able to perform some serious tasks. You can perform a hard-reset, clear the cache memory, flash firmware, and a lot more.
The recovery mode is an essential aspect of the Android operating system. You can consider it as a maintenance tool provided to maintain a sustainable performance. Since Galaxy J8 doesn't have the physical button, the method is different to enter into the recovery mode. This tutorial will guide to you boot into the recovery mode on Samsung Galaxy J8.
The method is very simple and you will master it on the first attempt. There is a certain manner in which you have to press the physical buttons. The recovery mode becomes necessary whenever you need to flash firmware manually. You can easily flash custom firmware through this mode.
Moreover, if you ever wish to root your phone, then you will need this mode. The recovery mode has many other important uses. Moreover, you can flash a custom recovery like TWRP or CWM. These custom recoveries extend the functionalities of the recovery mode. Our recommendation would be the TWRP recovery.
It is a touch-based recovery that extended features. Through these features, you can easily maintain your phone. You can flash custom ROMs, third-party mods, and create Nandroid backups. Thus, it makes important to know about recovery mode. If you're looking for a way to access it, this guide will help in the best manner.
Getting access to recovery mode won't harm your phone. Neither it voids the warranty on your phone. You can use this mode without worrying about anything. Booting into the recovery mode on Samsung Galaxy J8 won't take more a few seconds. The patter is very simple to follow and understand. No matter if you're completely new to such things.
However, there is one that you should make a note of. This mode is so powerful that it can format your phone in seconds. Be careful while you are using its features. If anything bad happens, that can't be cured or undone. Now, let's finish talking and learn how to access the recovery mode on Galaxy J8.
How to Enter Samsung Galaxy J8 Recovery Mode
Switch OFF phone completely.
Now, press and hold Power and Volume Up buttons at once for a few seconds.
Release these buttons when Samsung Logo appears on the screen.
If the Android Robot with "No command" comes, then tap on the screen your phone.
Now, you should enter into the recovery mode on your Samsung Galaxy J8.
Within a few seconds, you'll enter into the recovery mode. The Samsung Galaxy J8 comes with a stock recovery that has limited features.
Also see:
This stock recovery mode looks like this: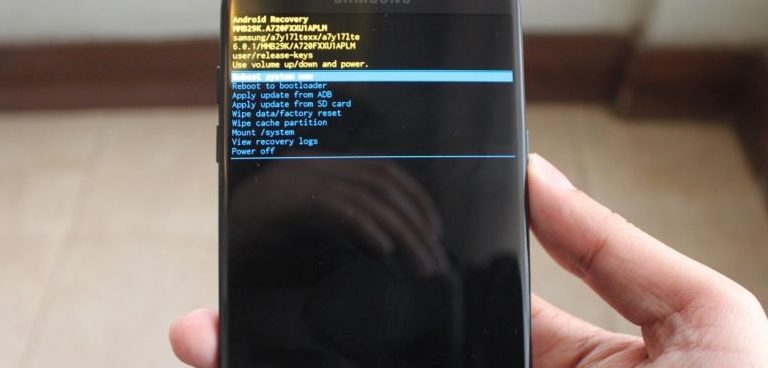 Even though it has limited features, these are enough for users like us. Through the recovery mode, you can flash updates, perform resets and so on.
If you're new to recovery mode, then you must read below. We discuss the important aspects of the recovery mode. These should help you to kick-start with this Android mode.
Samsung Galaxy J8 Recovery mode: Important features
Reboot system now — the very first option. If you wish to exit the recovery mode, then tap on Reboot system now options. This will exit you from the recovery mode and reboot your phone.
Otherwise, press and hold the Power button for a few seconds. That power offs the phone.
Reboot to bootloader — another Android mode. The bootloader mode is used when we flash the stock firmware or OS backups. For Samsung users, the Odin tool comes very helpful in doing such actions.
Apply update from ADB — it stands for Android Debugging. This option remains unused or rarely used by users. Mainly used by the Android Devs to load firmware through Android SDK tools.
Apply update from SD — it facilitates the updating process. If you ever wish to update your phone manually, make use of this option. Just download the firmware or ROM file, and flash that file using this option.
Wipe data/factory reset — wipes your phone completely. It helps you to perform a factory reset on your phone. If you ever face performance or stability related issues, try resetting your phone.
Wipe cache partition — the cache memory eventually causes performance issues. Use this option to wipe out all the cache data at once through this option.
These are the important features of the recovery mode. Other than that, you get additional features on custom recoveries.
The Wrap-up
Now you should be able to enter into the recovery mode and use it wisely. We have already discussed most of its aspects. If you still have confusion or facing issues, do let us know. You're most welcome to make comments.
That ends our tutorial that helps to enter/boot into the recovery mode on Samsung Galaxy J8. Stay connected with us for useful tutorials and lists.