Business
10 Best APPS to Manage Social Networks Like A Pro In 2020
Social networks have gone from being a means to entertain and relate to a way of working, obtaining clients, and even shopping. That is why, as entrepreneurs and business owners, it is essential to have good social media management if what you want is for your brand or product to attract the largest number of customers. Therefore, we have this list of the best apps and tools to manage your social network to maintain your online reputation and get more customers.
Having a community manager is a great advantage when it comes to positioning ourselves in the networks as a company, but with the wide variety of sites on the internet, for social network managers, it can sometimes be overwhelming.
In this sense, it is ideal for a community manager to have essential applications to manage social networks that make the task of uploading content and creating interactions with users easier. That is why we have prepared a list of 10 apps to manage social networks that will get more than one social media out of trouble.
List of 10 best Social media management tools and applications
With the great receptivity that social networks are having today, it is not surprising that businesses want to know how to do good management of social networks, but something that we should not overlook is that in addition to applications, it is necessary to develop strategies to get closer to users and to properly position the website or profile.
In this sense, the management of social networks implies an effort to monitor and study the movement of the networks to achieve the objectives set, which will depend, among other things, on the type of profile and what you want to sell. And although the main objective is usually to attract customers, it is also unavoidable to take into account user loyalty and interaction with them.
As we know that this process can be tedious and more when it is starting, we recommend these applications to manage social networks that will make the task simpler.
1# Agorapulse
[Website: https://www.agorapulse.com/]
It is an app that has recently gained a lot of fame in the digital medium. Previously it only housed Facebook, but in recent years it has been updated by integrating Twitter, Instagram, LinkedIn (profiles and pages), Google+ pages, in addition to Facebook pages.
What can be achieved with Agorapulse?
Agorapulse is ideal for managing conversations on social networks, it provides detailed information and an analysis of the competition that can be easily downloaded in a PowerPoint file. In addition, you can develop Facebook apps, unify comments from Instagram ads, and Facebook dark posts.
Another of its outstanding features is that roles can be delegated when working with a team, as well as automatically synchronized with the web version, offering a Buffer-like publication list. Other functions are:
Review messages as well as mentions.
Automatic "seen" marking for notices and announcements.
Accurate reporting and monitoring of Facebook ads.
Filter messages and also spam mentions.
Add multiple searches with powerful filters.
Unlimited access to reports on all plans.
5 members per work team at no additional cost.
Among its disadvantage is the impossibility of using it with personal profiles and with groups, as well as managing personal profiles in parallel with business profiles.
Also see: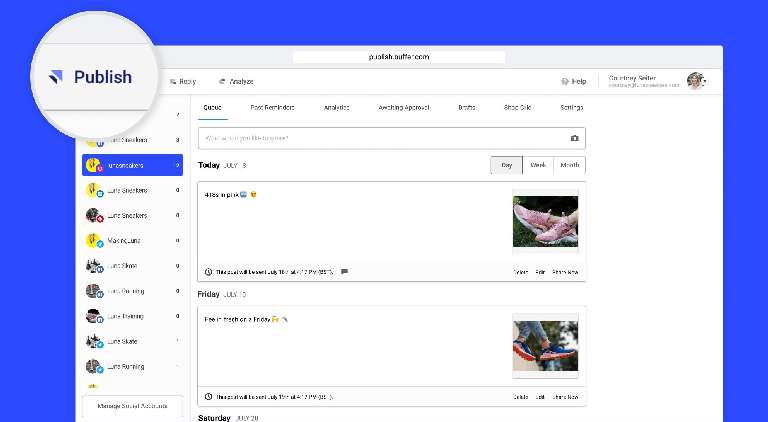 2# Buffer
[Website: https://www.agorapulse.com/]
Although Buffer is not directly a social media manager app, there is something that it does undoubtedly well and that is to schedule the publications of various social networks, such as Twitter, Facebook (profiles, pages, and groups), LinkedIn (profiles and pages), Pinterest and Google+ pages. In addition, it offers basic and detailed reports depending on the consumption plan.
Another of its new functions is that it can connect with Respond which allows it to interact with users and provide customer service. Other of its functions are:
Schedule posts.
Integrate third-party tools and services such as IFTTT, Zapier, Feedly, Evernote.
Access to 10 social media accounts for a single user.
Basic reports with additional basic graphs.
The main problem with Buffer is that it does not provide information from Feeds or the ability to interact with users from the app, so it is necessary to use an additional tool for conversation management, customer service, competition analysis and detailed analytics. Also, visit Ecodelogic for more information about iOS App languages.
It has a Business plan that is available for local computers and a basic plan for portable devices.
3# Sprout Social
[Website: https://www.agorapulse.com/]
Since 2010 Sprout Social has a large number of users and is integrated with networks such as Twitter, Facebook, Google+, LinkedIn, and Instagram. An incredible feature of this social media management tool is that it allows all users full access to reports and analytics.
In addition, it has a unified inbox, which allows you to have the main social networks in one place, it is possible to filter by the social network and see mentions, messages, and comments. Other of its functions include:
Delegate different account groups for the members of the work team.
Include powerful and attractive reports in all your plans.
Group collections of social networks.
Integration with bit.ly and a feed for your Twitter lists.
Unified Inbox.
One of the disadvantages of Sprout Social, in addition to its price, is that it does not integrate as many social networks as Hootsuite or Sendible. If you're on a budget, Sprout Social can be a great option.
4# Sendible
[Website: https://www.agorapulse.com/]
This app integrates a large number of social networks, from Twitter, Facebook, LinkedIn, Google+, Instagram, YouTube, Pinterest, Tumblr, Flickr, WordPress, Blogspot, and more, so it could be said that it is one of the most complete.
Sendible stands out for its plans which include a number of services, rather than social networks. That is, the rates fluctuate according to services such as Twitter posting or Tweets monitoring and not by a social network. Other functions include:
Advanced functions such as geo-location.
Integration with Google Drive, Dropbox, and Canva.
Use of the product as a "white label".
Analytics, reports, monitoring, content scheduling, a CRM, a mobile app, and more.
Unified Inbox.
As for the disadvantages, we can say that the service plan can be somewhat confusing, especially when it is necessary to obtain several services for each social network. Also, the unified inbox has a priority system, so some messages will always be displayed first, it depends on how you see it, this can be a disadvantage.
5# Hootsuite
[Website: https://hootsuite.com/]
It includes the most popular social networks such as Facebook, Twitter, LinkedIn, Google+, and Instagram and has a directory of applications that can be added additionally.
The really good thing about this platform for social networks is that it has free plans and paid plans, so it is possible to choose according to the budget. It also has other functions such as:
Reports and basic reports for free plans + 2 members.
Multi-column design.
Schedule posts on multiple networks.
Mobile app for iOS and Android.
Direct publication on Instagram, although it is not automated.
However, Hootsuite has many disadvantages, its interface has errors, the reports are not as detailed as other apps, it does not include social Inbox, competitor analysis, or automatic moderation rules. Also, it cannot be integrated with bitly.
It is perfect for very basic functions, but if you need detailed analysis, the ideal is to use another app.
Also see:
6# SocialOomph
[Website: https://www.socialoomph.com/]
It is an app specially designed to manage Twitter and Facebook. SocialOomph allows among other things, programming tweets, monitoring of keywords (keywords) as well as the automation of status changes in our profiles and pages.
Advantages for Twitter:
Tweets scheduling.
Keyword monitoring (keywords).
Automatically delete private messages on a regular basis.
Link shortener.
Unlimited Twitter accounts.
Tracking mentions and tweets.
Advantages for Facebook:
It is possible to automate changes in status in our profiles and pages.
See what the last statuses of a page or profile have been.
The disadvantage is that it only includes those two social networks, if you want to have complete monitoring of all the networks, you need to get another app.
7# Spredfast [ Now known as Khoros]
[Website: https://khoros.com/]
Spredfast is a very complete application as it provides a lot of information. It separates the timeline by countries and allows you to see the number of users reached by each publication made; In addition, it shows us the number of followers of each of our followers. Other functions are:
Detect and capture the quality audience.
Deepen the relationship with our followers.
Coordinate actions between social networks.
Metrics are customizable and goals can be set.
The only problem is that it does not offer a detailed analysis for each network as other apps.
8# Everypost
[Website: http://everypost.me/]
It is ideal for posting content to multiple social networks simultaneously, it includes Facebook, Twitter, Google+, LinkedIn, Tumblr, Flickr, Dropbox, and many more social networks. Other of its functions are:
Publish texts, photos, and videos in a comfortable way.
Supports posting to Facebook, Google+ pages, and LinkedIn company profiles.
Send the posts to contacts directly to their phone.
Sort your favorite channels.
It has a URL shortener, very useful for Twitter.
You have access to your Pinterest panels, to categorize your content.
You also have access to Tumblr, allowing you to post directly to your blogs.
Everypost is an application that does not offer statistics and results, but it is very good at publishing content, and it is only available for IOS devices.
9# CoSchedule
[Website: https://coschedule.com/]
It allows managing the publications in several social networks simultaneously. Additionally, Postling consecutively monitors data on our website, including less common profiles like Yelp and Tripadvisor. Other functions are:
It allows the publication of images, text, and videos on all platforms.
Monitoring and analysis of the main keywords.
Management of multiple profiles in a single account, separated by tabs.
It is a great advantage when publishing, but the functions are not as advanced as in other apps.
10# Bitly
[Website: https://bitly.com/]
Bitly is more than a shortening of Url's as it includes functions such as publishing content on Facebook and Twitter, as well as knowing statistics of visits and penetration of our content. It is a very useful tool when you want to measure the engagement of each publication.
The only problem is that it does not incorporate as many functions as other apps.
A professional digital marketing community manager knows very well how important it is to have social media management tools not only for the time they can save by using them to their advantage but for the information and functionalities they offer.
Good monitoring and administration of social networks are essential when interacting with the public, especially if what you want is to make the networks a showcase to boost a business. Social networks can open a space for users to better understand the product and the work carried out by a business, which is why applications to manage social networks should never be lacking. If you are just starting out with social media, these apps can help.
We hope that these tools allow you to position and publicize your business vision and we invite you to follow us on our social networks.