Internet
5 Best Websites To Download Royalty-Free HD Images For Free
All right, entrepreneurs, the time has come. We have been planning for months, charting paths, devising the short, medium, and long term plan. Having all this ready we have put our plan in motion. Now we have reached the point where our company or brand needs a social network, and this is not something optional, nowadays people's eyes are on social networks, so if we want what we do to be seen by the masses, we must show it on the networks. And what is one of the most infallible tools to use social networks? The use of images. Therefore, we have this list of best websites to download HD royalty free images and use them as you want.
So the saying goes, and so it is. Through images, we can reach our followers. A photograph is capable of attracting more attention than a text. That's one of the reasons why there's so much psychology behind advertising, but we won't talk about it here. In this special article, we are going to know websites where we will be able to get images in HD resolution, totally free, and available for commercial use.
We have compiled these image banks to ensure that we can always have the tools at hand for our blog or our social network, be it Facebook, Twitter, or Instagram. As we already said, the images on these sites are totally free.
5 Websites to Download Free and Royalty-free HD Images
These are the image banks that we recommend for you:
1. Pixabay
The Pixabay site offers us a large number of images, more than 400,000. All are totally free and in high definition. It is one of the most popular image banks, ideal for the visual content of our blog or website, as well as for our images on networks such as Instagram.
The images that can be found are from all categories, each one of them created and shared by people who with all good intentions want to contribute to the growth of content. One of the best things about this free image bank is that you don't need to create a user account.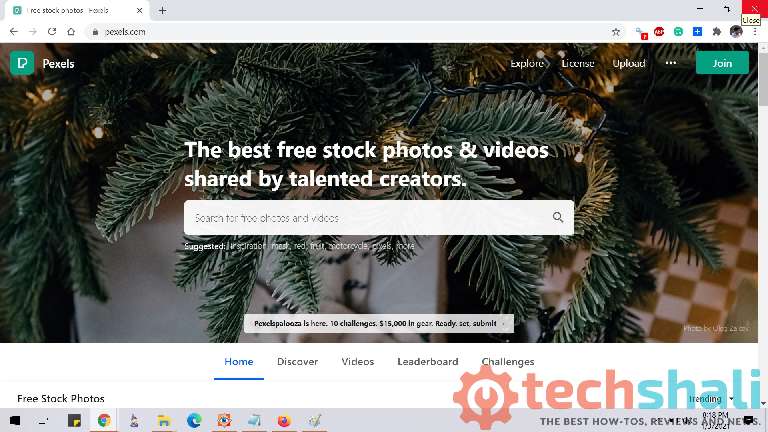 2. Pexels
Our second option is just as great as the first. Pexels offers very high definition images, ideal for blockers, designers, and community managers. Creating an account is not mandatory. The images provided by Pexels are perfect for professional content, be it for a personal project or someone else's. All images are taken by passionate photographers who love to share their art with the world for free, but in case we want to donate to the user or give him some kind of recognition, we will be free to do so.
We can find any type of photograph, the categories are very extensive. The recommended thing for this online resource is to do the searches since it is the language in which it operates, so we will ensure that we will find what we are looking for.
3. Unsplash
Another of the greats. Unsplash is also one of the best known for finding high-resolution photos and totally free. The content and categories are very varied, we will even be able to search through tags, for a more precise result.
One of the great things about this free image site is that if we subscribe to it, we can get 10 full HD photos that will be renewed automatically within 10 days.
4. Freedigitalphotos
It is a community consisting of a large selection of photographic and illustrative content. Freedigitalphotos not only allows us to download professional photos for free but also graphic images created by designers.
The content found here is perfect for personal, business, and educational presentations. We can find the necessary images to put together our blog or our social network.
5. Freepik
It is one of the websites with the greatest variety. Freepik offers much more than just images, here we can also find vectors, stock photos, PSD, and even icons. The best thing about all this is that, like all the previous websites, the content is totally free and available for commercial use, the condition is that we must give credit to the authors. This website differs from the others for something very special.
This website is used by many, due to its great variety of multimedia files, and it cannot be missing from our list. With it, we will surely find what we are looking for for our websites, blogs or social networks.
We already have the tools, now it is up to us to use them correctly. Remember, even though these images are free, it is very important to always give credit to the authors, this is not mandatory at all, but it is the right thing to do, after all, they are sharing their work so that we can use it personally.
Soon we will bring more lists of tools necessary for the growth of our business or brand. And you, what image bank do you use for your content?