Internet
10 Best Totally Free Tools to Email Large Files
Are you looking for free tools to send heavy and large files of any type, for free, over the internet? We have what you need. Here are 10 best online tools and platforms that offer a free service for sharing, transferring, and sending large files by email and the internet, regardless of their type.
Emailing large, bulky files to family or business associates in common. However, when the items to be transferred are very heavy, the sending may take a long time, or even fail, especially with the limits set by mailboxes.
Faced with this, you may have resorted to an external hard drive or a USB key, but this solution is not very effective as your removable storage media can get lost and above all, it must travel with you to transfer. large files from point A to point B (it is rather recommended because it is more secure if the person to whom you want to share the large file is not physically far from you but much less practical if this person is not physically close).
So often the best option will be to use a free or professional online tool designed to send large files. Here are 10 free online platforms that will help you send your heavy files (documents, Excel, PDF, photos, PowerPoint presentations, videos, etc.) via the internet.
Ps: we haven't ranked these heavy file-sharing services based on a ranking from best to worst, they all have their strengths and weaknesses but in the 10 featured there is a good chance that you find at least one that suits you 100%.
1. SMASH: TRANSFER LARGE FILES WITHOUT SIZE LIMIT BY EMAIL
All your large files, no matter their size, will be sent easily with Smash. In fact, with this free online service, there is no size limit. For the protection of your heavy files, the platform also offers a password system.
The self-destruction of files stored on Smash servers takes place after 7 days. However, it is possible to customize this validity period according to your needs.
Website: https://fromsmash.com
2. SWISSTRANSFER: SEND LARGE FILES UP TO 50GB FREE BY EMAIL
SwissTransfer is a free online service offered by the Infomaniak web host. This platform has the particularity of allowing large file transfers up to 50 GB in size. It is also easy to use a tool offering its users either to generate a download link or to send large files by email, all without any registration required.
This large file sharing tool is also very secure, as it offers password protection as well as the destruction of your uploaded documents after 30 days.
However, this expiration period is customizable and you have the option of opting for 1, 7, or 15 days of validity if the 30 days do not suit you.
Website: https://www.swisstransfer.com/en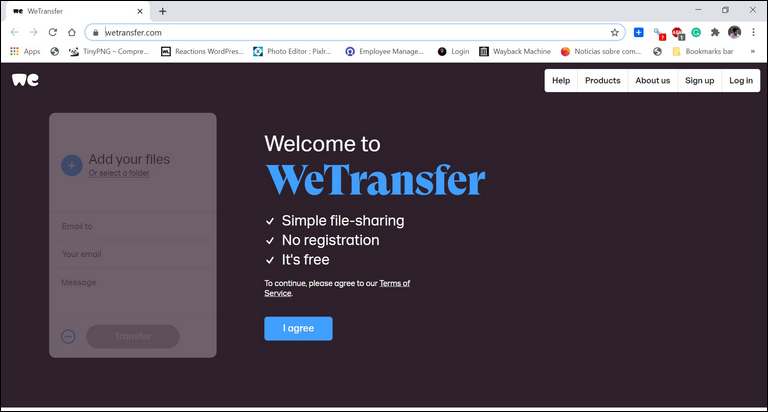 3. WETRANSFER: TRANSFER LARGE FILES FREE OF CHARGE WITHOUT REGISTRATION BY EMAIL
WeTransfer is a world-famous free tool that lets you share large files up to 2 GB for free with the recipients of your choice.
With the automatic deletion of your documents saved on its server after 7 days, this software is secure and reliable.
A paid pro version exists but for personal needs, the free version is more than sufficient.
Website: https://wetransfer.com/
4. PCLOUD TRANSFER: SEND LARGE FILES FOR FREE UP TO 5GB OVER THE INTERNET
pCloud Transfer is a free software for transferring large files up to 5 GB in volume. It does not require any registration and allows secure sharing. Indeed, your files can be protected with a password and will be self-destroyed after 7 days of storage.
Even though its use does not require registration, you can still register for free. This will allow you to send large files up to 10 GB.
Website: https://transfer.pcloud.com/
5. SEND ANYWHERE: TRANSFER LARGE FILES UP TO 10GB
It is a free software that helps you in sending your large files since with Send Anywhere, you can attach to your messages up to 10 GB of documents, photos, and large files. This platform also has an application version that allows you to use it on your smartphone or tablet.
If you are looking for more features or the 10 GB offered is not enough for you, Send Anywhere is also available in a paid version. With its subscription offer, you can share up to 50 GB of files.
Website: https://send-anywhere.com/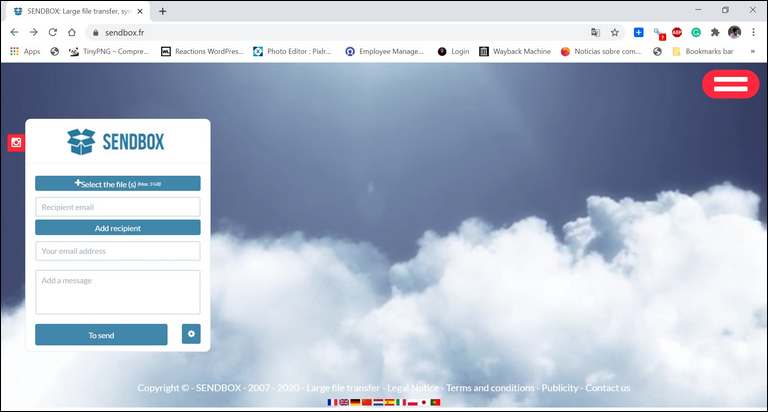 6. SENDBOX: SEND LARGE FILES ONLINE BY EMAIL UP TO 3GB BY EMAIL
Free, easy to use, and secure as it should be, SendBox allows you to send large files up to 3 GB without registration. Your data will be encrypted and protected by a password. They will also be kept in the software's servers for 15 days, after which they will be automatically deleted.
Website: https://www.sendbox.fr/
7. FRAMADROP: TRANSFER LARGE FILES SECURELY
Framadrop is a file-sharing tool developed by Framasoft. This is a free and secure online service that gives you the option of sending your heavy files to one or more recipients at the same time. It is practical and easy to use software by generating a download link.
You can customize the expiration time of your files saved on Framadrop according to your needs. You have the choice between 24h, 7d, 30d, and 60d so that they are automatically destroyed. You also have the option to delete your heavy files stored on this tool even before the expiration date if you wish.
Website: https://framadrop.org/en/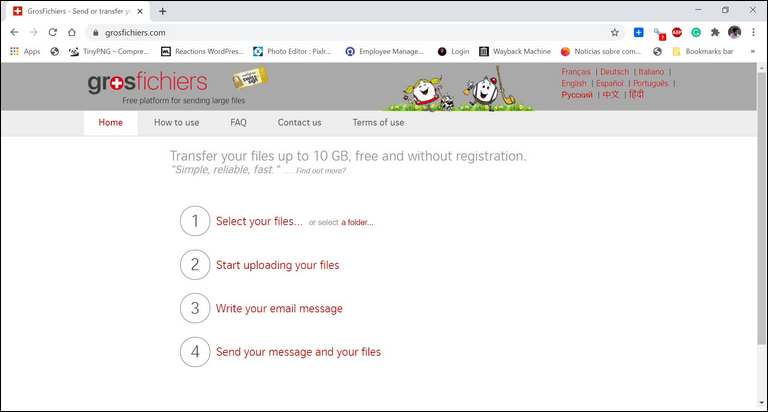 8. GROSFICHIERS: THE TRANSFER OF GRIOS FILES ONLINE UP TO 10GB WITHOUT REGISTRATION
Grosfichiers is also part of the free and no-registration-required platforms that allow you to send large files up to 10 GB. You can send them, with a simple browser, to a single recipient or share them with several collaborators simultaneously.
Your files will be stored for 14 days on the Grosfichiers software. During this time, you can collect them as you wish. On the expiration date, your files will be self-destructing and it will no longer be possible to restore them.
The biggest advantage with this heavy file sending tool is the ability to check whether your recipients have received the message you sent them. This is automatically displayed when your email is sent. This feature also allows you to view your files and delete them directly if you want.
Website: https://www.grosfichiers.com/
9. TRANSFERNOW: SEND HEAVY DOCUMENTS, PHOTOS, AND VIDEOS UP TO 4GB PER TRANSFER
With TransferNow, you can share large files up to 4 GB in size. Even if this tool only provides 5 daily transfers and 20 recipients at most for each transfer, it is still very interesting. Indeed, this software does not require registration and offers optimal security of your files.
Website: https://www.transfernow.net/en/
10. GOOGLE DRIVE, SHARE ANY TYPE OF LARGE FILES UP TO 30GB
Do we really need to introduce you to Google Drive, Google's free cloud storage and file sharing service? With Google Drive, you can share large files up to 30 GB for free.
On the other hand, you must have a Gmail address and a Google account, so it is not a free service without registration or a very protective service of your personal data since it is used to resell them. to its advertisers…
Website: https://www.google.com/intl/en_gh/drive/download/
FIREFOX SEND, A FREE FILE TRANSFER SERVICE BY EMAIL DISCONTINUED IN SEPTEMBER 2020
Firefox, one of the most widely used web browsers in the world, developed by Mozilla, for several years offered Send, a free platform that allowed sending large files up to 1 GB. The advantage with this tool was its security but the service finally closed on September 17, 2020.
Indeed, it was possible for you to define a password for the large files that you shared so that the recipient was the only person who could consult them once he had received them.
By creating a Firefox account for free, the user could send even larger files of up to 2.50 GB.
Firefox Send was discontinued on September 17, 2020, so you are no longer able to send or receive files.
WHY WAS FIREFOX SEND ABANDONED BY MOZILLA?
People have started using Firefox Send to send malware and conduct phishing attacks ( phishing ). When the problem was reported, the service was immediately stopped.
WHAT HAPPENED TO FILES SENT IN THE PAST VIA FIREFOX SEND?
All files sent through Firefox Send have been deleted from their web servers.
That's all we've got in this list of the best free tools to email or send large files to other people. We hope that our readers would find these tools helpful. If you have anything better to share with us, make sure to your comments!
What's your favorite tool to send large files? Share with us!