Internet
5 Best Tools to Schedule Instagram Posts
If there are now many tools to plan and schedule Instagram posts and stories, here is a selection of some effective SaaS tools or to install on the computer that now allows you to plan the publication of photos, videos, and stories on the social networks. In this list, we gather some of the best Instagram tools to schedule posts and manage one or more accounts simultaneously much more easily.
First of all, the different tools that we are going to present here will allow us to prepare Instagram publications and to schedule them but they will always need a manual action on our part and an internet connection when the planned post is published..
This drawback encountered on all tools is caused by Instagram's API which is very restrictive and therefore does not allow tools to post automatically without user action (which is possible with Twitter and Facebook for example).
1# Combin Scheduler to Schedule Instagram Posts and Stories
This tool, to be installed on your Windows or Macbook computer, allows you to easily schedule any type of Instagram post for a later publication.
Thanks to Combin Scheduler, no need to validate the publication on the Instagram application at the time of its desired publication date, the publication on Instagram is done automatically once the planned publication date of the story, photo or video arrives.
This tool is both easy to use and flexible according to the needs of community managers.
For users who have professional needs in terms of scheduling posts, they can opt for the professional version which is paid for a few tens of euros per month.
2# Schedule Instagram Posts With Hootsuite
Hootsuite is a platform that allows any community manager, whether budding or confirmed, to manage their social accounts (Facebook, Twitter, LinkedIn, and Instagram). The complete and free tool for up to 3 social accounts allows its users to schedule Instagram posts.
Once the Instagram account is connected to the Hootsuite platform, the first Instagram posts are scheduled and the mobile application has been downloaded to the smartphone, the community manager will receive a push notification on their smartphone when their post is due to be published.
Clicking on it will bring him to the Hootsuite app which will give him a preview of his post.
Once verified, the user can then click on "Open in Instagram" which will redirect them to the Instagram application to finalize their publication.
On the Instagram application, the user can edit their photo with a filter if they wish. Hootsuite will automatically copy the text of the scheduled publication to the phone, the user will have to make a "paste" in the place dedicated to adding a comment under the photo on the Instagram application to add their text beforehand prepared on Hootsuite. Once these few manipulations have been carried out, he will only have to publish the scheduled post.
3# Schedule the Publication of Photos or Videos on Instagram With Buffer
Buffer is the latest free tool to provide Instagram post and story scheduling.
Functionality launched in 2016 for the first time and now well accomplished, the planning of Instagram publications is possible with this tool widely known to community managers.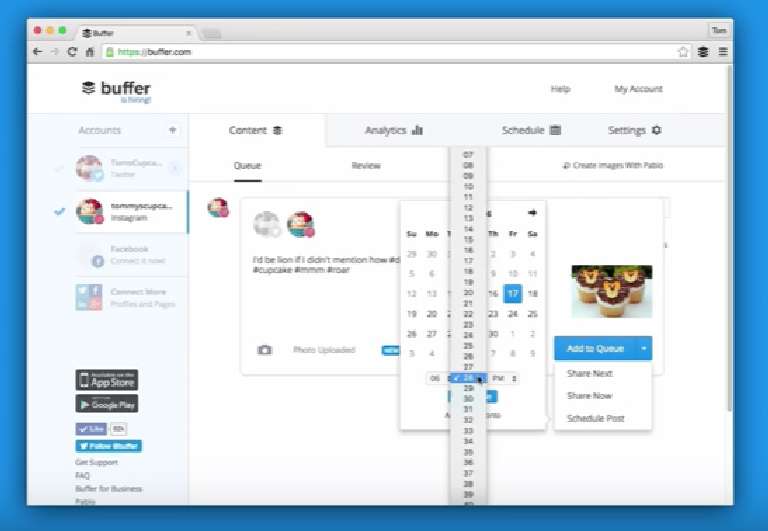 With this feature, Buffer now allows its users to plan photos, videos, and stories on the social network founded by Kevin Systrom.
Just like with Hootsuite, Buffer operation will also require manual user action to publish the scheduled post. In reality, Buffer is not really talking about planning but rather about a feature that will create a reminder for the user to publish their Instagram post previously prepared using the Buffer mobile application or its Desktop version.
4# Schedule Instagram Posts With Later (Formerly Latergramme)
Just like Hootsuite too, the user will need to have an internet connection when posting their scheduled Instagram post in order for the photo or video to be posted on Instagram.
Later (Latergramme) is a really cool tool that allows you to both schedule Instagram posts but also preview them before you start planning.
Used by more than 600,000 people around the world, this application allows you to plan photos and videos on one or more Instagram accounts.
The application offers a free version but to be able to use it as you wish, you will have to pay a monthly price between 19 and 50 euros.
#5 Planable lets you visualize content while creating it
Featuring an intuitive and "what you see is what you get" design, with Planable, you can coordinate large-scale social media campaigns and view your content exactly as it would appear on the feed.
Planable allows users to schedule and collaborate on their Instagram content with little no hassle. The solution supports multiple formats – videos, images, stories – which can be edited and customized. For a bird's-eye view of their Instagram campaigns, Planable offers four viewing mods: list, calendar feed and grid view. The latter option is especially useful for users who want to plan and see how their grids will look like ahead of time. Add to that a workspace where parties can openly collaborate and share feedback on content and a multi-level approval workflow, and you can be sure that with Planable, no piece of content will be released into the wild without going through the motions first.
One of Planable's latest features is Instagram direct publishing. This allows users to schedule and publish their content (stories included) directly through Planable, without requiring any extra steps – like fiddling with push notifications in the middle of the night."
That ends our list of best social tools to schedule Instagram posts and deliver them to your followers at the right time. If you have something better than these, make sure to drop your comments below. We would be happy to hear from you and make this list even more interesting.