Mobile
8 Best Apps To Edit Videos For TikTok
Looking for a free TikTok video editor? We gather some of the best applications to edit TikTok videos like a pro and make them professional shoots!
Creating videos on TikTok is an art that not everyone can boast of, as generating quality content is a task that requires a lot of creativity, effort and dedication. It is not enough to record a video and post it, it is necessary to edit it almost professionally to get the desired results and impact the audience. For this reason, we bring you a list of the best apps to edit videos for free for TikTok.
Today, the platform has expanded its audience base to more than 700 million active users worldwide, who consume an average of three hours of multi-themed content per day.
One of the main reasons why TikTok has become such a popular social network is the ease with which its users can generate revenue by creating content; it has fewer requirements than YouTube and is more accessible to the public. This is why TikTokers work so hard to make their content go viral. Innovate, break stereotypes, impress, be quirky and become a trend – these are the goals that any content creator on TikTok seeks to achieve.
On the other hand, although the application has a wide range of dynamic and ingenious effects with which we can attract our target audience; it lacks an editor that is able to provide all the necessary tools, especially for creators who use multiple shots. To help you in the task of choosing a video editor for TikTok, we bring you a list where we will point out their best features and why they are the best for each task. Alright, let's get started!
Good editing can be the difference between a scroll and alike; so having a variety of TikTok apps can make the difference between having viral or regular content.
The tools available on TikTok have proven to be self-sufficient when it comes to the final editing of videos, with a wide variety of filters, animations and effects that make creators' content stand out. However, these settings produce better results for videos recorded in one take, while TikTokers who record in parts must devise more viable ways to edit their videos. Below, we'll provide a list of the best apps for editing TikTok videos for free and from your phones.
1. Funimate
This application available for Android devices has more than 15 million downloads, being rated by its users as one of the best apps to edit videos for TikTok from your phone. This is because it allows you to obtain professional results in just a few simple steps.
Unlike other apps that we will get to know later, Funimate lacks a tidy interface, but it is intuitive enough to adapt to after a brief exploration. On the other hand, we can use the application with limited features for free, although to use some effects it will be necessary to subscribe to its premium version.
Features:
It includes special effects that can be added to videos in real-time, which makes the editing process easier.
It has elements to add more visual interest to videos such as more than 25 different and extravagant effects, animations, stickers, text boxes, retouching and excellent transitions.
We can add music and audio from the application's database and from local storage.
It has sound effects, allows you to modify voices and other elements present in the video.
You can download this app here.
Must see:
2. InShot
It is available for Android devices and has become one of the most downloaded by American TikTokers, it has multiple features to make professional-quality videos. It has a simple to use interface and all its elements are strategically arranged, InShot is an app that you can handle like an expert in a short time.
On the other hand, InShot has tools to modify the playback speed of the videos. On the downside, it has a watermark for videos edited using the free version; to remove it and access all the available features, it will be necessary to watch Ads or subscribe to the premium version which costs $10 USD per year. Likewise, the app lacks a large music repertoire, so they will probably have a hard time finding trending songs.
Features:
It has some of the best transition effects.
It is possible to extract audio tracks from imported videos.
It has various elements to enhance videos such as stickers, frames, text boxes, special effects and filters.
It is one of the few applications that allows editing backgrounds made in a green screen, as well as including the blur effect.
It is possible to make basic adjustments to brightness, contrast, temperature, luminosity or contrast.
You can download this app here.
3. Vizmato
This free video editor for TikTok is one of the most powerful and complete that we can find, as it incorporates multiple features that make it stand out. In fact, many users agree that Vizmato incorporates the best qualities of Funimate and InShot.
Likewise, Vizmato provides different alternatives to edit the basic parameters of the video, such as brightness, contrast, temperature, hue or sharpness. In addition, the app offers the possibility to save the edited video in 4K quality, being an excellent alternative for audience acceptance.
Features:
It includes editing elements such as the possibility of adding more than 20 filters, text frames, visual effects, themes or GIFs.
It is possible to add background music or replace the original audio of the video with the selected playlist, which can be imported from the internal storage or selected from the database. Some tracks are locked but can be used for $1.50 USD per package.
It has tools to create videos based on presentations, videos, movies or slideshows.
It allows you to cut, trim and join several pre-existing clips to achieve the desired results.
You can download this app here.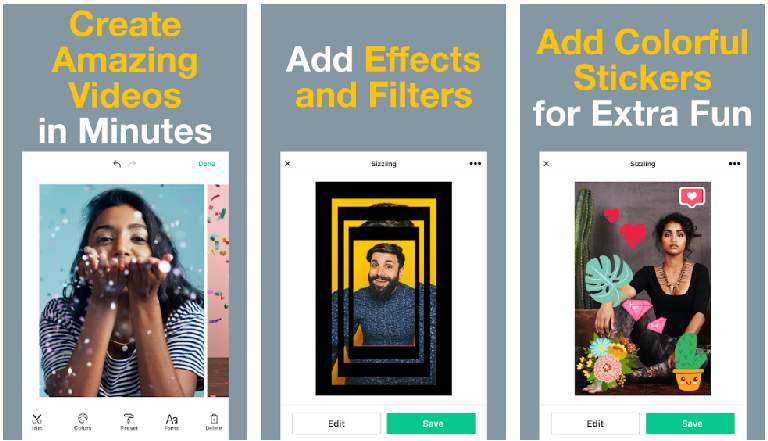 4. Magisto
One of the most complete applications for TikTok, it offers tools to edit quality videos and upload them directly to social networks such as TikTok, Instagram or Facebook. It has an intuitive and easy-to-use interface, with which you can make quality edits by cutting, joining, combining, modifying and rotating the videos previously recorded with the device.
All functions are available in its free version, while the premium version offers the possibility of removing the watermark included in the app by default.
Features:
It has a tool for converting photos into videos.
It allows you to create eye-catching clips by joining different fragments of videos together.
It has multiple tools and basic functions such as stickers, special filters, dynamic effects and additional settings.
Allows you to add music files to your videos.
You can download this app here.
5. Timbre
Unlike other applications, we have the possibility of modifying audio files, which makes it an innovative and unique app. It has an easy to use interface.
Being such a complete tool, it is possible to use the application for multiple purposes such as editing videos for TikTok, YouTube, Facebook, Instagram or particular uses. Likewise, we can split or shorten videos or audio files to use them in different situations. However, the main strong point is its ability to join different video clips, which is ideal for TikTokers who make content that requires showing steps by steps.
As a point against, in Timbre we will not find a variety of filters, effects or other design elements; as it is mostly focused on the technical editing of video and audio files.
Features:
Allows you to edit videos and audio files.
It is possible to make adjustments in the audio, modifying the voices present in the files or the selected songs.
It has tools such as audio trimming, video trimming, audio converter, video converter (video to audio and video to GIF), audio joiner and video joiner.
The application has the ability to compress files in MP3 and MP4 format.
It is possible to modify the playback speed of both video and audio files.
You can download this app here.
Must see:
6. VideoShop
One of the most downloaded and used free video editors for TikTok is VideoShop, as this application has many tools capable of generating incredible results with great final quality. One of the elements that make it stand out is the ability to add music files to the videos, so we can record our own voiceover for large format edits.
Features:
It is one of the most complete free TikTok video editing apps that we can find.
It has multiple options to edit videos from the creation or editing mode, such as: trimming, adding, visual effects, changing the size of the formats, animated titles, combinations, among others.
Option to post the resulting videos directly to the social networks of your choice.
Video playback speed adjustment.
You can download this app here.
7. VivaVideo
This free editor has basic and advanced functions to maximise the potential of the original recorded content; it is possible to share it directly on TikTok, YouTube or Instagram.
Among the features most used by content creators is the ability to create photo slideshows with transition effects and movie effects, which can provide eye-catching finishes for viewers.
Features:
This video editor for TikTok is free and available for Android devices.
It has tools for trimming, editing, adding effects, filters and text boxes.
Supports adding audio tracks from local storage.
Exports videos in 720p, Full HD 1080p and 4K.
It is possible to rotate the videos to adapt them to the different formats used in social networks, being TikTok vertical and YouTube horizontal.
You can download this app here.
8. CapCut
With more than 200 million users, it is one of the most widely used video editing applications in the world, created by the company ByteDance, the same company that developed TikTok. In addition to the popularity achieved by carrying the seal of the developers, CapCut has stood out on its own merit as one of the best video editors of the moment, as it has many features that make it a useful tool for any content creator.
Like other editing applications, it has basic adjustment parameters, with which they will be able to modify the elements of the recordings to generate a harmonious feed.
Features:
It has formats adapted specifically for TikTok, such as the creation of vertical and short videos.
No watermark, which is ideal for providing a higher quality finish to videos.
Supports editing and exporting videos in 4K HDR quality.
It has multiple special effects, advanced filters, category settings, stickers, stickers, text boxes, templates in 2D and 3D format.
It has a wide repertoire of music, so users don't have to download the tracks they want to use; they just have to search for them and add them.
It allows video dubbing, removing the pre-existing audio and replacing it with live voice recordings.
You can download this app here.
Most of the free TikTok video editing applications available have been developed for specific purposes, which is why some are more complete and others have specific functions. This situation means that on some occasions, we have to use at least two or three different TikTok apps, as we may find ourselves in need of specific tools that are available individually.
We have seen how the best apps for editing videos for TikTok are able to work at the service of creativity, offering incredible results to all content creators who strive to make quality edits; which can look professional if they are produced with a lot of dedication.
On the other hand, we must not forget that the TikTok application has excellent features for editing videos, which can be complemented with a video editor for TikTok from third parties that ends up covering the needs you may have.
Remember, have fun and make it shine!