Computer
5 Best Android Emulator for Windows PC In 2018
These days there is a lot of craze for Android Emulator for PC. The prime reason for this could be a constant increase in the popularity of Android. The way Android has grown in the smartphone segment and the number of features it provides, users have become a kind of forced to try Android Emulators for PC. In this list, we gather some of the best Android emulators that work on a different platform like Windows, and Mac operating systems. This list should help you make the correct decision while you pick one of these applications.
For those who don't know, Android PC Emulator is the software which allows the user to run Android on Windows 7/8/10 or Mac operating system. Android Emulators for Windows 10 are also available now. Though there are a number of Android Emulators for PC available on the internet, selecting the right one is very necessary as it has a good impact on the overall performance of the system. If you happen to choose a slow Android Emulator, it might affect the performance of Windows and will eventually slow down your system.
So, to make things easier for you, we have compiled a list of 5 Best Android Emulator for PC which will provide you with top-notch performance. If your Windows PC is running low in performance, then you must check our recommendation to improve it — Speed up Windows Operating system. So, let's get started.
Best Android Emulator for PC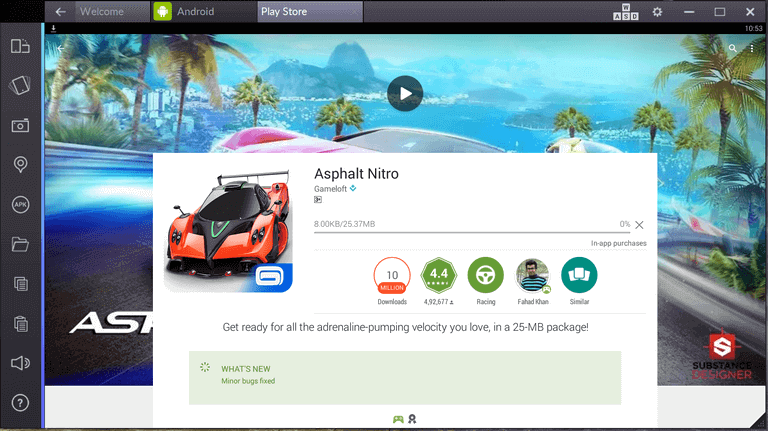 1. Bluestacks:
BlueStacks is undoubtedly one of the most popular Android emulators for PC. It is loved by the majority of the users due to the unique features it provides. Along with some awesome features, what attracts users the most is its ease of use. It is so easy to use that a 5-year-old can also configure it without any
The installation procedure is also very simple and straightforward. You can opt either for an online installer or for an offline installer. Installing 3rd party APK in Bluestack is also very easy. All you need to do is double-click on the APK files and the app will automatically get installed in Bluestacks. Isn't it easy?
Must our tutorial on how to play the Android games using the Bluestacks Android emulator:
2. GenyMotion
GenyMotion can be labeled as the perfect alternative to Bluestacks. It has got all the features that Bluestacks possess and also has some unique features. Some advanced features include OpenGL, and hardware acceleration support. Moreover, it is built on x86 Architecture and this is faster in processing than Bluestacks.
However, configuring GenyMotion is a bit tough and requires some advanced skills. That's why Bluestacks is preferred over it. If you're a developer, then you must stick this emulator. It has tons of advanced features like Genymotion Cloud, that makes things faster in all aspects. You can and develop apps easily.
Also, play the PSP games on these emulators using PPSSPP application. Just follow the below guide:
3. Andyroid – Andy OS
It is yet another really good emulator for Android. Actually, it is one of its kind emulators. The features it possesses are entirely unique and are not possessed by any other Android PC emulator. Some of them are- Using your phone as a remote control for playing games, directly installing apps, ARM support and many more.
It supports almost all the versions of Windows like Windows 7/8/Windows 10. Installing Andyroid is also easy and does not require any special knowledge.
This Android emulator has been developed very well. It makes seamless easier to carry out all the tasks related to our mobile directly from our desktop/laptop. It works with both; Windows and Mac.
4. YouWave Android Emulator
Another strong contender in this list, YouWave is one of our favorite Android emulators. The best thing about this emulator is that it is available for free. It has got some really good and unique features and thus it has become the most used app in a very short span of time.
It has got an awesome interface and thus makes using it very easy. Its interface is way better than the interface of any other Android emulator. It is available for almost all the versions of Windows such as Windows 7/8/10.
5. Jar Of Beans Emulator
It is yet another very good Android emulator for your PC. It can be download from the official website and installing it is very easy. Once installed, the user needs to download APK files which you need to install in the emulator.
Jar of Beans supports the majority of the apps. Also, it has a very easy to use interface and thus it has managed to gather a very wide user base. Though the development has been stopped, still, you can try out this emulator.
Along with these, there are many Android emulators online also. But Android PC emulators are more widely used as compared to the online one since they are available locally and makes it easy to be used. That ends our list of best Android Emulator for Windows PC. We hope that our readers would appreciate our efforts.
Do let us know your favorite one. You're free to make comments below. We will be happy to hear from you and update our list. Stay connected with for useful tutorials and lists.