Computer
Free Download and Play Asphalt Nitro on PC/Mac
This is the definitive guide on how to play Asphalt Nitro on PC/Mac computer. Being one of the smallest yet the most fierce racing game from Asphalt series. Asphalt Nitro for PC runs as smoothly as Asphalt 8. This one of the best racing games ever developed for small screens and we love to bring it to larger screens. It is free to download and it is only 25MB in size. In this small package, we get amazing graphics, SFX, and great racing physics in a lag-free game. Now install Asphalt Nitro on Windows XP, Windows Vista, Windows 7, Windows 8, Windows 10 and Mac OSX. Get ready to put the accelerator and peel some serious rubber of the Tyres when your cars, sprints like the wind and you can feel the adrenaline rush through your whole body. Well, if you are ready to have some of this amazing driving experience, then asphalt Nitro is the game for you.
Built by the Gameloft, Asphalt Nitro is a high-speed racing game where players get to test their ultimate driving skills in wind tearing and mind-blowing competition and the fun, even gets bigger with the addition of the new features since its predecessor asphalt 8. There is now a flurry of cars to choose from and they are not only cars, but they are also the beasts of the road which the players would love to get their hands on. These include a Ferrari, the new Corvette, Porsche 918 Spyder, Lamborghini Veneno and many more to choose where they came from so unleash your giants on the road and see what they can pull up for you at the races by making your name in the racing world.
There are more than 8 different modes to play in the game like the gate drift where the players get a chance to peel some rubber on the tires in high-speed drifts along with the rigged and caterpillar courses around the globe. Another one which is becoming the pick of the players is the police chase mode in which the players get to be the law and not only bust the vigilantes, but also wreck their rides in the process in some of the most thrilling and high-speed real-time chases they will ever experience in a racing game.
Must see:
Asphalt Nitro for PC preserves the stunts as per the original trademark of the game has not been tampered with and the players can enjoy the original crashes and stunts at mad speeds during their races which will earn them Nitro, then you just have to press the button and let your car make a hole through time and do the speed talking to you.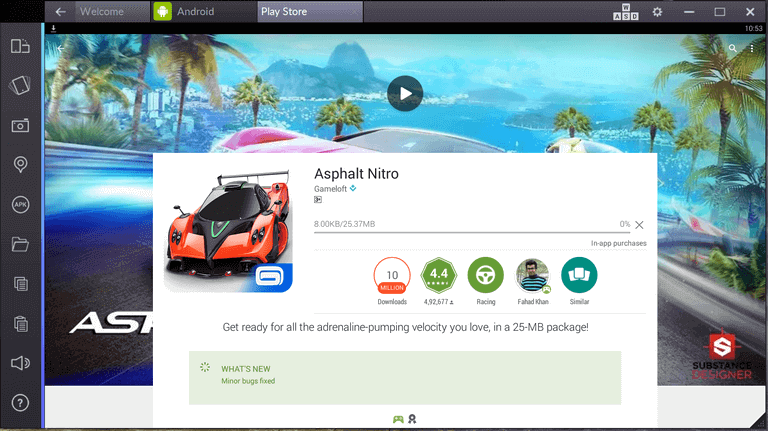 There are also multiple locations and courses which the players get to race on. At one instant they will find themselves making trades in the streets of Paris and in a jiffy, they will find themselves towering through the Swiss Alps. The players can also connect to the internet in order to take this competition in the world and prove that who is the best driver with the meanest machine of them all. When playing Asphalt Nitro on Windows or Mac, it is an easy feat to connect to the internet and get your name on the Leaderboard.
Asphalt Nitro proved to be an exciting new chapter in the racing games and aptly meets the expectation of the users. The graphics are good and the gameplay is a stunning plus with the real-time locations, the stunts and the indigenous Nitro feature make this a revelation for hardcore racing fans. This game shows only one con which is that it needs good devices with the higher graphics processing unit to run on smoothly. Well, why read it!! Install the game and get ready to enter the world of racing madness and road rash frenzy.
How to Install Asphalt Nitro Bluestacks on PC
Download Asphalt Nitro APK and place it anywhere on your PC.
Now, download and install Bluestacks. Download this emulator from →here.
Now open the folder where Asphalt Nitro APK was placed in the first step.
Double click on it and select Bluestacks 2 to open this kind of apps.
APK Installer will install it on Bluestacks 2 in few seconds.
Once it is done, run Bluestacks 2.
Click on Android Tab.
If it shows a loading icon for long, click on a back icon and then again click on Android icon.
Now click on All Apps button on right.
It will show all the installed application on your Bluestacks 2.
Click on Asphalt Nitro.
The game will start.
If you are having a problem with personalizing controls, then read the last portion of this post. Next, we will mention the same steps for another Android emulator.
How to Install Asphalt Nitro Andy on PC
Download Asphalt Nitro APK.
Place it anywhere on your PC.
Download and install Andyroid on your PC. (Windows). Get this program from →here.
Now open the folder when downloaded APK was placed in the first step.
Double click on APK and select Andy to open this app.
It will be installed in Andy.
Now open Andy on your PC.
Open all apps menu.
Click on Asphalt Nitro.
That's it.
How to Install Asphalt Nitro on PC without APK
If you do not want to download APK of Asphalt Nitro for some reason, then you need one extra step.
In Bluestacks or Andy OS, login to Play Store using your Google account.
In Bluestacks, click on search icon inside the Android menu.
Type Asphalt Nitro and click on Search Play for Piano Tiles 2.
It will open the Google Play store and show the game in the listing.
Open it and click on Install.
It will be installed in a few moments.
Once done, find it in App Menu of Bluestacks.
For Andy, all the steps are pretty much similar.
Login to Asphalt Nitro inside Andy OS.
Then open Play Store and search for Asphalt Nitro in Andy OS.
Next step is just to install and start playing it.
How to Add Keys for Touchscreen in Games (Bluestacks)
Open Bluestacks 2.
Now open any game that you want to customize.
When the game starts, click on the controller icon at top right.
Now click anywhere on the screen of the game.
Type any key and then name it.
Save it.
That's it. Now this key is saved for this game on your Bluestacks. Have fun!
If you have any queries, ask me in the comments below.  We will make sure to reach out to you as early as possible. Stay connected with us. Subscribe us on #Feedbuner, and follow me the #Twitter.