Featured
5 Best LG G6 Accessories that You Must Buy In 2019
In today's time, our Smartphones are the most necessary piece of equipment we carry around with us and beautification of it, to make it look authentic and presentable, is something we all strive to do. The LG G6, is already one of its kind it is one of the best devices in the market and accessorizing it with a couple of other items not only makes it look authentic but also lets us make full use of all the specifications of this premium smartphone has to offer. In this list, we have collected some of the best accessories for LG G6 smartphone.
So let's dig into some of the LG G6 Accessories (check the list below) which you may consider purchasing right now. Here is a list of the best LG G6 accessories that can be paired up with your brand new smartphone. These accessories should help you get more out of this smartphone, most of the are travel friendly and helpful during your daily work. With keeping price in our mind, we have created this list. We hope the our readers would find it helpful.
Best LG G6 Accessories- Reliable, Useful & Budget Friendly
1. iRAG CRL1 Car Charger Compatible with LG G6 and other LG devices
There is always this one problem which smart phone users have when using high end smart phones which is the battery. In an age where everything is done on a smart phone and 4G internet is prevalent, there is no doubt that the toll on the battery of your LG G6 will be quite high.
This battery charger, developed by iRAG enables you to charge your phone while driving, which is quite a convenient time to charge your device, especially if you're someone who is always on the go.
It comes with innovative retractable design with quick release button without the hassle of bulky cables getting entwined within itself. If you're concerned about safety, then we suggest you buy yourself a protective case cover for this smartphone from this list:
The charger comes installed with an Intelligent IC Chip that switches to battery saver mode when required, reducing the chance of overheating or overcharging the battery of your LG G6.
You can buy it from here.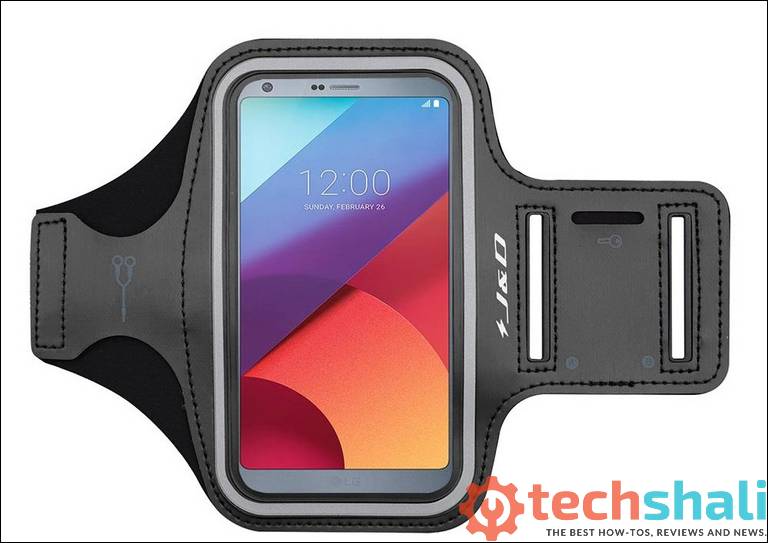 2. J&D Armband Compatible for LG G6
There isn't a whole lot of time today and you might just require your LG G6 for an urgent call or mail even when you're out for your morning jog. So leaving your smartphone at home is never a good idea.
J&D sport running armband designed specifically for the LG G6 puts an end to this particular problem providing a comfortable and convenient way to carry your device around while jogging or running. It is surely considered as one of the best LG G6 Accessories at least for the time being.
Must see:
Lightweight, breathable, sweat absorbing armband with non-slip grip keeps your device in place and also protects your phone with the included silicone skin, which could be installed in a matter of seconds.
Adjustable Velcro fits small and large arms with bicep sizes 9"-21" making it suitable to wear for a variety of people.
Designed to twist and bend, keeping in mind that the product will be majorly used during running and sport activities, the Sport running armband from J&D is available in black and pink colored variants.
You can buy it from here.
3. LG 3.5 mm Headset with Microphone for LG G6
LG has their own 3.5mm headsets specifically launched for the LG G6 device for the music lovers and the headset is nothing short of impressive when it comes to sound quality with also the plus of good quality sound communication.
Lightweight and comfortable, the headphone allows private stereo music and hands-free phone calls and comes in classic black color.
LG's headset comes with the built-in microphone with a single button for answering/ending phone calls.
It comes with built-in with high-performance speakers for extended frequency range and lower distortion. The headset comes in its bulk OEM headset bag.
You can buy it from here.
4. Digitl Car Dash Holder / Windshield Cradle Mount for LG G6
There is this constant problem of looking at your smart phones at every point of time while driving which can be both irritating and dangerous at the same time. Digitl's Car Dash Holder enables you to keep your LG G6 smartphone in front, on the dashboard or windshield area while you are driving. No doubt it is such a LG G6 accessories which you should not miss to give your newly purchased beast a premium look.
Must see:
Its an ultra grip, low profile, unobtrusive mount that accommodates your phone even with a case or skin.
The product features a removable sticky adhesive, but without leaving any sticky residue whenever you remove your phone from the holder.
The plus of the product is that, alongside using it as an accessory for your car, it can also be made use as a desk mount.
With an adjustable arm, allowing various mounting positions, the device can easily insert or removed by using just one hand and allows 360 degree rotation for positioning in portrait or landscape view.
You can buy it from here.
5. Noot Car Charger with Retractable Coiled for LG G6
Another important charger which is worth the bucks for your LG G6 is the Noot car charger with its retractable coil. The plus point of the product is that it is a universal charger which will allow a host of other devices like the iPhone, iPad, iPod, Samsung Galaxy, HTC, MP3 Players and cameras to charge in your car itself. With a compact design, this charger has a built-in micro USB cable stretchable up to 63 inches.
The Smart-IQ Intelligent IC Chip in the charging device prevent over-charging, over-heating, and distributes the right amount of charge for each plugged in device depending on their required voltage.
The charger provides maximum charge speed to devices for uninterrupted performance of navigation and media streaming utilities.
You can buy it from here.
What are you waiting for?
Well, when it comes to accessories for LG G6, we have given you the best possible options to consider, and we are quite confident that these products exclusively available for you to buy.
We hope that this list of 5 best LG G6 Accessories is of some convenience for you and helps you make the choice between the best possible products to pair your new Smartphone with.