Mobile
Best LG G6 Cases and Protective Covers
Anybody who owns or wants to own the LG G6 smartphone must have had to shell out a lot of money. After-all it's a high-end flagship device that offers several features and benefits that is going to make your life easier. Thus, you must protect your phone from external damages. In this list, we have gathered some of the best protective cases and covers for LG G6 smartphone. So, you can use your phone without worrying about anything else.
A device this expensive would require maintenance and a significant part of the maintenance would be to protect it from falls and accidents of such. That's why we have thought of building this website to help you decide some of the best and top rated LG G6 Cases which are currently available in the market.
The device packs in extremely powerful specification that'll take the latest flagship to a whole new level. With the advancement of technology, we feel like LG G6's true potential will take time to realize. To know the full length of things that the handset can do, you'd need the handset to last long. This is where LG G6 cases come handy.
A case protector may help you with this so it'll be a safe bet to get one for yourself. Here's a comprehensive list of the best LG G6 cases available in the market right now. While choosing these cases, we had a few things in mind – durability, affordability, design, and a couple of other features.
10 BEST LG G6 CASES (Protective)
1. Spigen Armor LG G6 Case
When it comes to cases, Spigen is one of the top makers and a top choice to go for. As per the Spigen, they always strive to push the boundaries of design and technology. Spigen products are crafted and articulated with a mindset on maintaining the highest quality standards for the ultimate mobile experience. There are various quality parameters that make this LG G6 case one of the best in class. A trendy lg g6 screen protector can add more protection to your premium phone.
The Rugged Armor case has a clean look and comes without any bulk. So basically its slim and compliments your device.
Its single-layered TPU construction is both flexible and exact fit.
Made of carbon fiber textures, the case sports air cushion technology, the case protects your device against small drops and falls.
And it comes with raised screen and camera lips that protects from scratches and dirt.
You can buy it from here.
Must see:
2. OtterBox SYMMETRY SERIES Case for LG G6
OtterBox is world renowned case makers and they make cases that mean business. Each OtterBox cases are made to deliver premium quality design and ultimate protection. Added to their excellent craftsmanship, Otter provides industry-leading warranty.
Everything you need in a classy LG G6 case is in it. A classic lg g6 waterproof case can provide your precious phone a guard against sudden spill.
The Commuter Series cases are slim and features streamlined protection that helps your device survive drops and falls.
It's slim and pocket-friendly profile is made of high-impact polycarbonate shell and synthetic rubber interior slipcover that provide serious protection.
Protects LG G6 from dust, dirt and grimy from clogging it ports.
And you handset remains spotless, right from your pocket to the pavement. Additionally, the case provides adhesive screen protector that prevents scratches or dirt. This is simply an awesome LG G6 case and there is no doubt either.
You can buy it from here.
3. Supcase Rugged LG G6 Case
Life starts getting a lot easier with a case. This multi-layer case gets you from one place to another with minimal hassle. You can totally rely on it to protect your LG G6 from the daily grind of your outdoor lifestyle. This LG G6 case fits your style and need both.
It's designed with both protection and looks in minds. Supcase is one of the most beautiful cases you'll ever see.
Made of high grade polycarbonate, Thermoplastic polyurethane for shock absorption, the case is a life saver.
This full-body Hybrid case provides shock absorption and scratch Prevention while maintaining a sporty profile. If we consider the design and function both then it must be in the top list of the best LG G6 cases.
You can buy it from here.
Must see:
4. Toru Wallet Cases for LG G6
Made to provide multiple-layered protection, the Toru Wallet Case is really unique in the sense that despite being a wallet case, it isn't too bulky. There a polycarbonate door adds protection and color to the case. There are several things to look forward to. It isn't for nothing that the Toru Wallet case made it to our list for top LG G6 cases.
A flexible TPU body with a patterned inner layer protects your phone from shock while keeping it lightweight and practically bulge-free.
There are precise cutouts give full access to the fingerprint scanner and ports.And you can even conveniently stores the included MicroUSB adapter so you can use your old chargers and cables.
You can buy it from here.
5. Premium Tough Protection w/Holster – Scorpio R5 by Encased
Encased has made a name in the market recently, but for good reasons. Theirs are among the top rated cases on Amazon. Made of runner and plastic, the case is durable and secures the phone well. It includes three parts – a soft shell, then a hard plastic that goes to the phone and lastly, the plastic holder clip that holds the LG G6 on your body.
The case comes with a 180-degree rotating belt clip swivel allowing for multiple positions of the carriage. It helps protect against drops and impacts by absorbing and dispersing shock. Grab this LG G6 case and give your phone a premium protection.
An impact-resistant polycarbonate and double-enforced with a shock absorbing silicone inner-sleeve is what the inner hard shell is constructed from, to provide maximum protection to your LG g6 handset.
The corners to sport double-thick silicone to protect against drops and other impacts and the robust silicone absorbing impact force. Not to forget, its precise cutouts, that makes using the phone easy and without much hassle.
You can buy it from here.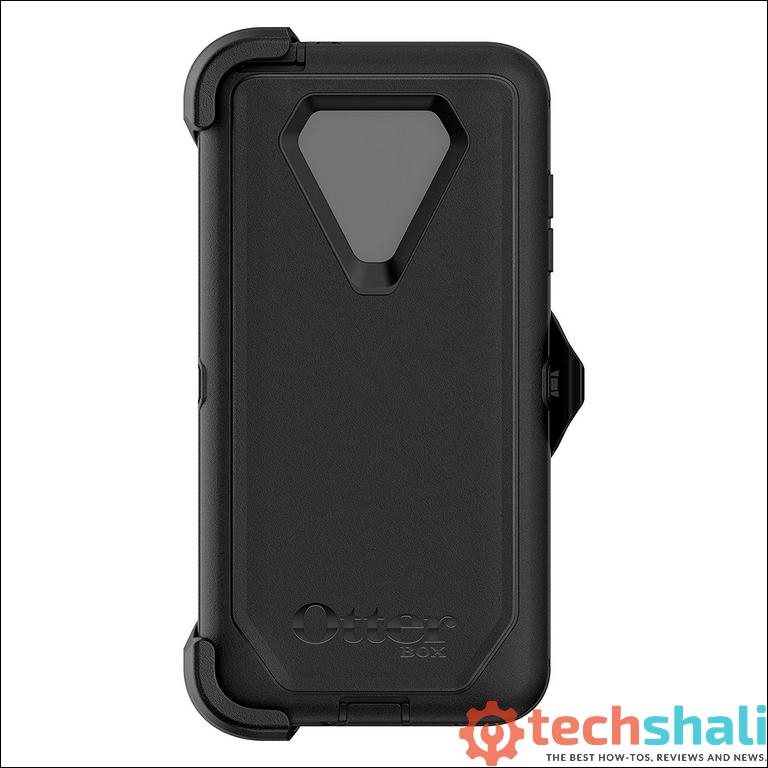 6. OtterBox DEFENDER SERIES Case for LG G6
The Arae cases for the LG G6 is one of the best looking wallet cases available for the LG's latest flagship device. A good reason for which Arae has made it to the top LG G6 cases is it's uncompromising quality and its superior idea of protection.
The cases give off a premium vibe without compromising signal quality. The Slim Hybrid Dual layer Concave-Convex back with stylish, handy, and anti-slip features make the case a great buy.
There's a TPU inner skin cover to hold the device, keep your phone scratch-free.
You can buy it from here.
7. J&D Case Compatible for LG G6
J&D Case Compatible for LG G6 comes with designs that are specifically made for the LG G6 handset. The cases are pretty thin and have been engineered with a good understanding of how to dissipate pressure when your handset slips off of your hand and falls on the ground.
The clear back panel is made of 4H rating premium scratch resistant, anti-yellow material that provides supreme protection of your handset. This LG G6 case matches your style in a pretty way.
The case allows you to flaunt your device with its transparent body, so you can exhibit your phone's original design and profile. There's no need for compromise.
It comes with a 1.2mm raised lip and four point rear guards that protect your phone's front and back when kept on flat surfaces.
Its anti-slip TPU bumper allows good grip of the phone while the precise cut-out allows effective use of the various ports.
You can buy it from here.
8. ELV Cases for LG G6
One of the reasons ELV has made it to our best LG G6 cases is its superior design that is both elegant in appearance and provides powerful protection for your handset. Its premium grade silicone skin will provide protection against bumps, drops and shocks.
It's made of high-impact polycarbonate skeleton that provides ample protection for your handset among other things.
It's non slipping TPU bumper provides excellent grip and corner protection. And the case's superior shock absorption design is engineered to absorb, and then proceeds to circulate and evenly distribute the impacts into the bumper.
Premium shock absorbent function makes the LG G6 case a premium featured item in this list.
You can buy it from here.
9. Zizo Static Series Cases for LG G6
Zizo cases are a perfect way of giving your phone a heavy duty protection. It's engineered to look trendy and provide the finest protection your phone requires. Besides being impact resistant, one of the highlights of the case is the kickstand that allows comfortable viewing experience.
The Zizo Static Series is certified to protect your device as it comes with Military Grade 810.1-G Compliancy.
It utilizes Impact Dispersion Technology to save your phone from taking a beating. Comes in seven different colors for you to choose from, and each of these colors comes with a combination of black. Military grade protection is the USP of this LG G6 case.
You can buy it from here.
10. Diztronic Full Matte TPU Series for LG G6
A good reason why Diztronic cases have made it to our list of best LG g6 cases is that they provide a sturdy option of carrying smartphones into outdoors without any fear of damaging it. They are of slim-fit form and offers increased drop protection with an easy hold.
The all new fluid-motion button design provides increased tactile feedback. Engineered from high grade shock-absorbing TPU polymer, it protects your device from occasional mishaps.
Your handsets fragile glass screen remains well-protected thanks to its lay-on-the-table design.
You can buy it from here.
Our Take……
Whatever model you are using, cases are an absolute necessity these days. They help making the smartphone durable and bring your money's worth. The comprehensive list of best LG G6 cases we have listed above are chosen keeping durability and the price tag (primarily) in mind. Hope you make good use of the list. For any queries, we can be reached via the comment section below.