Internet
Monetizing Content with Youtube: What No One Tells You
It is no secret that YouTube in a very short time went from being a medium for YouTubers to share their material, to a millionaire business.
However, we have come across comments from Youtubers who, based on their personal experience, have seen how the new adaptations in the conditions of the service have an impact not only on the management of their channel but also on the income derived from it.
If we are aware, many of these changes are related to the problems that YouTube has had to face. And one of the most recent has been how unsafe the platform can be for children and that led us to create the post:
What YouTube is doing to protect children.
But… Let's be honest! This could have a subjective approach, because although the way the platform is managed is different from years ago, making money with YouTube is still possible if we understand how to adapt to the new Policies, and thus, later on, benefit from them.
Don't be left with doubts! We all want to know the best way to monetize our content, so here we explain "the what" and "the how" to monetize content with YouTube.
Types of content to earn money on YouTube
All videos can be monetized, provided that you own the rights to use all visual material used in its production. By this I mean dialogues, performances, songs, among others. In short, these must be created 100% by you.
In case you work with content developed by third parties, you must manage the assignment of Commercial Rights. For YouTube, copyright is a very serious issue that generates warnings in case of infringement.
These conditions apply to:
Homemade videos.
Music videos.
Short films.
Documentaries.
Educational classes.
Tutorials.
Reality shows.
In addition to this, to make money on YouTube you must also meet a series of requirements that we will describe below.
Requirements to monetize content with YouTube
These stipulations are fundamental to be able to access the monetization options. Yes, to monetize you must first adhere to YouTube's Policies. The important thing is that you understand how they work and thus, avoid warnings that affect your account; upon receiving three offences your YouTube channel is permanently deleted, so be careful with this.
Community guidelines
These are rules dictated by common sense. You can not promote material that incites hatred, or sexual content, or that spreads threats. In short, nothing that may threaten the physical and mental well-being of the user.
Copyright rules
As mentioned above, you cannot work with resources that were not created by you. You should work on this process with a lawyer since YouTube does not have the power to grant rights, however, it has a section that can clarify any doubts you may have in this regard.
AdSense Program Policies
Failure to comply with these policies will lead to the disabling of your AdSense account and ad services on your website. This means that you will not be able to participate in this program in the future.
I recommend that you review the terms and conditions frequently, as they are subject to change. It is under your full responsibility to be up to date, so it is something you should keep in mind.
How to activate the option to monetize?
Once you meet the requirements and are aware of the regulations, you can proceed to activate monetization on YouTube. To do this, access your channel and go to the top right corner and click on "YouTube Studio". There you will see a panel with the "Monetization" option.
Once all this is done, you should proceed to check if your account is eligible to subscribe to the YouTube Partner Program. If you have been given the go-ahead, you must submit the entry request. If, on the other hand, you have not been approved, you will be presented with an option to request to be notified.
What is the YouTube Partner Program?
It is the section that allows you to earn money with YouTube by incorporating advertisements posted alongside your videos, or by the views of YouTube Premium subscribers.
To be part of the program, your channel must have a minimum of 1,000 subscribers and 4,000 hours of viewing. In addition to this, the portal makes an additional evaluation of your channel to verify that you meet the requirements.
The review consists of checking your activity to verify that it does not violate YouTube Policies, Spam Policies, Terms of Service, or community guidelines. Afterwards, they will send you an email notifying you of the completion of the process.
In the meantime, you can check the status of your application, which may take one to two weeks.
If you have been approved, you will start monetizing the videos you have chosen. If your participation in the program is denied, you will be able to continue uploading content to your channel and reapply within 30 days.
Very important, if your channel was not approved, it is likely that your activity does not fully comply with the program's policies. So check again before resubmitting the application.
Ways to earn money with YouTube
Here are some ways to earn money with YouTube, using methods that have different criteria to consider your channel suitable or not for monetization.
-> YouTube Premium
It is a program that allows users to watch any video without ads by paying a subscription fee. Part of this money is shared with the content creators, as long as their videos have been viewed by those users.
-> Applause functionality
It is a novelty of the year 2020, in which the subscriber gives a "donation" to the Youtuber, by clicking on the "Applause" option located at the bottom of the video. It has an approximate cost of 1.85 euros, of which 70% goes to the content creator.
-> Advertising on YouTube Ads
It is the most known by the creators, it is basically an automatic mode, which you access by activating the monetization and choosing the type of ads you want to appear.
As for the payment percentage, there is no specific amount because it is a complex system. It will depend on the performance of the ad and the income you receive.
-> Channel membership
This is a function that gives a certain exclusivity to your channel, in which the user must pay a monthly fee to access your content, in addition to other advantages.
In order to activate this option, you must be of legal age, your channel must have more than 30,000 followers, be part of the YouTube Partner Program and cannot contain childish material.
-> Merchandising Showcase
If you have a brand where you promote certain products, this feature will allow you to promote them. To activate it, your channel must have more than 10,000 subscribers.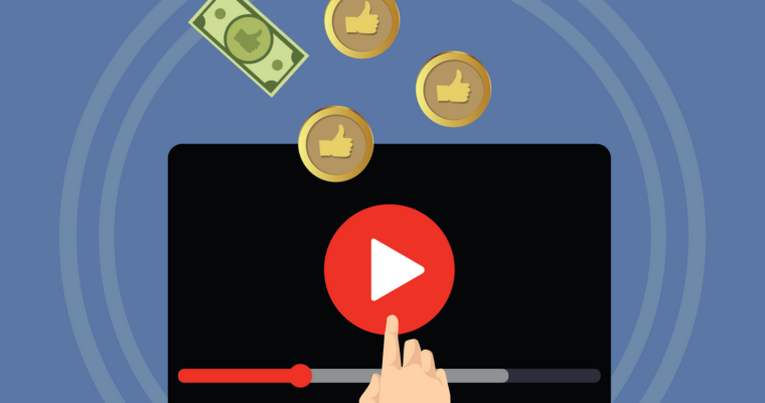 How and when does YouTube pay?
I must emphasize that your income will vary according to the CPM (Cost per thousand impressions). What Is CPM? CPM is where the advertiser offers a price per thousand ads published, which equates to per thousand impressions. With the use of the Analytics section costs and ROI can easily be determined, tracked and analysed using the given statistics.
On the other hand, there is the CPC (Cost Per Click) which is also determined by what the advertiser is willing to pay for their ads.
Having understood this, I will explain how payments are made:
The first step is that you have your AdSense account associated with your YouTube account.
Payments are monthly, with a minimum accumulated amount of 100 euros.
You can choose to receive bank transfers through the Single Euro Payments Area (SEPA) or through checks.
Each time a payment has been made, you will be shown a receipt with the details of the payment, in case you need it for tax obligations or simply for your control.
Now that you have a guide to monetize your content on YouTube, it is a matter of carefully following each of the steps and start earning money.
Here are some more useful guides to make money:
Don't forget that the most important thing is to create quality videos for the satisfaction of users and make your channel an experience for both you and them.