Mobile
AnyUnlock Is An Essential Tool If You Forget iPhone Passcodes
Apple devices are used by millions of people all over the world. Are you an Apple user too? Have you ever wondered what you would do when you get locked out of your iPhone? It can look like a scary scenario but don't worry as now you have really handy software called AnyUnlock. It will fish you out of trouble.
In case you forget the password you can unlock your iPhone, iPad, or iPod easily with this newly developed version 1.0.0 software. It is more like a master key.
How does AnyUnlock help you?
The situations in which AnyUnlock can help you are the following:
You have forgotten the Apple ID – This is a common thing as these days we have to remember so many IDs, passwords, and PINs that it is but natural to get messed up!
You are locked out of your iPhone – Not being able to unlock the phone is another common scenario.
You are not able to unlock the Screen Time passcode – Sounds panicky, doesn't it?
You have forgotten the encrypted iTunes backup password
You got a used iPhone with the former Apple ID logged in and you don't know the password – People usually get stuck with this and don't know what to do about it.
You can't listen to Apple Music
You can't download apps on your iPhone
You cannot turn off 'Find My iPhone'
You forgot your passcode and your iPhone has been disabled due to too many failed attempts. (This could make your heart skip a beat!)
The Face ID or Touch ID stopped working and you are not able to use your device.
The device's screen got cracked and you can't enter the passcode.
It is possible that you might panic in the above situations but when you have AnyUnlock software with you there is no need to. You can breathe a sigh of relief and relax because this tool will help you.
When you forget your iPhone password or purchase a used device and are not able to create a new account, AnyUnlock will come to your rescue. But, how? Well, it will remove the Apple ID and therefore no password would be needed. You then simply need to log into your account and start using your device!
You may face a lot of login difficulties with your Apple devices but AnyUnlock is always there for you. The best part about the AnyUnlock tool is that it saves you from all kinds of situations listed above regardless of the screen lock you have. It can be a 4-digit or 6-digit numeric code, a custom numeric/alphanumeric code, a face ID, or a touch ID. AnyUnlock deals with everything and gives you access to your device.
There can be other situations as well. You can forget the password of your encrypted iTunes backup you want to restore or turn off. There are also chances of the turning off option greying out for no reason. AnyUnlock will help you out and recover the password in no time. Also, it must be noted that you will not lose any photos, messages, and essential data in the process. This sounds too good to be true, isn't it?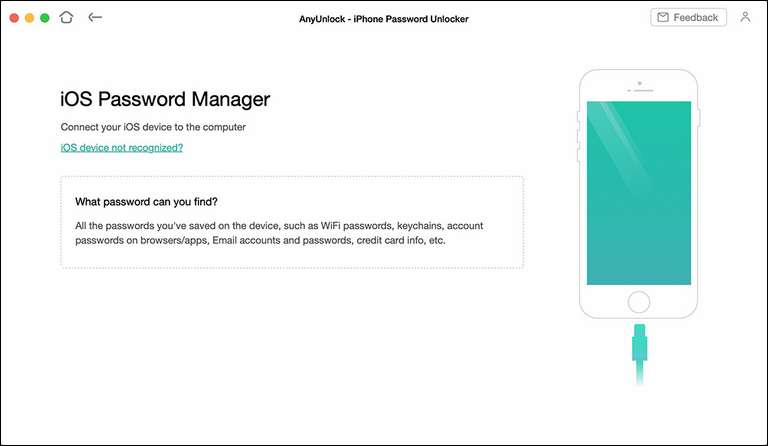 Helps you with passwords
AnyUnlock software also helps you see the passwords you have saved on your iPhone or iPad. This is very convenient because most of us have hundreds of passwords for different apps and keeping a track of all of them can be difficult. AnyUnlock, you can even export those passwords to password manager apps. This way you will never have a problem with passwords again!
Cost of the Software
The price of AnyUnlock is quite reasonable and they have a special offer right now.
You can buy a 1-month plan for 1 iOS device for $35.99. Updates are free for a month with this plan.
There is a one year plan for 1 iOS device for $39.99 with free updates available for 1 year.
There is also a lifetime plan for 5 devices at $59.99 with free lifetime updates.
You can choose the plan that suits your needs. And you can read the minimum system requirements here to install and use this software on your computer.
The Top Advantages of using AnyUnlock
Developed by experts
The success rate of the developers of this new software is quite high. They have 9 years of experience in the industry. Thereby, the chances of their product performing well are more.
Dedicated tech support
No matter how carefully a product is developed, there are always chances of a glitch. Therefore, there is 24×7 tech support for users of the software. You can get your issues resolved by experts round the clock.
Data remains confidential
Confidentiality of data is always a big worry for software users. However, your data, including uploads and your personal information, is neither recorded nor leaked by AnyUnlock. This way you can rest assured that nobody is going to tamper with your information and it is completely safe.
Certified developers
The developers are certified by both Apple and Microsoft and therefore the software does its job well. Also, the product is free of any malware or virus which usually a major concern.
Money-Back Guarantee
You get a 60-day money-back guarantee if you are not satisfied with the software. This can put you at ease as a purchaser because in case AnyUnlock doesn't perform well, you will get your money back.
Technical knowledge not needed
To use AnyUnlock, there is no need to have prior technical knowledge. You need not be a computer wizard to be able to unlock your Apple devices. The software involves only three easy steps to resolve your problem.
Supports multiple languages
AnyUnlock supports a number of languages namely, English, Japanese, German, French, Spanish, and Arabic. This is a huge pro because users from different parts of the world can use the software in a language they are comfortable in.
The Final Verdict
AnyUnlock lets you unlock your Apple devices when you have forgotten the password or are locked out due to some other reason. The fact that it does this job without you having to lose your device's precious data is indeed commendable. Another point that makes this software stand out is that you don't require any technical knowledge to use it. So, overall, this seems like a good deal.