Featured
MacX MediaTrans – Best iTunes Alternative?
Apple started making their iPhones with intention to bring beautiful interface, and easiness, apparently they succeeded. To facilitates streamlined music and media experience, Apple brought iTunes. This tool allows users to access music and media content through iTunes store. Users can download content, upload to iCloud, sync to other Apple devices and do much more. However, iTunes doesn't work with non-Apple devices, it lacks compatibility with other devices and a few more disadvantages.
This lack compatibility was heavily criticized few years ago, still there have no improvements in that regards. That really makes people feel that Apple is more center towards selling their own (only) stuff for their users through iTunes store. And when it comes to performance, we have observed many users switch to other alternative because iTunes works slowly on many computers. It can take a long time syncing your media files to your mobile phone or doing something else.
That's where users would seek an alternative. No matter if you've imported music or media files from iTunes store, you manage it with third-party, iOS-friendly software programs. The MacX MediaTrans is among them, that offers easy-to-understand interface to manage iTunes media files more precisely. While iTunes restricts users to work with non-Apple devices, the MediaTrans gives freedom to users to sync from non-Apple devices to any devices.
Throughout this review, we'll thoroughly explore features MacX MediaTrans software utility and how it can be the best alternative to iTunes.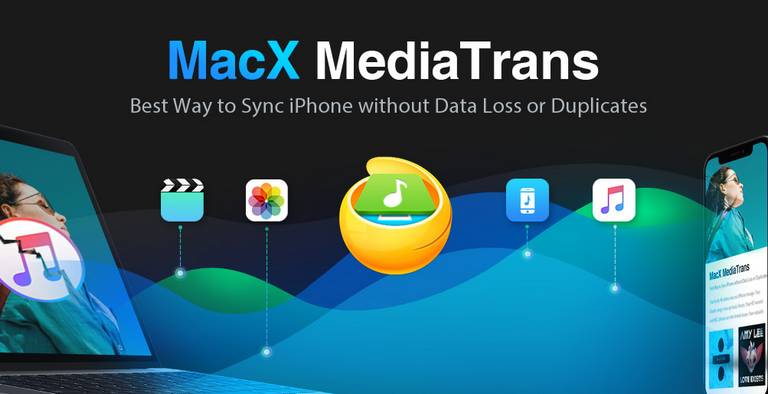 What is MacX MediaTrans?
Developed by Digiarty Software team, the MacX MediaTrans is an all-in-one media management tool for Apple devices. It helps to manage music, videos, photos, documents, and other media files between Apple devices. While every time Apple brings an update, recommends users to backup their devices so they don't lose their data for any reasons.
And having files backed up is really important. One should be very conscious of it. While this iPhone Manager tool allows users to manage media files, it also allows users to back up their data on different devices. Current days, we capture videos/picture or watch videos of higher resolution and they generally have a huge file size. So, it won't be feasible to backup them online on iCloud or any other device.
Fortunately, MacX MediaTrans is able to back up your iPhone, iPad, and other devices to MAC. Users can simply copy their files to other devices and import from non-Apple devices too. That is much better than putting stuff online that takes a huge time and consumes a lot of Internet Data. So, if you're planning to move from non-Apple to iPhone or other iDevices, you can use this tool to sync your files easily.
There's a lot you can do with MacX MediaTrans. It has many features that make it a top contender among the best iTunes alternatives. Features are of course essential towards choosing such software tool. Otherwise, there's no point in looking for an alternative. So, we shall proceed further and overview some important features of this tool, this helps you get more details about its capabilities.
Manage Music/Media files
For this purpose, we use iTunes. However, it bounds users around Apple labeled devices. Whereas, the MacX MediaTrans can help you work along with non-Apple devices. This tool has a simple yet effective user interface that offers multi-fold options to manage music and media files.
Right there, you can manage photos, music, videos, iBook, and ringtones. Users just need to tap on the options given above manage certain files.
The MacX MediaTrans ensures that users can import and export music, create, remove, edit their playlists, make modifications, to artists, as well as albums that they have on their device, and moreover, they can even create ringtones for their iPhone, although this ability works only with iPhoneX, iPhone 8 and 8 Plus.
The tap button 'Sync' does the job quickly. This tool is able to transfer 100 4K photos in just 8 seconds. That's really quick compared to iTunes. This tool works in a two-way sync manner, so you can transfer from your Mac to iPhone and vice versa.
Once the user has selected the media files to be transferred from one device to another, tapping on the Sync button starts importing/exporting task. Overall, we find this tool quite simple and useful when it comes to managing media files.
Encrypt Files
If you're concerned, anything about the privacy of your media files, that's what countless people usually do. There's nothing wrong if you do that. Nowadays, we our smartphone carries our most of the personals. And we are more precise about music and videos. So, it would be great if iTunes could encrypt files, unfortunately, it doesn't.
Whereas, the MacX MediaTrans gives users an ability to encrypt their files, so no one can access them. Through this tool, users can easily encrypt their music and media files and transfer them to different devices. This what iTunes lacks, and hopefully in the future that will implement such a feature of their software.
Backup your files
That's what you must do frequently. There's no (actual) guarantee that files saved on cloud storage account or on your phone's memory would be safe all time. There are numerous ways that one can lose our precious data even in an online account. Thus, for safety aspects, creating a general backup on our laptop or Mac is an ideal solution.
We should frequently sync our files to other devices, that ensure that you won't lose your files even in worst cases. The MacX MediaTrans has an ability to backup files that are consuming space on your iPhone or iPad and keep them secure on the Mac. Regardless of the file type, this tool is able to sync almost every file this preset within in your phone.
Once the backup task is initiated, forth window categorizes different file types, thus one can selectively proceed with this process. While indulging with this ability, we find this tool pretty user-friendly and certainly provides better performance.
Use iPhone as an external drive
This is an additional feature that you get along with the MacX MediaTrans. It turns your iPhone into an external drive that you can connect with your Mac and use it as a storage device anytime you want. In that way, you can use your phone more productivity and avoid paying extra money for external storage devices like a portable hard drive.
This feature indeed helps to clone 1:1 file, irrespective of file size and type, you can use the phone with your Mac. It supports all almost every format that we usually use these days. Whether they are documents, music files or media ones, you can clone them easily.
Create ringtones from iTunes music files
While iTunes restricts you using music files downloaded from iTunes store for any other purpose, MacX MediaTrans serves somewhat more intuitive feature. You can easily convert any of your media files to a ringtone suiting your taste and requirements.
This process is pretty simple. Users just need to tap on the Ringtone option that is present within the main menu. Right after that, users can create customized ringtones from exiting songs and media files.
It automatically converts music files to ACC and MP3 formats, so users can use them for different purposes. Therefore, you don't need to pay an extra amount in buying ringtones from iTunes while you can make them at zero price.
Convert incompatible video for iPhone, iPad and Mac
Here's another important aspect that you must consider while checking out a perfect alternative to iTunes. Nowadays, there are countless formats, some are device specific and many of them aren't compatible with a mobile phone. For those formats, users would need to convert them. The iTunes lacks this facility and in most of the cases, a third-party utility it required.
There's where MacX MediaTrans overcomes this problem. This software comes with a built-in media converter facility that helps users to convert incompatible media files for iPhone, iPad, and Mac, so you can play any media file on your device, whether it is an iPhone, or Mac or any other devices.
Why Choose MacX MediaTrans as iTunes Alternative
That's the most important question. While exploring this piece of software, we find many features and abilities that make MacX MediaTrans a perfect choice for Apple users. This software facilitates almost everything that we need to manage and back up our music and media files on iPhone, iPad, and Mac.
While iTunes restricts users to stick around Apple devices, the MacX MediaTrans tool allows users to work around non-Apple devices. And when it comes to backup facility, it offers performance-driven tools to sync all most every file with Mac or other devices at a faster rate without loosing data. And it doesn't require you to input or use your Apple ID to use it. You just connect your phone and that's all!
In additional to basic media management facility, it has supplementary features including file encryption, ringtone maker, DRM removal tool, media file converter and a few more. That makes MacX MediaTrans an ideal companion for Apple users. This software comes with a free trail, so you can thoroughly test this tool before actually paying anything.
Considering all these extra features and media management facility, we highly recommend Apple users to get indulged with this software as the best iTunes alternative for Mac. That should help you manage your music and media files smartly.
We hope that our readers would find this comparison review between MacX MediaTrans and iTunes helpful. Don't forget to share your thoughts on this tool in the comment section below. We would love to hear your feedback and thoughts. That would help other users to make comment choices.