Gaming
Albion Online — The Game Where You Can Earn Real Money
One of the video games that is gaining popularity among the gaming communities is Albion Online, a non-linear MMORPG where you can make money. Therefore, we will explain how you can make money with Albion Online.
There are many video games with which it is possible to make money, but most of them require subscriptions or a lot of resources. However, in Albion Online you can make money with a standard account and computer, and you can also buy the premium version using the same gold as in the game.
We will expose different methods to make money in Albion, as you can farm, level accounts, build, craft, battle or stream to generate income. Therefore, we will provide tips with which you can take your first steps on the platform and with the best alternatives to earn real money with Albion Online.
Albion Online: What is it and how does it work?
Launched in 2017 by the German studio Sandbox Interactive, Albion Online is a massively multiplayer online role-playing video game of the fantasy genre that combines elements of other famous titles such as RuneScape or Black Desert, but with a gameplay system similar to the one used in Diablo III.
Being a non-linear game, it allows its users to perform different activities such as battling, conquering territories, creating objects or collecting them to get in-game coins, which can be used within the platform or in real life to earn money. In fact, the main goal of the developers was to provide a video game that has a user-driven economy, as users are in charge of creating all the elements present in the game and trading with them. Thus, users can forge weapons or armour to battle against other players or monsters, exploring the world and engaging in fantastic adventures.
In the last year, thanks to YouTube ads, free-to-play style gameplay and the Covid-19 pandemic, Albion Online has doubled in popularity and offers fun and monetary alternatives to gamers who wish to join the community.
The developers invite potential new users to play and they will be able to:
Crafting: All objects and structures present in the game have been created by players, from resources collected throughout their adventures. In Albion, they will be able to buy, trade or sell items, with the creation and sale of rare items being an excellent alternative to earn coins.
Modify play styles: In Albion, you will be able to change your avatar's abilities according to the equipment you have and the equipment that accompanies it. In this way, the elements that compose it can be adapted to different areas and battles.
Battle: It is possible to be a lone wolf or to be part of a team, as any style of battle is accepted. Different levels of combat offer unique opportunities for players to strategise and create tactics to emerge victoriously.
Conquer the world: By joining a guild, players will be given the opportunity to conquer territories, claiming land where they can create forts, access valuable resources or build houses. In addition, they will fight for rankings against other guilds.
Private Island: They will be able to claim a piece of land or island as their own, on which they can farm, raise livestock, make food or create crafts to sell on the market.
Factions: You will encounter dungeons with powerful bosses, demons, ruthless enemies and users who will do everything they can to win. At the same time, you will notice how in each of the factions you will have to use different equipment and strategies, so the excitement will always be kept at its maximum.
Explore the world: Albion is divided into five biomes, each with different characteristics, mechanics, objectives, raw materials and enemies. As you travel the land, you will encounter many elements that will make you grow within the game.
Albion Online: Requirements
Like most online video games, Albion Online requires a minimum of resources to run properly. However, due to its fluidity and full-featured graphics, you will need to meet or exceed the requirements to play the game. The minimum requirements to play Albion Online on the computer and mobile devices are:
Windows
OS: Windows 7, 8 or 10 64 bit
Processor: Intel/AMD CPU with SSE2
RAM: 4 GB
DirectX: Version 10
Storage: 2 GB available space
Mac
OS: Mac OSX 10.7
Processor: Intel/AMD CPU with SSE2
RAM: 4 GB
Graphics card: OpenGL 3.3 support
Linux and SteamOS
OS: Ubuntu 14.04 – 18.04 LTS 64 bit
Processor: Intel/AMD CPU with SSE2
RAM: 4 GB
Graphics card: OpenGL 3.3 support
Sound card: SDL2: libsdl2-2.0-0
Android
OS: 8.0 or higher
Processor: Snapdragon 820
RAM: 3 GB
iOS
OS: 14.3 or higher
RAM: 3 GB
Albion Online: Earning real money
In Albion, there are two units of currency, gold and silver, both of which can be used for most transactions. Silver, called silver, is the official in-game currency and can be used for everything, while gold has some limitations.
Silver serves multiple purposes, such as improving level progression, access to more valuable items and generating more gold flow. For this reason, if our strategy is to maximise the avatar's profitability, it is best to level up combat or crafting skills, as this will allow us to obtain or create the most sought-after items on the platform.
On the other hand, all the silver or gold earned can be sold or exchanged on specialised sites to obtain real money, either in currency or local currency. Currently, the value per million silver is $0.65 USD, although the value is usually between $0.60 and $0.90 USD. Many gamers use Albion Online to earn real money, as P2P trading of in-game currencies is in high demand in the market. There are forums, websites and social networks where communities gather for hassle-free buying and selling, the most popular of which include MmoGah, MermeladaGold, PlayerAuctions and iGVault.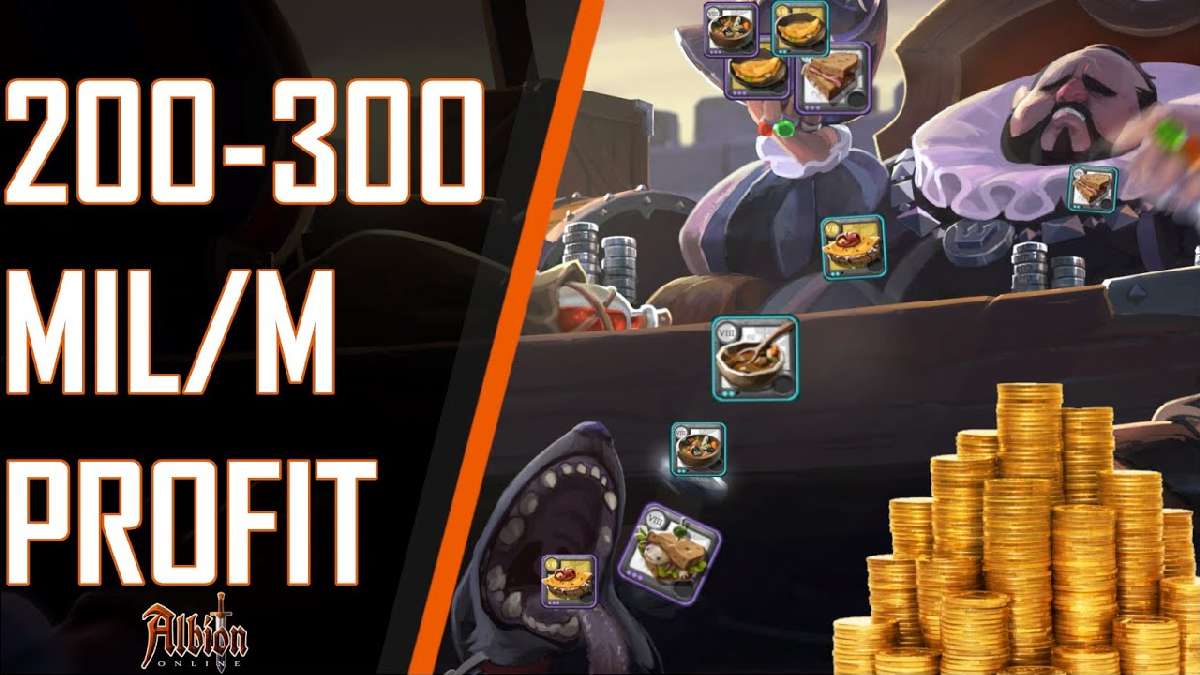 Albion Online: How to make money 2021
At the start of the adventure, use the first week to level up your account to mid-levels, so that you have better skills and opportunities to generate more rewards. In that time, you will be able to save up for the premium, which will give you access to new ways to invest and grow faster. The premium account is worth $11.95 USD per month and can be purchased using in-game gold, plus there are three free days that can be used at a later date.
Levelling time is subjective according to gamers, some can grow faster than others. However, it is best to level up your character as soon as possible to Tier 4, which will allow you to upgrade your armour and perform other activities for rewards.
Once you have reached Tier 4, you should ideally engage in the activities that you enjoy the most, such as collecting, fighting or tanning items. As with any game of this style, the more time and effort you invest, the greater the rewards, and the more raw materials, better items to craft or monsters to farm.
In the first stage of the game, the best option is to start by mining stones and other minerals as you go along, and you also have the possibility to create potions or food. In general, these activities will increase your crafting level considerably, which will allow you to improve your armour, weapons, tools or accessories.
At advanced levels, the best way to get more silver is to craft items with raw materials you have collected yourself, as this saves coins from resources. It is worth noting that the key is to craft items that are in high demand among players, as you will be able to sell them at a good price and more quickly.
Once you have your account with excellent levels and have acquired a premium account, you can focus on the collection of valuable items such as mobs' silver, sarcophagi, chests or loot items that sell for very good prices. However, PvP and PvE player assassination based farming is the best way to earn money in the shortest amount of time, as the degree of difficulty and risk provides excellent rewards.
Methods of making money in Albion Online
As we have mentioned elsewhere, in Albion it is possible to perform multiple activities that generate coins, which can be sold for real money. Here are the six activities that generate the most income:
Private island. By acquiring the premium, you can buy a private island, where you can grow vegetables, create potions, raise farm animals, hire workers or construct buildings. This raw material can be used to craft food, mounts or items, which can earn weekly or monthly income.
Farm and sell. Nowadays, the resource refining houses of the main cities in Albion have increased their raw material refinement rates and tool crafting is no longer as profitable. On the other hand, unrefined materials continue to be sought after, as many players acquire large amounts of resources to avoid farming in order to refine their own items.
Crafting. Refining items from raw materials is one of the most enjoyable activities for users and although it does not generate as much profit today as it did last year, it is still a fruitful alternative if done with the right items. The key is to craft tools that are in demand, this way your items will have an outlet and you will quickly recover your investment.
Transporting hearts. This is an activity that generates a lot of profit, as by investing three units you can get six. However, it is an action that carries a risk, as along the way we can find looters who can eliminate us to keep the loot. Therefore, it is necessary to be very careful in order to make a profit.
Hellgates. Hellgates are PvP battles that are very popular among daring players, especially in the black zone. Hellgates consist of four- or eight-person battles, where the victors get to keep the spoils of their opponents. It is possible to get a lot of rewards and keep the opponents' items, get fame points and, after defeating the boss, win a chest with extremely valuable items.
Resale. The markets in each city are autonomous, so in all of them we can find very different prices; some being cheaper and others more expensive. For this reason, an excellent economic opportunity is to take advantage of the resale profits; the idea is to buy cheap objects in a city and transport them in a cargo mount to where they can be sold at a higher cost.
Tips and recommendations to increase profits in Albion Online
Boosting your chances, avoiding rookie mistakes and knowing when to use bonuses are some of the most cherished desires we gamers have when we aim to generate income in our chosen title. For this reason, we will now provide you with some basic tips to increase the standard rewards you can earn by playing Albion Online:
It is essential to be patient as we progress. We know that it will take time and that perseverance will pay off.
If at the beginning you find it hard to get familiar with the system, the best thing to do is to watch some gameplays, as you will be able to get tips on strategies to follow in Albion.
In games like Albion, it is easy to get carried away and overspend. To make good investments, it is best to compare market prices.
At the start of the game, you will have access to three premium days, which you should take advantage of when your account has higher levels, in events within the platform or when you have a lot of time to dedicate to the game, in this way you will make the most of the bonuses.
Throughout the adventure, you will have the opportunity to earn coins by battling or collecting items, for the first option it will be necessary to have an agile mount that allows you to move at high speed, while for the second one it is convenient to have a heavy load.
The self-regeneration of resources is determined by their rarity, so if you find valuable items it is not worth waiting for them to appear again.
In the city of Martlock you can get 40% more return on crafted items, so if you refine 100 skins, you will get 140 back. Each main city has a special material, it is worth knowing about them to maximise resources and bonuses.
This game is not based on rigid classes, so each user is free to choose the trade they want to develop within Albion, whether as a gatherer, builder, blacksmith, archer, looter or mage. The important thing is to choose one that you feel comfortable playing with.
The best way to properly level each trade is to focus on only one at a time; otherwise levelling will become lengthy and tedious.
After levelling the skills of your favourite craft and getting good rewards, you can consider levelling another craft, ideally, the second one should be the one you liked the most and related to the first one.
Albion has been developed to encourage camaraderie, so the most lucrative methods are done in groups. Joining a guild, forming alliances or playing with friends will make the game much more fun, as well as providing protection and accelerating your growth.
When it comes time to sell your in-game currency for real money, use sites with good references. You will probably find sites that pay better, but they are often disguised scams, so it is better to sell safely.
Overall, Albion Online is a video game that encourages group growth in its community, gives users the tools to manage all elements on their own and provides classic entertainment. In addition, it has several methods of making money in Albion that most gamers will be satisfied with, as it offers alternatives to suit all tastes.
Can you make money with Albion Online?
Like many role-playing games, earning money can be a difficult task at first, as you will have to level up your character's skills. However, the speed at which you can earn silver, the advantage of being able to purchase a premium account with rewards and the large market for rare items makes all options viable to generate a good income and take up the game as a full-time job.
Now that you know that Albion Online earning real money is a reality, what trade will you choose for your avatar?