Featured
Get Parental Control Right with FamiSafe App
The Internet is a vast world but the content available may at times not be appropriate for children. It is not right to let them access the net and apps without any supervision. However, you can't be with them all the time even if you want to. You might be naturally worried about that. So, what should you do in such a situation?
As a parent, the well-being of your child is obviously your first priority. It can be difficult to always keep an eye on what they are doing on the internet when you are at your workplace. So, to protect your child you need to have a parental controlling app that lets you monitor your child's activity from your own smartphone. FamiSafe is one such application that helps you trace your child's activities and keep them safe.
What is FamiSafe?
FamiSafe is a parental control app that you should have to keep a tab on your kid's internet usage and online safety. A product of Wondershare, FamiSafe Parental Control app does its job well and is reliable. Wondershare always aims at making the lives of people simple and therefore they have come up with FamiSafe. It protects your child from menaces like cyberbullying, helps you block inappropriate apps, lets you track your child's location, provides web filtering options and lets you control screen time.
Basically, it has all that you would be searching for in a parental control app. A product of Wondershare, FamiSafe Parental Control app does its job well and is reliable. Check out its features and working below.
Detect suspicious text
FamiSafe helps you detect suspicious content by letting you know every time there is a usage of offensive words in your child's SMS, WhatsApp or Messenger, YouTube or Twitter on his or her device.
You can always add offensive or inapt words to the FamiSafe's word bank and get notified in case anything suspicious crops up. This will help in preventing cyberbullying and ensure that your kid is safe.
Real-time location tracking
When you enable the real-time location tracking feature of the FamiSafe app, you can easily find out where your child currently is and save him or her from any kind of impending danger. You won't have to ask about your child's whereabouts once you have this app. The live location of the child will appear on the app on your device. The FamiSafe app also maintains a record of all the places the child has visited so that you can find out in case they have been to a dangerous place.
Kids have the natural tendency to explore new places and as a parent would be of great concern to you. However, the geo-fencing feature of the app is helpful in making parents know when their kids get close to unsafe places. With this feature, you will receive a notification when your child leaves areas that you have marked such as school, parks and the houses of close friends. This way you know what your child is up to.
Blocking Apps
At times it becomes essential to take charge of the apps your child is using so that they don't tread on the wrong path. With FamiSafe you can block all kinds of distractive apps during the study time or bedtime of the child. You will also get to know when your child clicks on the app that has been blocked by you.
Apart from blocking apps, as a parent, you will get to know how many times a particular app has been opened and closed by your kid. It will also tell you which app has been most frequently used. This way you will know what is going on in your kid's life.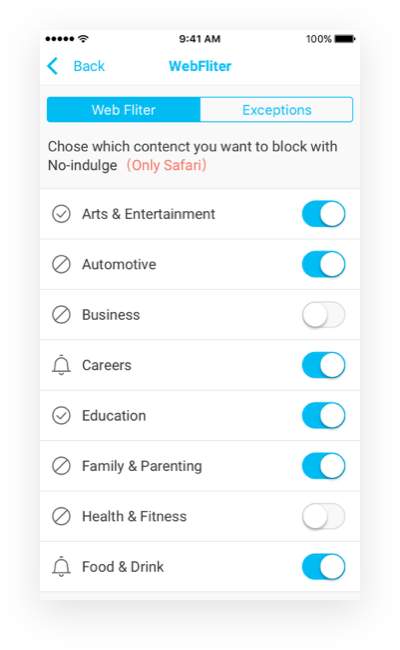 Filtering web content
The internet is a rather unsafe place for children who don't know what is right for them and what is not. You can pre-set rules so that harmful websites especially those in the pornographic and gambling categories get blocked. There is the facility of additional filtering to allow you to block any site that does not seem appropriate to you. This will ensure your child's safety.
Control screen time
With the screen time control feature of the app, you can block access to all the 3rd party apps which include gaming and social media apps. You can set up the limit to screen time also. Get reports of how long the device was used by your child with this app.
Knowing how many hours your child spends on the device will help you in taking necessary steps to ensure that the kid does not get addicted to the smartphone. Smartphone addiction is a grave issue and has to be nipped in the bud.
How do you install FamiSafe?
So, by now you must be convinced that you need to install a parental control app like FamiSafe on your phone to keep a tab on your child's smartphone activity and whereabouts. It is essential to safeguard your child from online predators and other threats. So, here's how you can install the FamiSafe app on your smartphone:
Step 1. Get yourself registered on FamiSafe and download the app
You need to create an account on FamiSafe's webpage. Alternatively, you can download the app and register yourself on either your smartphone or that of your kid's. On both smartphones, the same account is applicable.
Step 2. Make the necessary settings on your kid's phone as well as your phone
For your child's iPhone
Log in and select the identity as a kid and mention the name and age of the child.
You then need to give certain permissions to FamiSafe such as the permission to access location and install a file called 'Mobile Device Management'.
For your child's Android phone
Log in and select the identity as a kid and mention the name and age of the child.
You then need to give certain permissions to FamiSafe such as app usage access, administrator permissions and access to locations.
On Parent's phone (You)
Log in to the FamiSafe account and choose your identity as Parent.
Connect with your child' smartphone.
And with this, you are all set to take control of your child's safety and protect him or her from online predators, unsafe websites and apps and cyberbullying. You will also know where your child is at the moment which is a huge relief for you as a parent.
The FamiSafe app seems to be quite reliable and useful to watch over your child's daily activity on the smartphone. A parent control app is a must-have in this technology age. FamiSafe like apps comes as a blessing to most parents.