Electronics
5 Best USB DACs Under $200 That You Can Buy
Nowadays DAC must be one of the best important parts of all systems. But the thing is that we have to check out the finest in the market. A good quality DAC (digital audio converter) is necessary to mostly all new audiophile setup. This is not a matter that how much price of the DAC in the market rather an essential thing is, it must be good quality and perfect for your audiophile. Thus, in this list, we have gathered some of the best USB DACs that come under $200 budget and offer complete value for money.
Whether you search them on Google or Amazon.com, probably you would find infinite items and that might confuse further. Thus, we have created this list, gathered these USB DACs based on their real user reviews, functionalities, usefulness and essentially the pocket-friendly ones. So, you can pick any of them for both; personal and professional purposes. Moreover, we have focused to list only products that come under $200 and $100, so they are affordable while they serve their purpose.
We highly hope that our readers would find this list helpful. We know that there are a lot more options out there. If you have anything better to share with us, do let us know through the comment section present at the bottom of this list. We will use those inputs and feedback to make this list even better. Now, we should proceed further and figure out the best USB DACs available on Amazon at affordable prices.
List Of Best And affordable USB DACs In 2019 Under $200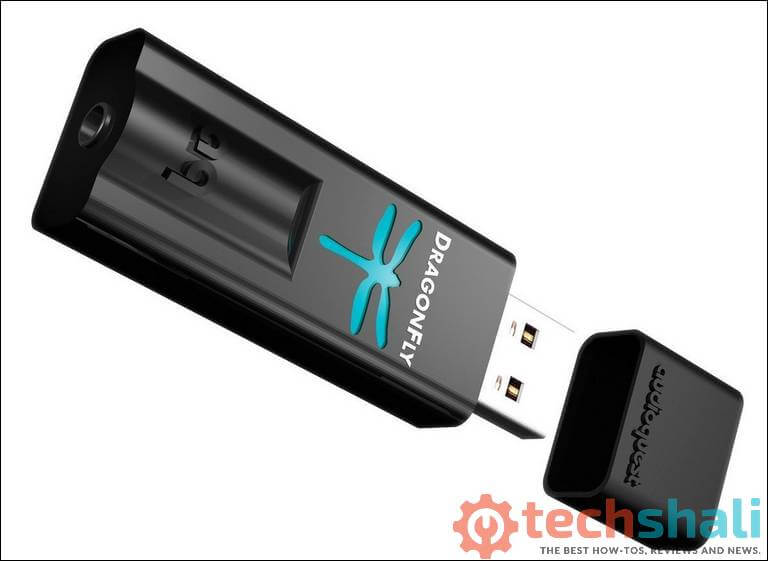 5. AudioQuest Dragonfly Black v1.5 USB Digital-to-Analog Converter
This is the latest USB DAC for all types of headphones, powered speaker, and amplifiers for spectacular sound. Here is the DAC you want which is less in size than a pen drive you can get just under $200.
With a high rating in most of the online shopping sites, this tiny sensation can ensure anything better than your consistent headphones. This is deliberate in such a way that a user can select it either for a variable or a fixed outcome.
Must see:
Audio quest dragonfly is performed like refined asynchronous USB audio data allocation so that your audio is not going for a loss at the time of conversion. If you are a music lover and want to listen to songs in a stunning sound and the product is portable to anywhere then just choose audio quest dragonfly which is the best one for you.
AudioQuest Dragonfly DAC plays all tunes as per the setup, therefore, you can find major issues with the sound quality when it comes to operating mp3 files and also lossless flac files.
4. JDSLABS ODAC/USB Digital Analog Converter
Although JDSLABS ODAC is not as famous as like previous DAC, still when you talk about hard blooded audiophiles all insist it. Basically, ODAC stands for the objective digital, analog converter and oDAC is not the original inventor of jdsl. The functionality of DAC (oDAC) is a digital to analog converter deliberate by nwavguy and Yoyodyne referring, which stores all reference grade audio presentations. It is a portable audio dragonfly so it is most comfortable for you to carry anywhere, just in your bag or pocket.
Weighing only 2 ounces, it attaches by using the micro USB port and only one headphone out port. It gives outputs of 24 bits/96khz audio as well as supported by Mac OS, Linux, and Windows. The best part of this DAC is once it identify as jdslabs oDAC it is just ready to perform. There is also an external rubber based cover feet on it so the DAC cannot slips nor there is getting any scratch on its surface as well.
3. EarStudio ES100-24bit Portable High-Resolution Bluetooth Receiver/USB DAC
This is one type of DAC, which supports Bluetooth you can say a headphone amplifier with Bluetooth functionality. Creative high-resolution headphone Bluetooth amplifier is made up in such a manner that it supports 120db signal to noise ratio and delivered 24 bit/192khz perfectly. Its sounds as original audio duplication like the master sound of studios.
Must see:
The structures of high-resolution headphone Bluetooth amplifier built in NFC technology for single touch, fuss-free Bluetooth pairing devices. You can just tap and connect your Bluetooth device and keep enjoying with high-resolution headphone Bluetooth amplifier
There are so many extra features with possessing in high-resolution headphone Bluetooth amplifier like allowing high-quality recording facility for smartphones and tablets, it built-in dual microphones which automatically identify and respond to landscape mode of orientation. You can charge it through a PC or Mac or any type of external USB power adapter. So don't be late for choosing the perfect party perfect for audio DAC and select the best one in best price which is less than $200.
2. NuForce uDAC3 Black Optoma Mobile USB DAC and Headphone Amplifier
Here is a headphone amplifier with metallic structure nuforceuDAC3 which is the more solid USB DAC that when even it cannot break easily. Significantly uDAC3 DAC and any collective headphone amplifier upgrades to any computer sound outcomes as well. The way of accessing this nuforceuDAC3 is very simple, you just connect to the computer USB port and extracts every last tone and all feature collections from your digital music assemblage.
Must see:
It supports 24bit/96khzaudio and as a headphone amplifier, it can power up headphones with 3000hms impedance. It includes a micro USB cable as well as a port for connecting to your computer or pc. There is also a left and right analog input and coaxial input.
Comparison to all our best USB DAC the package of price is very negligible, which is just under $200.
1. Audioengine D1 24-bit Digital-to-Analog Converter
Audio engine d1 24bit DAC is one of the best USB DAC under $200 as it rivulets high-quality audio from your PC to the headphones or any music systems. The goodness of audio engine d1 24bit DAC is it is just plugged and play device, no need any driver to install a high feature headphone amplifier USB. It generally supports stream bit perfect of 24bit/96 hd with low a jitter.
It is very simple to charge as well as connect to your computer; there is two coaxial cable and one USB cable for the connection. The best features of audio engine d1 24bit DAC looks like a small device, but the flawless sound which makes mood on. There are 2 analog right and left analog output and also optical USB input port. This is like not so mobility so you cannot carry it anywhere easily. But in the case of the sound quality, it is the perfect choice with very affordable price.
Conclusion
This is an assurance from our side that all this description helps you for choosing the best DAC at a reasonable cost. There are so many USB DAC you can find in the market with the huge prices, but the matter is that how it works and the sound quality of the product.
Here you can find all those devices that you want as per your budget only that is below $200. All these 5 USB DAC items that describe above have their own sound qualities, perfections in material and features as well, so this depends upon the customers that which one they choose in all aspects.