Featured
5 Best Power Bank for Samsung Galaxy Note 9
Samsung Galaxy Note 9 was unveiled amidst a lot of pomp and splendor in August 2018. The features of this phone are such that anyone would want to own it. The most remarkable of all is the new S Pen that is pretty versatile. The display is good and the sound quality is awesome. With a 12MP primary camera and an 8MP front camera, the photography enthusiasts are happy. Now, let's talk about its battery life.
While it is being said that the battery lasts long, which is great, it is always better to have a power bank with you. In this round-up, we gather some of the best Power banks for Samsung Galaxy Note 9. Any of these should come helpful to you.
When you are traveling and don't have a plug point to charge your phone, you should carry a power bank with you. Although there are tons of such options available, we have this list of hand-picked power banks that should pretty your Galaxy Note 9 even in worse condition. Some of them are capable of charging this phone three or four times. Check out the power banks that are compatible and work really well for your Samsung Galaxy Note 9.
The best Power Bank for Samsung Galaxy Note 9
1. Anker PowerCore 26800 Portable Charger, 26800mAh Power Bank for Note 9
This power bank is definitely one of the best in the world of high-capacity portable charging. Anker PowerCore 26800 Portable Charger has a capacity of 26800mAh and it means that it can charge a phone more than 6 times, a tablet two times and a USB device several times.
It has been designed with the latest technology and that ensures that your devices are charged super-fast offering you the best charging experience. The design and materials used are of high quality so that no stone is left unturned when it comes to performance.
Also see:
With the PowerIQ technology, you can charge all the compatible devices up to 80% in just half an hour. The VoltageBoost technology helps to find out cable resistance and makes sure that the charging speed does not get affected in any way. The power bank is capable of recharging your devices at double speed when compared to the standard ones. The double-speed lets you charge your phone or tablet swiftly anytime, anywhere.
Buy it on Amazon from → here.
2. Anker PowerCore 10000: Smallest and Lightest 10000mAh Power bank
This power bank from the house of Anker is another stunner that has a massive capacity. Anker PowerCore 10000 will easily fit into your bag or pocket and therefore it is the go-to charger for anyone who is an avid traveler. Whether you are on a plane or in a car, you are sorted if you have this power bank with you.
Since safety comes first, there are 11 safety features in this power bank to ensure that your devices stay protected especially when you have an expensive smartphone like Galaxy Note 9. It also ensures that you stay safe when you are around the power bank. Another enticing feature of this power bank is the high-speed charging it offers. With PowerIQ and Voltage-Boost technology, it charges your device in a jiffy.
Being a compact power bank as light as a baseball, you can carry it around wherever you go!
Buy it on Amazon from → here.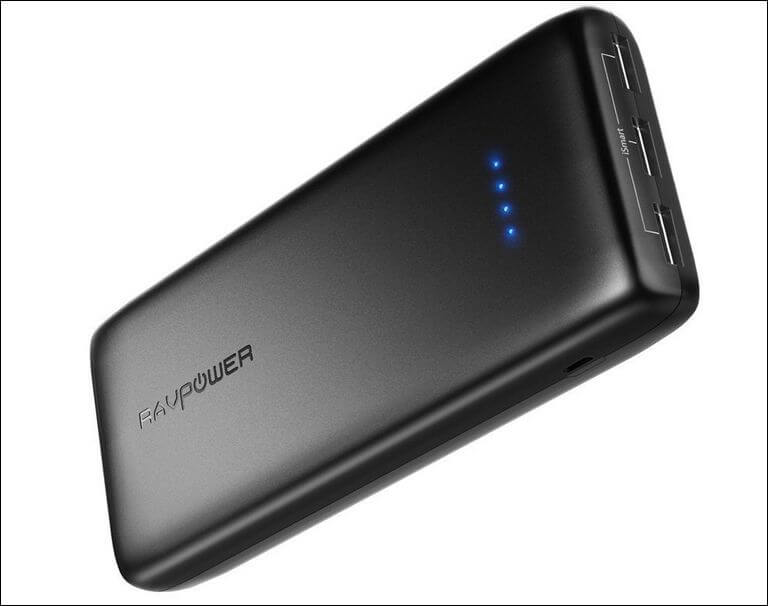 3. RAVPower Portable Charger 22000mAh Portable Phone Charger
RAVPower is one company that has been providing trustworthy mobile charging solutions. So many people around the globe trust RAVPower for their charging needs. The portable power bank has a good 22000mAh capacity that can charge your devices many times. You can fully charge the power bank in 10 to 11 hours by plugging in a charger in the wall socket. The battery of the power bank is such that it can be safely be used for a long period of time. Even after about 500 cycles of charging and discharging, the battery retains 70 to 80% of its total capacity.
The shell of this power bank is made out of the same fire-resistant material that is used in luxury cars such as BMW and Mercedes-Benz. The quality control of the power bank is pretty similar to the one done for an iPhone. It comes with a 10 layer protection to ensure stability and safety. You can plug in multiple devices into it at a time and they will get charged at a really good speed. There are also other features that protect the power bank from overcharging and short-circuit.
Buy it on Amazon from → here.
4. KUPPET Wireless Charger and Power Bank 20000mAh
KUPPET wireless charger and power bank is a 2 in 1 device that has a rechargeable battery with a massive capacity of 20000mAh. It functions as a wireless charging pad as well as a power bank. You can charge up to 3 devices in it at the same time.
It supports wireless charging for Qi-enabled devices which includes iPhones and the Samsung Galaxy Note smartphones. The wireless charger cum power bank has been certified for its quality and safety. It has certain security features present in it to put a tab on overcharging, over-heating and voltage fluctuations. This way your device remains protected.
So, if you are planning for a long trip or going camping or hiking, you need to invest in this wireless charger cum power bank to stay connected with the world!
Buy it on Amazon from → here.
5. Gatcepot Portable Charger 24000mAh Power Bank 5.8A Output 3-Port
Gatcepot power bank has a great shape and a stunning design along with a matte surface. The power bank comes with a 24000mAh large-capacity that will charge up your phone, tablet and other devices easily. This is a must-have power bank for someone who travels too often or is super busy. You can easily charge up to 3 devices at a time without the charging speed getting affected.
It is made out of a fire-proof material and is quite durable. The power bank is made to pass certain extreme tests before being dispatched. There are built-in safety features that help in preventing overheating and overcharging. The compact size and light weight of the power bank make it a great option in the portable charging category. It will easily fit into your pocket and can be carried around anywhere.
Buy it on Amazon from → here.
So, these were the top 5 power banks for your smartphone, Samsung Galaxy Note 9 in particular. In this age of technology, you need to keep up with the times. You can gift any of these power banks to your loved ones and they will always remember you for your thoughtfulness.
That's enough for this roundup, we hope that our readers would find this list helpful and would share their feedback. You're most welcome to share your comments and thoughts in the below comment section.