Computer
8 Best Android Emulator for Windows/Mac in 2019
Before we jump on to the list of best Android Emulators for Windows and Mac, lets first try to understand the process of Emulation and its utilities. Emulation is the main process with respect to computers to replicate and imitate the Android games and applications on PC, Laptop running on Windows and Mac operating system. The Emulators support both Windows and Mac operating system, but specifically, if we talk about Windows OS the Android emulators are generally made for the Windows 7, 8, 8.1 or 10. In this list, we have gathered some of the Android emulators for Windows and Mac operating systems that you can use in 2019.
Those who love to play Android Games and use the application on a bigger screen then you can use Android Emulator to enhance the enjoyment and experience the digital universe. Currently, there are many sources are available on the internet from which you can download and install tons of Android application and games on your PC and laptops using these Android Emulators.
How Does an Android Emulator for PC or App Player Work?
The Android Emulator basically gives an environment to the Android application through which it will able to run on Windows and Mac Computers/Laptops. You will not able to run Android application and games if you will not install the Android Emulator on your Mac or Windows Systems. Once you install the Emulator on your PC you will able to download all android apps available in Google Play Store without any issues.
As we already mentioned above that currently there are a lot of sources on the internet through which you can download varieties of Android Emulator for PC system and because of that many users are in confusion on choosing the right Android Emulator.
So here we are providing you the list of best Emulator which are available in the market that you can install on your computer through which you can enjoy apps and games of android on a large screen. Choosing the right Android Emulator is very important because if you choose the wrong one it may slow down your PC and also affect the performance of Android applications.
List of top 8 best Android emulators for Windows and Mac
1. Bluestacks
Bluestacks is the most popular Android Emulators and doesn't even need any introduction and whenever we talked about emulator the first name that comes in our mind is the Bluestacks app player. Bluestacks can easily able to run android apps and games on Windows and Mac PC without any issues.
Bluestacks uses a unique technology which is known as "LayerCake" which enables the Android applications to run smoothly on PC without any external Virtual Desktop Application. With the help of this technology, the virtual copy of the Android application is created on the guest OS. Once you this emulator you will able to enjoy games and apps like Facebook and other social networks on a big screen. You can download Bluestacks app player from its official website for free and also you can buy its premium version if you want more features.
2. Nox App Player
The Nox App Player is considered as a substitute if you don't want to install Bluestack Emulator. It is very popular among users specially the audience who loves to play android games.
Nox app Player is the best Android Emulator available in the market if you are a gamer as the add-on features and utilities pack with this emulator allows the user to play and control games with the help of keyboard and mouse. This emulator is very stable and reliable compared to other emulators out there. Also, this emulator is available for free of cost.
3. Leapdroid
LeapDroid is an excellent option and one of the newer substitutes available in the market to the preexisting ones. It uses the capability of a virtual machine to run Android application on your computers and laptops. The tweaks and optimization of this emulator make it one of the sleeker option in the list.
The gaming benchmarks on this emulator is impressive and also it runs smoothly and boots quickly compare to other emulators. The development team of LeapDroid is very active and therefore this emulator supports over 98% of Android applications.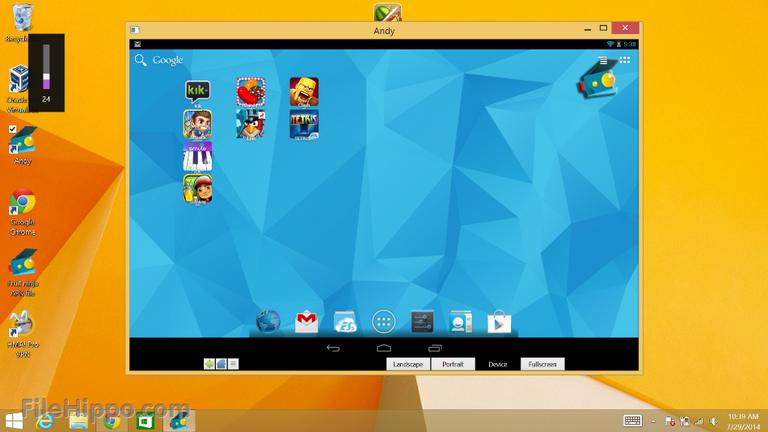 4. Andyroid
Andydroid is also among the popular Android emulators. The unique feature of controlling the android application on the PC screen with your smartphone first cames in Andyroid and then it was available in other emulators too. Andyroid impressed lots of users in a short period of time due to its good market share, reliability, and unique features. The best feature of this emulator is that you can able to download the application directly from desktop browsers.
In order to install the Andyroid Emulator on your computer first, you need to install the Virtual box. This emulator was designed mainly with gamers as the target audience.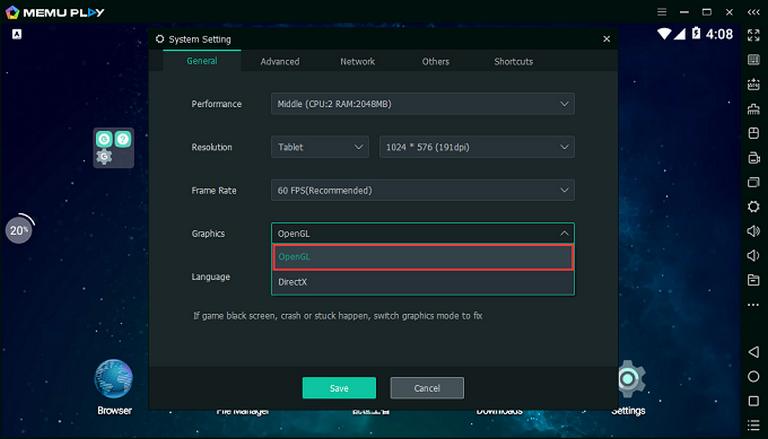 5. Memu Play Android Emulator
If you want to experience the best of Android on Windows PC then Memu Play Android Emulator is advisable to download because it provides great performance. This emulator is developed and marketed by Microvirt Co. Ltd and in the near future, this will reach greater heights because of its excellent performance other special features.
There will be no compatibility issues with Memu Play Android Emulator because it supports multiple hardware configurations. This is the best alternative for productivity and gaming.
6. GenyMotion App Player
Genemotion App Player is considered as the best Android Emulator available to download for both Windows and Mac PC. This emulator is very popular for developing and testing the applications and that's why it is called APT platform.
If you are using GenyMotion app player then you won't be facing any glitches or frame drops while running android applications or games. In order to download, you need to signup and register an account by using your e-mail and then confirm it for so that you receive the download links and get this app on your personal computer.
7. Droid4X
The next android emulator on the list is Droid4X which is quite an interesting alternative because it gives the same performance and productivity as other Android emulators that we have seen earlier.
The developer of this emulator provides continuous upgrades with better improvements and bug fixes and along with that the interesting feature of it would be the add-ons. The Droid4X is available to download on both Windows and Mac OS platforms. On this machine, it runs as guest operating systems.
8. Windroy Emulator
Windroy Emulator is considered as the unique Android emulator among all the emulators that we have discussed previously. This Emulator is called unique because it completely runs using the Windows Kernel and does not require any external virtual box support like other android emulators say Blusetacks.
It is very light-weight and easy to use which makes it perfect for productive work. One thing that you must keep in mind that the directory path where you want to install the Windroy Emulator must not contain any spaces.