Computer
Transcend JetRam JM3200HLB-8G RAM Review
16 GB of RAM for a PC for 5000 rubles, is it possible today? We tested the Transcend JetRam JM3200HLB-8G, which can now fit into this price tag without shipping. We tell you what to expect from it. So, if you're looking to buy this Transcend JetRam JM3200HLB-8G RAM, then you should read this review first and then make your purchase.
Random-access memory is not a luxury today, but a means of transportation. Information between PC components. RAM in stores is represented by a huge number of brands that produce products in a wide variety of lines, with different frequencies and timings. At the same time, memory is quite inexpensive today. Unless the newest gaming options with frenzied characteristics may turn out to be financially tangible, but not everyone needs them.
Today we have received the Transcend JetRam JM3200HLB-8G RAM for testing. There are only two slots of 8 GB each.
The manufacturer talks about carefully selected chips and its stable performance. In addition, it adds that the Transcend JetRam JM3200HLB-8G can operate at a voltage of 1.2 V, therefore they can easily work without radiators, getting an acceptable level of thermal and electrical load on the controller.
In addition, this allows you to use such memory in any assembly without fear that it will not fit into a case with a large air cooler.
Equipment
The packaging, like most RAM vendors, is the simplest here. But we immediately praise Transcend for using the blister card, they provided a way to conveniently open it by hand. And then sometimes you are tortured to wield with scissors and a knife. Here you just need to break the substrate, which will then begin to peel off along the perforation.
Transcend's traditional colors are white, red, and black. The design is extremely minimalistic, we like it.
On the front, there is a brand logo, an indication of the model, the designation of the operating frequency.
At the back of the interesting things – the promise of a lifetime warranty and a message that it will work stably and without problems at the stated specifications.
Appearance, build quality, and materials
Modules on the usual green PCB, all chips are wired on one side. No heatsink: thin and low. It is worth repeating that they will be compatible with any coolers.
For example, here is a photo next to the Noctua NH-D15S.
The second side is blank.
How in work
Judging by the marking of the memory chips, the manufacturer is Micron.
We have put together the following test bench for testing.
Processor: Intel Core i9-10900 @ 2.8 GHz.
Cooling system: Noctua NH-D15S.
Thermal interface: Noctua NT-H2.
Motherboard: Asus Prime Z490-P.
BIOS version: 0607.
Video card: NVIDIA RTX 2080 Super FE.
RAM: Transcend JetRam JM3200HLB-8G @ 1603 MHz.
System storage: SSD NVMe Seagate Firecuda 510 1 Tb.
Optional SSD: Western Digital Blue 1Tb (WDS100T1B0A).
Hard drive: Toshiba HDWT360 6 TB.
Sound: Creative Sound Blaster AE-7 + Samsung HW-Q60R + Samsung SWA-8500S.
Wi-Fi module: TP-LINK Archer TX3000E.
System unit: be quiet! DARK BASE PRO 900 with stock fans.
Power supply: Be Quiet! Pure Power 11, 600W.
Monitor: Philips 276E8V.
Operating system: Windows 10 Pro build 19041.572.
The video driver version is 456.71. GeForce Experience – 3.20.5.48.
First, let's see what information the CPU-Z program has collected about the modules.
And
The first benchmark was AIDA64 with factory settings.
In addition, MaxxMeml appreciated the performance of the Transcend JetRam JM3200HLB-8G.
We also fix what results can be achieved in Cinebench R20.
And also Super PI, which overclockers love.
And
Also in WinRar.
Finally, let's see how the UserBechmark benchmark evaluates the Transcend JetRam JM3200HLB-8G.
And

Is overclocking possible?
Note that Transcend guarantees stable operation of its product only on default settings. JetRam JM3200HLB-8G doesn't have the built-in XMP profiles that some of us are used to. Probably, the warranty service will be lifelong, too, only in case of default operation. However, we tried to find more interesting combinations of frequencies, timings and voltage.
As a result, we managed to start the Transcend JetRam JM3200HLB-8G at 3433 MHz with the same timings. At attempts to further brute force, either it was not possible to start the system start in principle, or the PC hung at this stage. We did not manage to achieve more on our assembly, but, perhaps, something different will turn out on your hardware.
Let's take a look at the results of the same benchmarks and applications, but overclocked.
First, the info in CPU-Z.
Benchmarking in AIDA64 and mixed results. Overclocking makes itself felt. But in some cases, we see an increase in productivity, in others a decline.
In general, repeating the test several times without overclocking, from time to time we get approximately similar numbers, so in this case, they can even be attributed to an error.
Curiously, MaxxMeml also notes, rather, a decrease in the speed of work and an increase in latency.
Cinebench R20 is also within the margin of error, but here we did not expect any gain, since this benchmark still exploits the capabilities of the processor, although some of our colleagues constantly put it when testing RAM.
Super Pi likewise does not make a difference in results. It is possible to consider some changes in some steps, but the total time for calculating the results is identical.
And
But having finished with synthetic benchmarks, we offer a real task in archivers. For starters WinRar.
But who was unequivocally happy with the increased operating frequency – the Userbenchmark benchmark.
And
Note that even after this overclocking, the system behaved stably, both in benchmarks and under other loads, including gaming.
Specifications
| | |
| --- | --- |
| Memory type | DDR4 |
| Form Factor | DIMM 288-pin |
| Clock frequency | 3200 MHz |
| Bandwidth | 25600 MB / s |
| Volume | 1 module 8 GB |
| ECC support | No |
| XMP support | No |
| Buffered (Registered) | No |
| Low Profile | Yes |
| CAS Latency (CL) | 22 |
| Supply voltage | 2.1 In |
| Number of ranks | 1 |
| Warranty | Lifetime |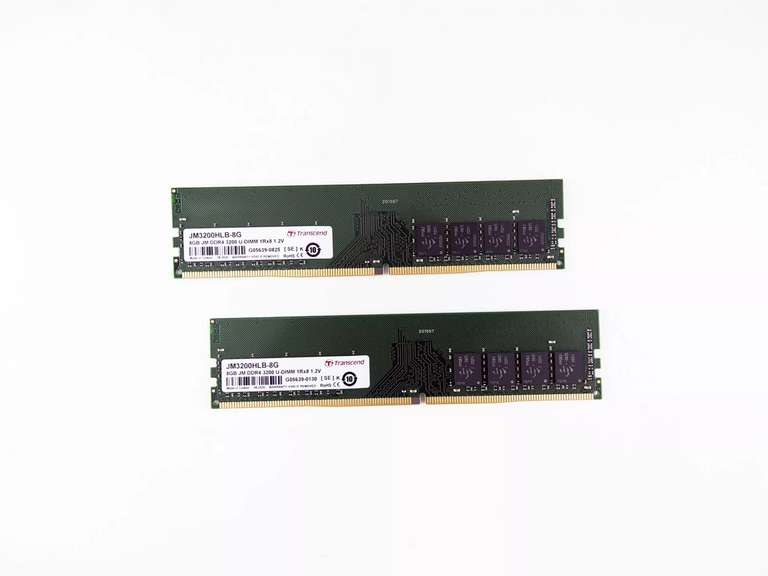 Outcome
Transcend JetRam JM3200HLB-8G is an inexpensive RAM from a well-known manufacturer. The company gives its product a lifetime warranty. The cost of an 8 GB module starts today at 2593 rubles excluding delivery.
Of the strengths, it is worth noting the absence of radiators, which makes it compact and allows it to be used in assemblies with bulky other components, in addition, reduced heat generation at a default voltage of 1.2 V.
The downside for some will be the lack of built-in XMP profiles for automatic overclocking. But the manual is still available. We talked about the successes in this area in detail in the body of the review.