Nowadays the PDF file format is definitely one of the most useful document formats. Its small file size coupled with its almost universal adoption makes it perfect for both storing and distributing documents.
The one drawback of PDF is that modifying them can be difficult and requires the right software. However nowadays there are several reliable online PDF editors that you can try which make it a whole lot easier.
PDF Pro has a fairly decent set of features that you can use to convert and edit PDF documents. In addition to converting between PDF, Word, Excel, and image formats, its tools will let you add annotations and markup, merge PDF files, remove pages, rotate, reorder, as well as lock and unlock the files.
Although its interface may look a little dated, it is user-friendly and you won't need long to familiarize yourself with all the features that are available.
Keep in mind that the free version of PDF Pro will only let you create, convert or edit 3 files per month. To remove that limitation you will have to upload to the premium subscription which can be fairly costly compared to similar tools.
PDFChef is a simple web-based tool to convert and modify PDF files. It has 19 different conversion options including image formats, Word, Excel, Powerpoint, EPUB, HTML, and more.
On the editing front, PDFChef has 5 tools to merge, split, rotate, rearrange or delete PDF pages. It will not let you add markup or annotations, edit text, fill out PDF forms, or use electronic signatures unless you upgrade to the desktop version.
Overall the free version is a relatively useful tool to modify PDF files in a very limited manner, whereas the premium version lifts some of those limitations for a monthly or annual fee.
HiPDF is a slick and powerful online PDF editor. Its editing tools will enable you to add text, images, shapes or signatures to PDF documents as well as crop, merge, and rearrange PDF pages. It is also able to unlock, compress, encrypt, or extract images from PDF documents.
Aside from editing PDF files, HiPDF will also let you convert them to and from a wide range of other formats. However the limitation of this editor is that it can only be used on PDF files that are up to 10MB and can only perform two tasks per day.
To put it simply, as long as you only need to edit small-sized PDF documents the free version of HiPDF is an excellent choice that is both user-friendly and has rich features. If you require more than that, you can check out the HiPDF Pro or HiPDF Pro Plus premium subscriptions which have fewer restrictions and more features.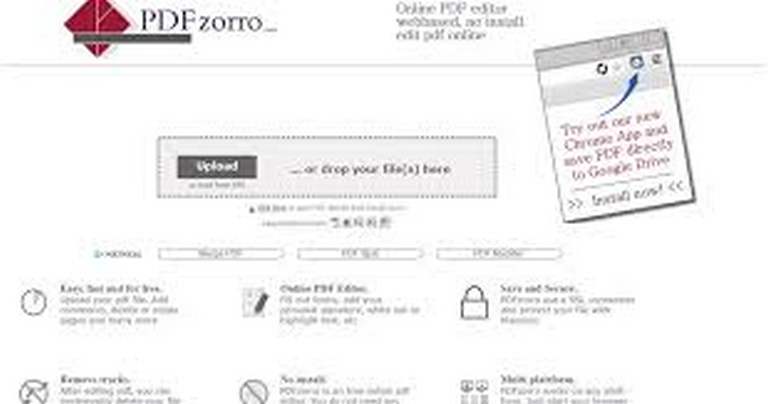 PDFzorro may not look all that impressive, but it does pack a punch. It has a good selection of editing features that you can use to add shapes, lines, text, or other markup as well as rearrange, duplicate, rotate, or delete pages within PDF documents.
The advanced options in PDFzorro will let you compress or encrypt PDF documents, export them into other formats, or even add a customizable letter to the file.
Unlike most other online editors, PDFzorro is completely free and doesn't really have any major limitations. However it isn't the most user-friendly editor and its interface can be a bit clunky.
iLovePDF is definitely one of the most intuitive and user-friendly online PDF editors. All you need to do is it drag and drop a PDF file and you'll be taken to the editor where you can add text, images, shapes, or draw as well as merge, split, compress, rotate or convert PDF documents.
If you want you can add watermarks or page numbers to your PDF document as well.
Although both the features and user-friendliness of iLovePDF are excellent, the free version does have a lot of limitations in terms of the maximum file size and number of files per task. The limitations can be raised or removed completely by subscribing to the Premium or Premium Pro versions.
Conclusion
All of the online PDF editors listed above have a lot going for them, and should be able to help you effectively edit and alter your PDF documents. Now that you know both their advantages as well as their shortcomings, you should be able to figure out which one you want to use.
If you're still on the fence, your best bet is to try one or two of them out and see for yourself how they work.