Mobile
7 Best Tips to Fix iPhone 12 Overheating Issue
iPhone 12 is an actual flagship phone by Apple and one of the best iPhones till now. However, the device has some exclusive feature like A14 Bionic chip, Supports 5G network, Super retina XDR OLED display, and improved camera all comes with a refreshing design. As a result, iPhone 12 is one of the best-selling mobile phones in the world. Nowadays, Apple is a brand that wins everybody's heart with its features, functionality, and aftersale services. But many Apple users report the issue of overheating the iPhone 12 in the Apple forum, which is a severe issue to look to get fixed. Therefore, we have this list of essential tips and steps that you must apply to avoid overheating issues on your iPhone 12 and keep it cool all the time.
For the past few months, many users of various brands have faced the overheating issue, so for the Apple iPhone. If you also have overheating concerns with your device, then you are in the right place. We have some superb solutions that can solve your issue of overheating in the iPhone 12. This smartphone shoe the error regarding the overheating on the user's screen – "iPhone needs to get cool down before you can use it." Here are some tips to fix this.
7 Essential Tips to Fix iPhone 12 Overheating Issue
It generally occurs while playing high-end mobile games or charging your iPhone. Furthermore, You can fix the issue with the below solution. The solutions are accessible. You can troubleshoot by yourself, and you will also get your answer why your iDevice is getting hot.
Note: If your Phone is hot and you are going to cool it with cold air, kindly never do that. The sudden change in temperature in your phone may create some serious issues.
#1 Disable Power-hungry Features to Stop iPhone 12 Overheating
Disabling unused and background App is the first step to stop your phone from overheating to disable the background app refresh and location services and undermining the features. These features are known as power-hungry and tend to kill plenty of battery, and due to this, your phone's battery drains faster and overheat. To disable location and background app refresh are as follows:
For disabling location service:
Open Setting on your iPhone.
Navigate to the Privacy option.
Tap on the Location Services.
Tap on Turn Off.
If you don't want to disable it, then allow only for the specific apps you use daily. iPhone provides three option for that:
Never: stop the App from using your location data.
Ask Next Time: Command the App to ask every time before using it.
While Using the App allows the App to access location data only when you use the App.
For disabling Background App Refresh:
Navigate to the Setting of your iDevice.
Now, tap on General.
After that, go to Background App refresh.
Then, Tap on Turn Off.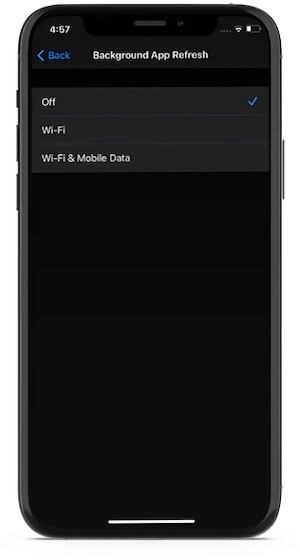 Also see:
#2 Stop Using Your Phone While Charging
Many people have a habit of playing music, watching videos, or playing games while charging, and Multitasking while charging puts plenty of pressure on the device. Furthermore, it is not good from a battery health perspective as well. Thus, using your phone while charging may be a reason behind overheating.
#3 Get Rid of Rugged Case
Most heavy-duty cases do not offer heat dissipation due to an iPhone, or any smartphone tends to overheat when you have installed them. So get rid of such an issue and see the results.
#4 Hard Reset Your iPhone to heating issues on iPhone 12
Hard reset is well known for fixing common issues. To perform this task, follow the below steps:
Press and quickly release the volume up button.
Simultaneously, press and quickly release the volume down button.
Press holds the side button until you see the Apple logo on the screen.
#5 Clean Up Your iPhone
If none of the above methods fix the overheating, then we recommend you get rid of all clutter. Often, unnecessary apps or outdated apps storage hogging files tend to create plenty of problems, including rapid battery drain and overheating issues. Delete all the apps and files that no longer need. This trick is worked for many may this work for you as well.
#6 Reset All Setting
Reset all Settings will wipe out all existing Settings, including VPN setting and wifi password.
Launch Settings on your device.
Then, Tap on General.
After that, Tap on Reset.
Now, Tap on Reset All Settings.
Tap Reset All Settings again to confirm.
#7 Update Your iPhone 12
Last but not least, update your device to the latest iOS version. More often than not, Apple releases software updates with plenty of bug fixes and performance enhancement. It's always recommended to keep your iDevices updated to the latest iOS version to eliminate all the unnecessary problems that tend to crop up now and then. the process to software update your iPhone 12 are:
Launch Setting App on your iPhone 12.
Then tap on General. Now tap on Software Update.
Check if an update is available. Download and install the update.
Wrap Up
Hopefully, you have been able to fix overheating issue of your iPhone 12. If not, then contact Apple support for further assistance for your iPhone. Also, if you found this guide helpful, let us know in the comment section.