Mobile
Remove DRM from Videos using Tuneskit DRM Media Converter for Windows
DRM stands for 'Digital rights management' that sets of some protocols that restrict the usages of digital files and content. Back in 2009, Apple decided to free music files from this DRM protection and kept putting this shield on videos and creating videos in M4V format. The M4V format is specially created extension for this purpose. That video might or not, contain the DRM protection. In this guide, we are about to explore the Tuneskit DRM Media Converter for Windows that that helps in getting rid of the DRM layer on videos rented or purchased from iTunes. So, you'll able to play those videos on any other device and share them with anyone you want.
Content downloaded from iTunes has many restrictions. For example, if any of your videos are DRM protected, you could play that video on Apple's device with just your user Id. Otherwise, those videos won't work even if you play them on the supported device. The DRM was populated to prevent the piracy and reduce the risk of publishers losing the revenue. Therefore, long ago Apple implemented this protective layer on their media files. Nowadays, there many third-party tools that seem to remove this DRM layer providing you restriction-free music and video files.
The Tuneskit DRM Media Converter is among them and one that removes DRM without hurting the quality of the videos, i.e, lossless conversion. With this converter, you can easily convert the M4V files, purchased or rented from iTunes, or TV programs, to MP4 files, that you can play on any other device. The videos downloaded from iTunes have an M4V format, so you can't play them on a non-iPhone device and without the associated Apple account. Whereas, once you convert those files using Tuneskit DRM Media Converter, they longer have restrictions embedded within them. Thus, you can play them anywhere you want.
Tuneskit DRM Media Converter for Windows
This tool is developed by TunesKit software development team focused to bring different products that remove the DRM layer from digital content on different devices. The Tuneskit DRM Media Converter directly converts the iTunes media files and removes the DRM protection layer easily. That makes these iTunes media to run on different devices like Android, Windows, and others.
The tool simplified the conversion process. It has simple to use and understand interface that you master easily. Additionally, it has a converter that takes non-DRM media files and converts them into different formats. That means once you convert the DRM file, you can convert it to other formats for better playability on a particular device. While using this tool for a while, we figure the following features:
This tool works on iTunes videos, movies, and TV shows. It simply takes these media files and losslessly removes the DRM protection layer and convert them thoroughly to different formats. So, users can use these converted files on different devices like smartphones, and computers.
It removes iTunes DRM at 30x faster speed as compared to other similar software. Even though it works so fast, it won't impact on the quality of the output videos.
While it removes the DRM from the videos, it converts the M4V format to MP4, that is the universal format and works on almost all the devices.
While it converts, it keeps the original aspects of the videos and media files intact. Like it keeps Keep AC3 5.1 Dolby surround sound, AAC stereo tracks, AD, CC, subtitles, and all other effects.
This Media Converter for Windows tool is pretty handy and easy to use. You just need to import your media files from iTunes, set the output video folder and leave the rest to this tool. It will convert all the selected files to non-DRM files so you can play them right away on your computer, smartphone, and any other media device.
How Tuneskit DRM Media Converter works
The working procedure is quite simplified. Just download the tool on your Windows-based computer. This tool has a free trial version that allows you to experience it thoroughly. It is our recommendation that you download the version of this tool before you make your purchase.
As soon as you open this tool, the main interface looks like this: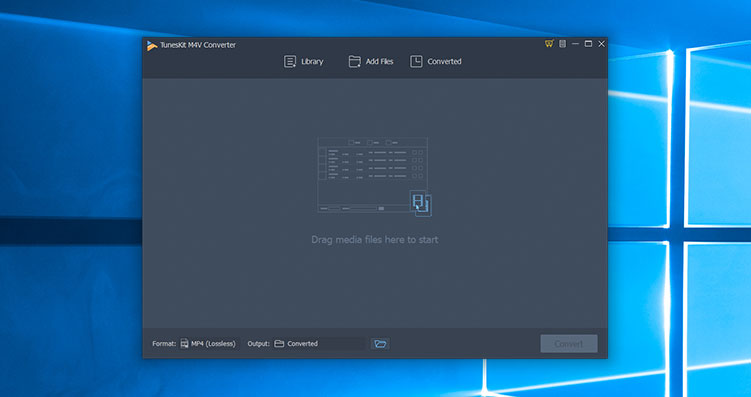 The user-interface has limited options enough to simplify this process. Now, you're ready to import your iTunes media files.
Just tap on the 'Add Files' button. That will open the iTunes option to sync your account. Then, it will display all the available media files from your iTunes account. Or you could drag-drop your file on this too.
After you select the media files, select the output media files to set the output files.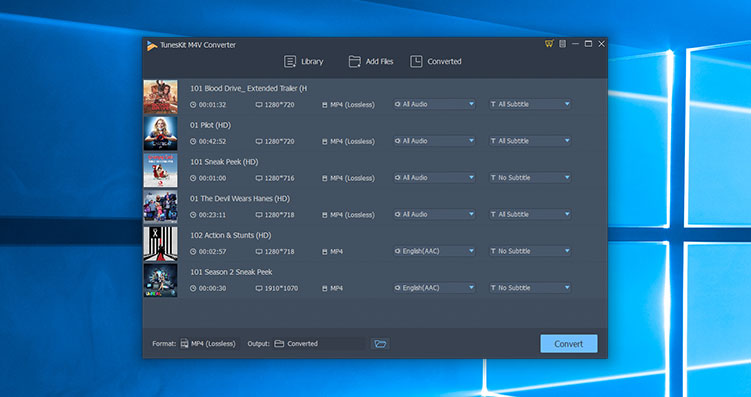 You can select the format and the output location of the files.
Additionally, you can configure the audio aspects of the files to be converted. Now, you're ready to convert these files.
Just tap on the Convert button present at the right-bottom of the screen. That will initiate the process.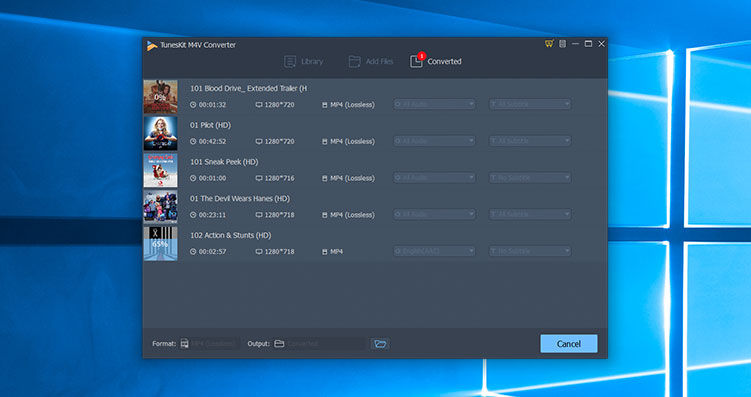 That will export the media files from your iTunes account to your computer having no DRM restrictions. Now you could play them on any other device you want. It takes only a few minutes to convert the selected videos and create the output files.
This tool has been specifically designed to work on Windows-based laptop/desktops. It supports Windows XP, Vista, 7, 8 and 10 (32-bit & 64-bit). It requires minimum 512MB or higher of RAM and 1 GHz or better processor.
This tool is available at a one-time fee of $44.95 with lifetime updates and technical support. Before you purchase it, we recommend you to try its free version to get more insights into this tool.
Overall, this tool is a perfect solution to those who seek to remove DRM from their purchased and rental movies, videos and TV shows. If you're looking for such thing, the Tuneskit DRM Media Converter worth your time and try.